I wanted to get out some 2015 IDP sleepers before the season starts, I'm sorry I couldn't have published these a little earlier. I have a few guys at each position.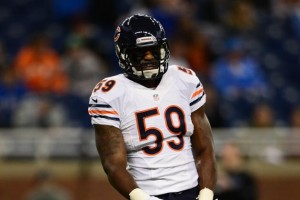 At Linebacker.
Telvin Smith (JAX) - My biggest IDP sleeper of the year and by many IDP experts standards this guy is NOT REALLY a sleeper but a true LB1. We all know of Chris Borland last year and his outburst, well he retired so you can't exactly draft him. What you can do is draft the other rookie who had 3 less total tackles, that guy is Telvin Smith. No doubt in my mind he is a true LB1 and he plays for a team that has the defense out quite a bit.
Christian Jones (CHI) - He is most probably the starting ILB for Chicago and he is going to be playing in the same system that brought to you Patrick Willis, Navorro Bowman, Chris Borland etc. This kid went undrafted due to a failed drug test and I like that he is playing with a chip on his shoulder
Sean Weatherspoon (ARZ) - As long as Daryl Washington is out of the game, keep an eye on the man manning the middle for the Cardinals. In this case its our long time injured friend Sean Weatherspoon. I like him a lot this year.
Watch out for Malcom Smith, I drafted him and like the upside here.
On the Defensive Line
Jacquies Smith (TB) - If you know me, you know I love the undrafted kids and the ones that play with a chip on their shoulder. This guy was playing with Aldon Smith in Missouri!
Damontre Moore (NYG) - Another NFC east guy who I started to like last year, with JPP out for at least the first few games, keep an eye on him and if he performs he is worth the pick up. I worry about the Giants rotating, otherwise I do like him
At Defensive Back
Da'Norris Searcy (TEN) - Coming into a great system in Tennessee for safeties and in Buffalo he showed he has the potential. At the moment a good DB2
James Ihedigbo (DET) - He is on the list because the Lions lost Suh, meaning guys will be able to run more towards the safety which will result in tackles! I like him as a DB2/3
Good luck for the rest of the year.