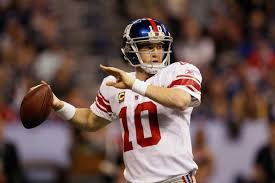 Quickly... and without looking it up... where did Eli Manning finish among all quarterbacks in yardage last season? Do you think that he was in the top 15? Maybe even the top 10? He actually finished an impressive sixth, while generating over 4,000 (4,410). That placed him ahead of Aaron Rodgers, Matthew Stafford, Philip Rivers, and Tom Brady, and it represented the second highest output of Eli's 11-year career.
He also amassed 30 touchdowns for the second time ever, which was the NFL's ninth highest total. Plus, he limited his interceptions to 14, which were the fewest since 2009. Do you need another noteworthy stat? His 63% completion percentage also established a new career high.
But despite that lengthy list of accomplishments, Manning has been largely overlooked in offseason discussions and early mock drafts. All while some less proven signal callers and even several incoming rookies appear to be perceived as more favorable fantasy options.
However, a combination of factors should enable Manning to deliver another highly successful season, despite a significant lack of buzz concerning his viability as a starting option for fantasy owners.
Much of his 2014 success was built over his last 10 games, when he assembled 19 touchdowns, and threw for over 3,000 yards (3,085). That coincides with the statistical explosion that was supplied by Odell Beckham, who became a dominant force at that point of the season. He should torture opposing secondaries once again, which will not only allow the exceptional second-year wideout to collect valuable fantasy points, but will also automatically boost the total that is achieved by Manning.
This is where Beckham can help your fantasy team in 2015, even if he isn't actually on your roster, since he will keep Eli's output at a favorable level. Beckham assembled 1,199 yards in the final nine games of his rookie season (133 YPG), and discovered the end zone nine times during that span. He possesses both distinctive ability and the desire to continually improve at his craft. Leaving no reason for you to become overly concerned with a drop-off in his production this season. He remains a very strong WR1, who will keep Eli's output at a consistently favorable level.
Yet, Manning's options are not limited to the second-year wideout. Victor Cruz is scheduled to make his return to the lineup, although there is uncertainty regarding his availability at the onset of training camp. If effects from last season's torn patellar tendon linger, and Cruz is unable to instantly perform as he did when averaging 1,209 yards per season from 2011-2013, then Rueben Randle can serve capably as Manning's WR2. Even though Beckham catapulted beyond Randle last season on the Giants depth chart, Randle still amassed 938 yards on 71 receptions in 2014, which were both career highs. Larry Donnell has also established himself as a reliable target at tight end. Plus, Manning should thrive during his second season within a very friendly system under OC Ben McAdoo.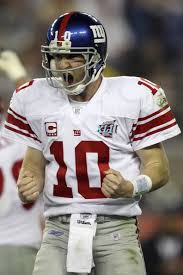 All of this provides an encouraging scenario for owners who are searching for a low end QB1. Especially those who prefer to delay the selection of their signal caller as long as possible. Despite Eli's accomplishments in 2014, and the probability that he can be highly productive again this season, he is not receiving any positive momentum in mock drafts. Eli's current ADP is a ridiculously low 145 in redraft leagues. And amazingly, he is only being drafted 19th at his position. Jameis Winston, Marcus Mariota, Derek Carr and Colin Kaepernick are all being selected before him, which simply defies logic. Manning is by far a more proven starter. He also has the resources to deliver more consistently for his owners. And, the Giants' roster contains no discernible threat for his starting job.
However, even though the current lack of interest in Manning is unwarranted, it certainly supplies a tremendous opportunity for you. He will be available longer than he should be, and can function quite effectively as your low end starter on a weekly basis. Plus, you can wait until the later rounds before selecting your quarterback, and still experience an excellent return on your low investment.
He should be a consistent point producer, who will outperform several other signal callers that will be taken earlier. Manning resides higher in my rankings than Rivers, Stafford, or Ryan Tannehill. In addition to the lesser options that were mentioned earlier, and are somehow generating more positive momentum in mock drafts.
In the coming months, many owners will become increasingly immersed in the numbers as they analyze their draft options at the quarterback position. In doing so, some will become more acquainted with the degree of success that Eli attained last season. That will eventually improve his ADP,  and result in Manning being selected earlier than Round 13, which is what is occurring now. Even when that takes place, he will remain available longer than he should. Which can benefit you, and your team(s) this season.