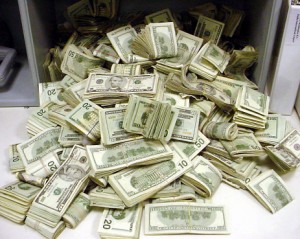 Yes you heard me right, you can win 1,000,000 dollars in this years NFL Draft by predicting the first 32 picks of the draft. The Daily Fantasy Sports laws that have catapulted sites like Fanduel has sparked a new site called MillionDollarDraft.com. You register with this website, enter a contest and pick the first 32 picks in the NFL Draft. If you're lucky enough to pick the perfect draft (all 32 picks in the 1st round) in the exact order they are selected, you will be awarded a $1,000,000 prize. If there is multiple winners, the pot will be split amongst the victors.
[colored_box color="green"] If you don't guess the pick correctly no worries, there is $75,000 for the Top 100 scoring entries!
Enter the contest here.
[/colored_box]
Best of all, you can recruit your buddies into this NFL Draft Contest and earn five bucks per referral which should more than pay for your entry fee.
Prepare for the NFL Draft Contest
Of course you might think averaging the top 1st round mocks from the most recognized experts in the industry would be a good idea. If so, check out the below video from SBNation as the average out the biggest mocks.