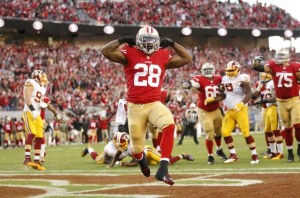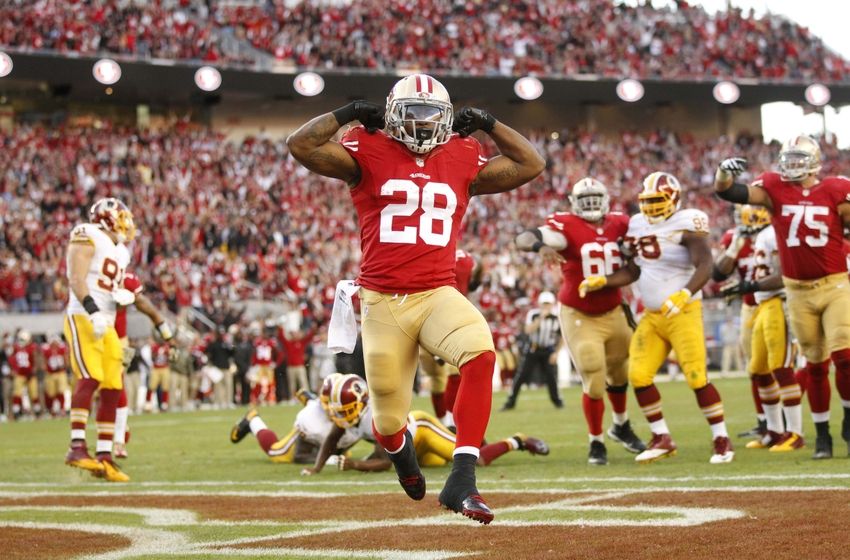 Now that the fantasy football season is gone with the wind, it's time to start preparing for the 2016 fantasy football draft. In this article we'll examine some of my top breakout players and fantasy football sleepers headed into the 2016 NFL season. I know it's early and you're probably wondering why, but if you want to dominate your league you've got to stay on top of these sort of things. In no particular order, let's look at some running backs, quarterbacks, tight ends and wide receivers I feel will make a much bigger impact in 2016.
Justin Hardy, ATL, WR: Hardy was drafted in the 4th round of the 2015 draft. Hardy took to the field in Week 8 as a slot receiver (68% of his snaps) and caught 21 passes for 194 yards on 34 targets. Roddy White is (should) be done in Atlanta and if he doesn't leave he'll be a backup. This should lessen the overall competition for Hardy making him a strong bet for the team's primary slot role. He's a strong 2016 PPR sleeper on an offense bound to rebound.
Carlos Hyde, SF, RB: Despite San Francisco's WOES on offense, Hyde averaged 4.1 yards per carry and an impressive 2.8 yards after contact per attempt. Hyde also forced 32 missed tackles on 115 carries, those are really good number folks. With Chip Kelly now the head coach and considering how well he did in college with a rushing QB (DING DING DING Welcome back Kap) the 49'ers are dripping wet with upside.
As he plotted potential moves & his next @NFL stop, Chip Kelly was trying to figure out how to trade for/sign Colin Kaepernick. No need now.

— Ian Rapoport (@RapSheet) January 14, 2016
Duke Johnson Jr., CLE, RB: DJ was a 3rd round pick in 2015. Johnson played 524 snaps and carried the ball 104 times for 379 yards. But where he makes his money is in the passing game. He amassed 70 targets catching most of them and averaged 8.8 yards per catch. Johnson will be a RB2 in PPR formats in 2016, draft accordingly.
Breshad Perriman, BAL, WR: Perriman was drafted in the 1st round of the 2015 draft. I actually drafted him in my keeper league but it didn't help me any as he missed his rookie campaign because of a knee injury. Sporting a 6-foot-2, 218-pound frame, he ran a crazy fast 4.26 40-yard dash at the combine. Steve Smith Sr. will return next year but at 37 years old I like Perriman late in the draft as his upside is to hard to ignore.
Devin Funchess, CAR, WR: Funchess was drafted in the 2nd round in 2015 and is one of the league's biggest wide receivers at 6-foot-4, 225 pounds. He amassed 31 catches off 61 targets for 473 yards and five touchdowns in his rookie season, not bad. Keep in mind that 6-foot-5, 240-pound Kelvin Benjamin will return from a torn ACL in 2016.
Ty Montgomery, GB, WR: Ty was Green Bays 3rd round pick in 2015. He didn't have much of a chance to emerge this year due to missing 10 games with an ankle injury. If James Jones doesn't get resigned (he's a free agent) I think we will see Ty in 3 receiver sets with Cobb and Nelson.
Kevin White, CHI, WR: White was drafted seventh overall in the 2015 NFL Draft and stands at 6-foot-3, 215-pounds. White missed the entire 2015 season with a shin injury. The Bears will probably re-sign Alshon Jeffery and White should walk right into the teams #2 wide receiver position. Remember when we had Marshall and Jeffery at the same time? Both produced WR1 numbers on the weekly basis.
Lance Dunbar, DAL, RB: Despite playing only three full games before suffering a season-ending injury, Dunbar finished the season ranked 39th among running backs with 21 receptions. Dunbar led the position in targets (22), receptions (21) and receiving yards (215) during the three weeks he played.
Ameer Abdullah, DET, RB: Ameer was drafted in the 2nd round of the 2015 NFL draft. He rushed for 597 yards on 143 carries (4.2 yards per carry). There will probably be a lot of competition at running back in Detroit but the 22 year old Ameer is the team's top talent at the position and could emerge as the clear lead back in 2016.
Jaelen Strong, HOU, WR: Selected by Houston in the third round of the 2015 draft, Strong was targeted on 22 of his 267 snaps and caught 14 passes for 161 yards and three touchdowns. He fits the profile of a possession receiver and could make an impact in 2016, he's a late round sleeper in 2016.
Phillip Dorsett, IND, WR: Selected 29th overall during the 2015 draft, Dorsett stands at 5-foot-10, 185 pounds, and has 4.33 wheels. Since Andre Johnson no longer a threat, Dorsett is the heavy favorite for the Colts' No. 3 wide receiver job behind T.Y. Hilton and Donte Moncrief. With Luck back under center I like Dorsett as a late-round pick in the 2016 fantasy football drafts.
Thomas Rawls, SEA RB: I'll keep this short and sweet, if Lynch retires you draft Rawls in the first round.
Austin Seferian-Jenkins, TB, TE: I was all over Jenkins to start the 2015 season, it's unfortunate his season was derailed by injuries. Despite his injury woes he was a force when healthy and should he put together a complete season you'll be in treat. His ADP will probably fall around the 8th to 10th round.
Chris Conley, KC, WR: The Chiefs' 2015 third-round pick has an nice blend of size, 6'3 - 205 pounds, and speed running a 4.35 40-yard dash. Toward the end of the 2015 regular season, the Chiefs moved Maclin to the slot more often afforded Conley more work on the perimeter. Keep an eye on him in the Divisional Round and let's see if he can make an impact with Maclin dealing with a mild ankle sprain, I love guys that finish the season strong.
Dorial Green-Beckham, TEN, WR: Tennessee's 2015 second-round pick, Green-Beckham is a big boy coming in at 6'5, 237 pounds. He should open the 2016 season as Marcus Mariota's top wide receiver and has all the tangibles to be a top flight WR in the NFL.
T.J. Yeldon, JAC, RB: Despite his team scoring the majority of their points via the pass, Yeldon ranked 11th among running backs in fantasy points during the 12 weeks he was active. This guy also ranked fifth in carries, fifth in forced missed tackles and racked up 36 catches during his 12 weeks active. He'll be underrated in the 2016 fantasy draft and should see his scoring totals rise in 2016. Top that off with the chance he stays healthy and you're in store for a top 10 finisher at RB at the cost of probably a mid round pick.
DeVante Parker, MIA, WR: Parker was drafted 14th overall in the 2015 NFL draft. As I stated earlier, I like guys that finish strong. Starting in week 12 Parker caught 22 of 37 targets for 445 yards and three touchdowns. He ranked 20th among wide receivers in fantasy points during the span. It's no surprise that Parker is a 2016 breakout candidate and has WR1 upside in non-PPR leagues.
Brandon Coleman, NO, WR: If Colston retires, the 6'6 225 pound Coleman has immediate hype/upside as a starter in one of the most pass happy offenses in the league. He wasn't able to make an impact early in the 2015 season but made noise down the stretch which is a clear indicator of his sleeper potential.
Jace Amaro, NYJ, TE: The 49th overall pick in the 2014 draft, Amaro is a big boy standing at 6'5 265 pounds. Chan Gailey's spread offense has produced some seriously unexpected fantasy points in New York and I want a piece of that in 2016. Amaro will come cheap and will be entering his 3rd year in the NFL.
Nelson Agholor,PHI, WR: He was the 20th overall pick in 2015 and was expected to fill the shoes of departed Maclin. He managed only 23 receptions for 283 yards and one touchdown on 43 targets in Chip Kelly's offense. Well, that's changing in 2016 and so should our expectations of Agholor. He faced a lot of very talented defensive backs like Bashaud Breeland, Patrick Peterson, Desmond Trufant, Brandon Carr, Sterling Moore, Ronald Darby, Darrelle Revis, Dominique Rodgers-Cromartie, Delvin Breaux, Malcolm Butler, Nevin Lawson and Darius Slay in 2015. Will 2016 be the year he "breaks out", I saw enough games in 2015 to say yes, yes he will.
Melvin Gordon, SD, RB: His terrible 2015 season isn't all his fault, his offensive line was decimated by injury so he lacked lanes, period. He'll enter 2016 as the team's lead back and has top 15 running back potential written all over him.