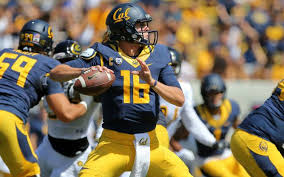 The 2016 NFL Draft is loaded with talent at the Quarterback position and Jared Goff finds himself competing primarily with Carson Wentz for the top spot on teams' Draft boards. We see this type of conflict almost every offseason when teams take turns picking from the freshest crop of college prospects. Two Quarterbacks (sometimes more) are thrown into the spotlight and must handle the pressure of performing at a high level to justify their respective team's selection. We witnessed it unfold between Robert Griffin III and Andrew Luck in 2012. We saw it happen again when Jameis Winston and Marcus Mariota were the first two picks in 2015. This is a scary dilemma to face as an organization because in most cases there is a clear-cut winner and loser. Teams in search of a franchise signal-caller will be hard pressed trying to decide between Cal's "Golden Boy" and North Dakota State standout Carson Wentz. Goff is considered by many to be the most pro-ready Quarterback prospect in this year's class and has garnered lots of attention among draft analysts. Will he live up to the hype? Let's break it all down and see what this young star has to offer to an NFL franchise.
Jared Goff isn't the most athletically gifted player in this years batch of Quarterbacks, but he does have deceptive quickness and agility which fools defenses and enables him to rip up good chunks of yards on the run. This was evident when he ran the 40 yard dash in 4.82 seconds at the NFL Combine. Playing at California, he wasn't known for his ability to make plays with his legs. However, Goff is a smart player who makes quick decisions. When he doesn't like his receiving options and sees open field he won't hesitate to take off running and pick up the first down on the ground. The young star has been criticized for his somewhat slender build (6'4", 215 lbs.) and his 9" hands have also raised some questions among scouts. Some NFL teams follow strict guidelines when evaluating certain positions and 9" hands are considered small for an NFL Quarterback. I don't think this should hurt his draft stock, though. Goff demonstrates superb ball control and his hand size shouldn't be a problem moving forward. In addition, many have wondered whether Goff would be able to take the punishment that is brought along by NFL defenders. This is a legitimate concern but I've watched him absorb some devastating hits in games against Texas, UCLA, and Utah. He never showed any signs of weakness or significant decline in his performance. Goff is going to make a majority of his plays throwing the football in the NFL, but he has the kind of mobility that will keep a defense on its heels. This versatility added with his quick decision-making skills will make him a considerable threat as a pesky scrambling Quarterback at the next level.
Goff's pocket presence and movement were also big contributors to his success at Cal. He has shown the ability on multiple occasions to sense defenders around him, avoid pressure, and deliver accurate throws on the run. Although he isn't as big as some of the other Quarterback prospects in this Draft, Goff does a nice job of staying upright and making plays in and out of the pocket. Overall, this isn't a player who is stationary behind the line of scrimmage. He is adept at staying mobile and using evasive maneuvers to protect himself. In doing this, Goff buys himself more time and allows plays to develop in front of him before he pulls the trigger on a pass or scrambles away for a run.
A Quarterback's competitiveness is another important trait worth taking into consideration. We see the term "competitor" thrown around a lot in the National Football League, but what does it really mean when a player competes? It isn't enough to just show up. A true competitor steps onto the field with a mission; to win at all costs. If a player doesn't show this fire and intensity in his game, he isn't worth adding to your squad. When I watch Jared Goff on the football field, he looks like he's on a mission and he remains focused throughout the entire game no matter the score. This is a guy who wants to win and nothing is more important during those 60 minutes on the turf.
Of course, most critics want to see what the numbers look like when a player is brought into the draft conversation as well. Statistics are an integral part of the evaluation process, but it's important to refrain from putting too much stock into simple numerical data. Fortunately, Goff does not disappoint in this category, either. He managed to throw the most touchdowns of any Quarterback in college football in 2015 with 43 total to just 13 interceptions while leading his team to an 8-5 record and a bowl win. He also passed for a whopping 4,714 yards in his Junior campaign. These are remarkable numbers for a signal-caller of any caliber, but what's even more impressive about Goff's statistical performance is how he managed to improve in virtually every category since making his first start in 2013. It's also worth noting that he didn't have the greatest supporting cast at Cal and was tasked with making lots of plays and converting in big situations. He rarely ever failed to meet these expectations. His stats could've been even better had it not been for several dropped passes in his final season. As stated before, statistics are not the be-all and end-all of a draft prospect's value, but it doesn't hurt that Goff arguably had the best numbers of any Quarterback that declared for the 2016 Draft.
When Goff participates in interviews and press conferences he conducts himself in a confident and professional manner. He emanates the aura of an NFL Quarterback and it's clear that he's spent a considerable amount of time studying how these famed superstars interact with the media. It's imperative that these young athletes be comfortable in situations where they are placed in the spotlight because, more than likely, they will be under the microscope within their organization and around the League for a number of years. Rest assured, whichever team that selects Jared is going to benefit from having a calm, cool, and collected player capable of representing his team both on and off the field.
We talked about Goff's athletic ability, but what can we say about his mental awareness and instincts? It isn't enough to be athletically gifted; a player must know precisely how and when to use these talents to maximize offensive output for their team. This is a strong point in Goff's game and it's where he stands out in comparison to any other Quarterback in this Draft class. He is able to sense pressure well and stays alert to what is happening around him, even in high pressure situations. He ran a no-huddle offense at Cal, but Goff was in charge of changing protections and handling audibles at the line of scrimmage. He had full control of what happened pre-snap and this experience readied him for the responsibilities he will encounter in the NFL. Players like Peyton Manning and Tom Brady have found widespread success during their professional careers not because of athleticism, but rather for their ability to process information quickly and adjust the offense according to what they see on the field. Jared Goff has the smarts and potential to grow in this area of his game and it will be exciting to see how he utilizes it moving forward in his career.
Lastly, I want to talk about Goff's mechanics and how he handles throwing the football. Throwing seems like a simple task to complete but there is a science behind it all. As for Goff, this is just another area in which he excels and stands above the rest. I love what I see when I watch him on film. He operated out of pistol and shotgun formation most of his college career, but has proved that he can handle 3, 5, and 7 step drop-back passes when he performed at the NFL Combine. On top of this, he has a compact throwing motion and steps into his throws for good velocity. Goff keeps a good base in his stance and doesn't let his legs get too wide or narrow when sitting in the pocket. He goes through his reads patiently and sees the field well. When he identifies the open receiver he is quick to fire off a pass. Jared is a natural thrower and teams wont be burdened with developing this part of his craft. As a result, coaches will be afforded the luxury of being able to focus their efforts on other areas of importance. In summary, Goff's mechanics are the most polished of any Quarterback coming into the League this year.
Conclusion
Best Assets: Mechanics, experience, confidence, mental ability, natural leader
Worst Setbacks: Slender build, hand size
Jared Goff. Remember the name. When you watch this guy on the field, you can't help but smile and think to yourself, "wow, that was one heck of a play". He's made plenty of these "wow" plays during his collegiate career and I have a strong feeling that they will continue into the NFL. It's not commonplace to find prospects who have most of the physical, mental, and leadership tools required to play the Quarterback position in the NFL but Goff is proving to be that type of player as he makes his transition to the next level. There is no such thing as a sure-fire draft prospect but Goff is about as close as one can get to being a sure thing. He competes. He leads. He can make all the throws. Most importantly, he wants to win. This is the kind of player that puts average teams into contention. This is the kind of player that wins championships. Goff is a special player and I think he's going to do great things in the National Football League. He's a day one starter but would benefit even more if given a year or two to sit and learn the system of his new team. Either way I think he finds success. When it's all said and done I think Goff is deserving of the number one overall pick in the Draft and I wouldn't be surprised to see a team move up to this spot in order to secure their franchise Quarterback for the future. He has a bright career ahead of him and I'm eager to see how his story unfolds in the NFL.
Final Draft Grade: 8.52/10