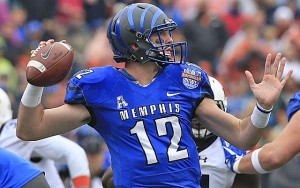 The Quarterback is arguably one of the most difficult positions to evaluate in the NFL and Paxton Lynch was certainly no exception. The superstar out of the University of Memphis has made a name for himself in college football, but what can we expect of him at the next level? The defenses in the NFL are bigger, stronger, and faster; will the Memphis product be able to adjust to this type of game-speed? Can he handle the responsibility of being a leader for his future team? Does he know how to read a defense? These are just some of the many questions we need to ask ourselves before we come to a conclusion: can Paxton Lynch be "the guy" for an NFL franchise?
First, let's talk about the athleticism that this player brings to the table. Lynch is a whole 6'7", 245 lbs.; one of the biggest signal-callers we've seen come out of college in quite some time. He also clocked in at 4.86 seconds on his 40 yard dash at the Combine, a solid time for a Quarterback of his size. These numbers don't do justice to what I've seen Paxton do on the field, though. He is the biggest guy on the turf and he possesses the speed and agility to scramble away from defenders to buy second chances and make good, accurate throws on the run. Despite his athletic ability, I don't want to see him running wild in the NFL. He tends to take defenders head on at times and that is a great way to get hurt at the next level even for a player of his size. He has shown that he can make plays with his legs and frequently gains good chunks of yards using this method against opposing defenses. I particularly enjoyed watching Lynch because of his play strength. He's shown the ability to stiff arm defenders to keep them away and stay upright with good balance, all while keeping his eyes downfield searching for an open receiver. These are the types of plays that scouts tend to notice and value in a potential franchise Quarterback, especially with the emergence of athletes such as Russell Wilson and Cam Newton in recent past. Overall, Paxton doesn't do anything spectacular with his legs, but he will definitely force a defense to adapt with his combination of size, speed, and throwing ability.
Next, we should take a look at competitiveness. Is this a player who wants to win? Does he have that look of determination in his eyes? This is one of the most important features in a Quarterback because, at the end of the day, they are the individuals who hold the weight of the world on their shoulders when it's crunch time. Paxton's Junior season had a lot of ups and downs, but he played against good competition and produced when the team needed him most. Lynch led his team to an eight game win streak in 2015 and then lost the remaining four out of five games, resulting in a 9-4 record on the season. He had a solid 2015 campaign, throwing for almost 3,800 yards, 28 TD's, and only 4 INT's. Don't be fooled by these statistics, though. Lynch was bailed out on many occasions by a talented supporting cast of Wide Receivers. Had his Receivers not been able to hang on to some of his errant passes, he would have had a much more significant interception total. Despite some of the inconsistencies in his game, I think Paxton has a determination to win and gives great effort for his teammates on every down.
I've watched some of his interviews and Paxton has good character, but his leadership ability is lacking as I see it right now. He looks like an NFL Quarterback on the field, but he seems anxious when communicating off the field. His performance during games is the most important part of the evaluation process, but how players handle themselves in other situations says a lot about their character as well. I love him as a person and I think he is a genuine young man. However, I don't think he has the leadership skills required to lead an NFL huddle at this point. Is this something that can be developed? It depends on the person. Personally, I believe Lynch can develop into a leader but he will need time to improve those skills by sitting on the sideline and watching how a veteran Quarterback carries himself around the rest of the players on the team. His size alone gives him and edge in this category. At 6'7", he would be a guy that players look up to, both literally and figuratively.
As far as mental alertness goes, Lynch can hang with the best of them. He didn't always have a clean pocket to work with on every play. When a defender came crashing down around him, he sensed the pressure well and quickly escaped to allow himself more time to make a throw. This is an essential instinct that you want your franchise Quarterback to possess. Lynch has also proven that he can stay focused and poised when facing adversity. Even when he is behind by a large margin in a game, he remains calm and makes plays for his team. He doesn't give up when the going gets tough and I really like that about him. I didn't see him changing a lot of plays, though. He ran a no huddle offense at Memphis and got all the plays called to him from the sideline so he didn't have much control in this area of the game. This causes me to be skeptical of his ability to read defenses, but I think he will be able to learn with time. Fortunately, he does have some experience changing protections. I like Paxton's instincts and I think he has the tools necessary to read defenses at the next level given the proper time.
A Quarterback's technique and throwing tendencies are huge indicators in scouting. As with every prospect, Paxton Lynch has some high points and shortcomings. When Lynch is able to set his feet with a clean pocket, he can make very accurate throws, particularly on short slant routes. He throws the ball with good timing and puts the pass right where it needs to be on these short and intermediate route patterns such as slant, hitch, and screen passes. However, his technique leaves a lot to be desired. He tends to "wind-up" his throws and stares down his receivers at times, leading to batted passes and potential interceptions. On top of this, he sometimes gets lazy with his footwork and keeps a narrow base which makes it harder for him to step into his throws for more power. He relies too much on his arm and it shows when he goes for the deep pass or other long throws like post routes. He will often overthrow his receiver in these situations. I don't question his arm strength, but his mechanics are going to need work if he wants to make NFL-level throws consistently.
CONCLUSION
BEST ASSETS: Athleticism, size, production
WORST SETBACKS: Mechanics, played in simplified college offense, accuracy
Paxton Lynch has been a challenging player to evaluate because he is the ultimate boom or bust prospect. At Memphis, he wasn't asked to do a whole lot and was tasked with making throws on quick hitting routes and barely ever took a snap under center. This will definitely be a concern in his game moving forward. NFL teams will want to see if he can be a traditional drop-back passer instead of taking all of his snaps behind the line of scrimmage in pistol formation. This system rarely required him to make more than one read after the snap and I want to see him have more experience going through progressions before he fires off a pass. After having laid everything out on the table and weighing the pros and cons, I believe Lynch warrants consideration early in the 2nd round of the Draft. We may see him go as high as the late 1st round due to his combination of size, speed, and throwing ability. He is not a day one starter. This is a player who needs to sit for a couple years to take the time to learn a new system and the nuances of the game. If a team is willing to be patient with him and allow developmental time, he can be a good starting Quarterback in this League.
FINAL DRAFT GRADE (10 point scale): 7.18