Not sure if it is because America is the fattest country in the world but tight ends were just hard to come by last year. The position had fewer worthy options than shows on MTV. One thing is certain, tight end has become very hard to predict. They can explode or disappear and overall we haven't seen a lot of consistent production. Many injuries dampened the TE 2016 fantasy stats and overall no one really stood out in standard scoring leagues. Last year as a whole left a lot to be desired. Looking ahead fantasy football draft strategy, based on average draft position, the top 5 are going in rounds 2 through 6. If you don't land a tight end in the early middle rounds then I'd just suggest waiting for a late round sleeper with a safer price tag and build up your bench in the middle of your draft. So let's look at the top options I'd like to draft before the 7th round and the other options I'm looking for in the late rounds, the sleepers if you will.
The Last Two Seasons
One thing we need to dominate our league is consistency. Weekly consistency and year over year consistency. Greg Olsen and Delanie Walker have dominated the aggregate PPR fantasy points totals in the last two NFL seasons. Each of these tight ends have made the top five in back to back seasons. I like PPR rankings as they identify players with opportunity, even if that opportunity didn't translate into many touchdowns. Let's try and identify the top five tight ends headed into the 2017 NFL season then follow up with some later round picks with upside, our sleepers.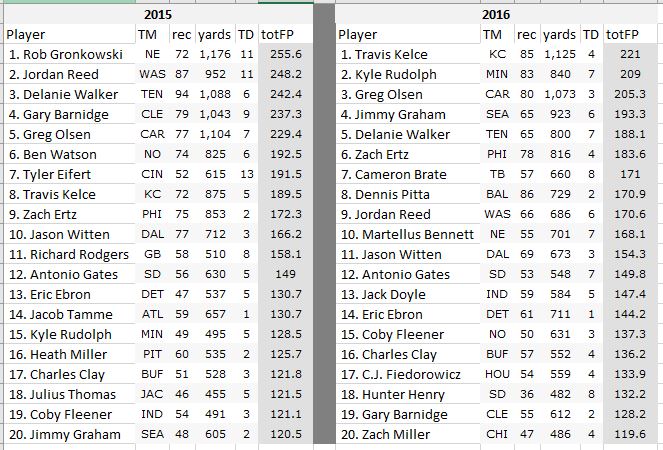 The Top Five Tight Ends
The Top Five Sleepers
Martellus Bennett G.B. The Packers found a guy that will bring back some memories of Shannon Sharpe. Jared Cook was a nice find but contract negotiations didn't go smooth and it pushed Green Bay to go after Bennett. His 3 year average for yards (795), receptions (69) and TDs (5) put him in line to be a top ten TE. The difference is his upside. At 6'7 275 lbs. Martellus should have no problem matching his career high in TDs (7) and be the old reliable chains mover should produce around 70 catches. You can draft him in the 11th round on average (which is going to rise as more drafts take place) which seemed a little late to me. I'd take him in round 10 if I didn't have a T.E. He's a more seasoned player than Cook and has a nose for the first down line. Green Bay finally has a legit T.E. who will produce better numbers than his 3 year averages. Don't be surprised to see 76 catches for 888 yards and 8 TDs when the season is over.
C.J. Fiedorowicz HOU. If I had a true sleeper on this list this guy would be it. The Texans traded Brock Oswieler to the Browns for like a bag of chips and 6 double stuffed Oreos. They did free up $10 million however. So I guess they need to go after Tony Romo. If they were to land the veteran QB it's a boost to the entire offense, that is, if he can stay healthy. No matter who plays QB for Houston Fiedorowicz could be an interesting option. He could be the dump off 1st down guy for a young QB or blow up with some real talent under center. Either way with an ADP in round 14 he is worth an end game grab. Whomever his QB ends up being, I predict 69 catches, 700 yards and 6 TDs. If the stars align he could be on the top ten list this season.
Hunter Henry LAC - Los Angeles Chargers have a very talented TE in Hunter Henry. He had a monster rookie season and should replace Gates as the featured TE for the Chargers in 2017. If this happens, Henry will be a top 5 TE in 2017.
Julius Thomas - During his six-year career injuries have been a constant issue for Thomas. But headed into the 2017 NFL season he's reuniting with Adam Gase who coaxed monster numbers out of Thomas in 2013-14. If he can put together a complete season you should be very happy with this late round sleeper.
Coby Fleener NO - I almost put Cook in the five spot but ended up picking Fleener. The upside with Drew Brees (think history here with TE connections) is to hard to ignore. If he is able to learn the play book and start catching the balls they throw him, he'll be a solid late round pick.