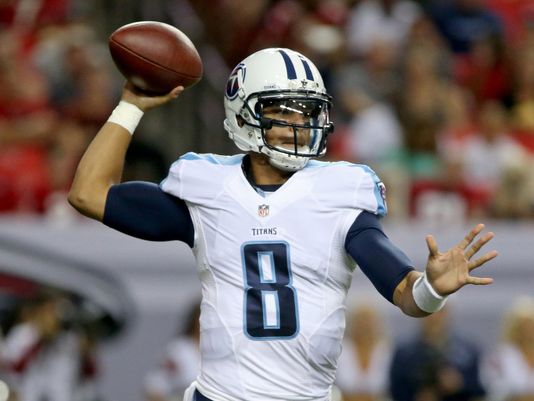 Every year, there are a handful of super sexy quarterbacks that the fantasy football world goes gaga over. This year, that list includes the likes of Jimmy Garoppolo, Deshaun Watson, and Patrick Mahomes, all players that have started 7 or fewer games in their respective careers.
Too often, we get excited over the potential of fresh faces, while disrespecting proven -- albeit more "boring" -- commodities. That, ladies and gentlemen, is why I'm here to make a case for drafting Marcus Mariota in 2018.
A Brief History
Entering his fourth season in the NFL, Mariota is currently being taken as the 18th quarterback off the board in fantasy drafts, which, not so coincidentally, is where he finished last season according to ESPN's scoring system. His career numbers aren't going to wow anybody, either. Take a look at Mariota's career averages as a passer:
[table id=5 /]
Heavy emphasis on average. But those numbers don't tell the whole story for a mobile quarterback. Here are his averages as a runner:
[table id=7 /]
Mariota has been in the Top 10 for QB rushing numbers every season since he entered the league, which gives him a nice floor. Still, he's not up to the Cam Newton/Russell Wilson level of running that could make up for his paltry numbers through the air.
A Mediocre 2017
Injuries like the one Mariota sustained in 2016 take time to come back from. Just ask the other member of the Broken Fibula Club, Derek Carr, who trudged through his worst statistical season since his rookie year. And yet, somehow, Mariota scampered for 312 yards and more rushing TDs than he had in his previous 2 seasons combined. (If that's a tentative Mariota, I can't wait to see what he does with another offseason of recovery under his belt.)
But it was what he did with his arm -- also known as "the main tool of a quarterback" -- that caused Mariota's fantasy owners to cringe every time they begrudgingly set him in their lineups. The Titans QB (barely) mustered 300 passing yards or more in just 2 games all season. For comparison, Jameis Winston accomplished that feat 6 times, and he only finished 11 games.
But big yardage has never been Mariota's thing. (He had just one game over 300 air yards in 2016.) Unfortunately, the rest of his stat sheet was equally grim. His touchdown percentage went down from 5.8 to 2.9 -- ending the year with an unlucky 13 in the TD column -- while his interception percentage increased from 2.0 to 3.3.
For those who slept through math class, those statistics are trending in the wrong direction. But fear not, for there is hope still.
An Upgrade At Offensive Coordinator
To this point, Mariota has been a respectable QB2. He's not an auto-start by any means, but he's rarely bad enough to sink your team for the week. He's like a pre-2017 Alex Smith.
The biggest factor in Mariota taking a big step forward this year is the change in coaching staff. Maybe it's just been dumb luck, but new Titans offensive coordinator Matt LaFleur has always had a top-tier quarterback under his wing. He was the quarterbacks coach in Washington in 2012, when RGIII made his only Pro Bowl appearance, and in 2013, which was Griffin's last respectable year in the NFL.
In 2016, as offensive coordinator in Atlanta, LaFleur helped his team to the Super Bowl and saw Matt Ryan have by far the best statistical season of his career.
And although Sean McVay receives the lion's share of credit for turning the Rams around last year and making Jared Goff a legitimate threat under center, LaFleur's impact as OC shouldn't be overlooked.
This all adds up to a lot of hope for Mariota. With LaFleur calling the plays, he may be able to imbue the Titans' QB with some of that passing magic.
A Sophomore Ascension at Wide Receiver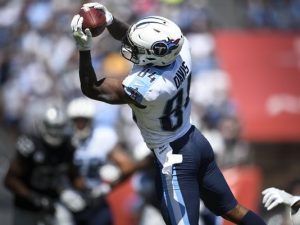 The hype around Corey Davis last season was reminiscent of when Star Wars: Episode 1 -- The Phantom Menace hit theaters. And like George Lucas' first prequel, Davis' first season provided so, so, so much disappointment.
The Western Michigan superstar was hampered by a hamstring injury most of the year (it was his Jar Jar Binks), which caused him to finish the regular season with just 34 receptions for 375 yards and a goose egg in the touchdown department. Those kinds of numbers aren't much help to a quarterback who's already lacking weapons.
Davis provided a new hope (hey-oh!) to fantasy owners during Tennessee's short playoff run, however, posting 9 receptions for 98 yards and 2 TDs in those two games. Not coincidentally, Mariota's TD to INT rate improved drastically in the postseason, along with his air yards per attempt.
Just as the jaw-dropping Darth Maul vs. Jedi lightsaber duel saved an otherwise regrettable return to the Star Wars franchise, the connection between Mariota and Davis in the playoffs proved both players have a higher ceiling than what 2017 showed us. If they can avoid an Attack of the Clones-esque abomination, we could see an Andy Dalton-to-A.J. Green type of connection in 2018.
Improved Health All Around
It's not just Mariota and Davis that were playing below optimal health last year. Rishard Matthews started just 11 games in 2017 thanks to a hamstring injury (must be going around), while Delanie Walker played through a gaggle of minor injuries all season long.
Add to that an old, sluggish Demarco Murray -- the Titans' primary pass-catcher out of the backfield -- being replaced with Dion Lewis, who looked healthy last year despite having some knee issues in recent years, and all signs are pointing up for the overall strength of the Titans' offensive pieces.
Where Should You Draft Him?
Mariota has true QB1 upside this year, especially if his mobility continues to trend upward. His ADP currently puts him in the back of the 11th round, making him an ideal candidate for those who wait to draft quarterbacks later in the draft.
I would gladly pass on Jimmy G in the 7th round, Jared Goff in the 8th, and Derek Carr in the 9th in order to get Mariota, who has as much upside as (and probably a safer floor than) any of them. I wouldn't reach for him too much, but I'd absolutely snag him in the back of the 10th round if guys like Ben Roethlisberger and Philip Rivers are already off the board.