Myself and a motley crew of crazy fantasy "gurus" got together for a quick mock draft. The goal, to present our readers with a draft strategy article for each draft position in a 12 team PPR draft. While most of you would think the 3rd overall pick is a great place to be, I'll pass on any picks not labeled 5th, 6th or 7th. More on my issues with early/late draft picks later. Before we begin let me set the stage. This is for a 12 team PPR league. I have the 3rd pick in the draft. The pick timer was set to 30 seconds (which is really tough when picking early or late) and we only drafted for 12 rounds.
Draft Picking From: 1 | 2 | 3 | 4 | 5 | 6 | 7 | 8 | 9 | 10 | 11 | 12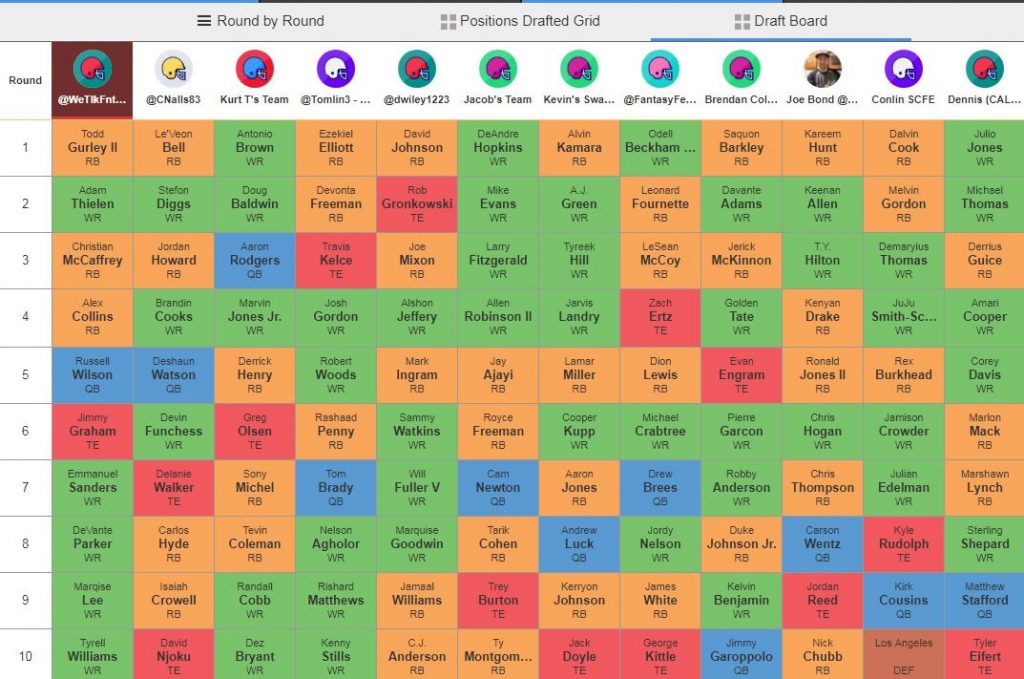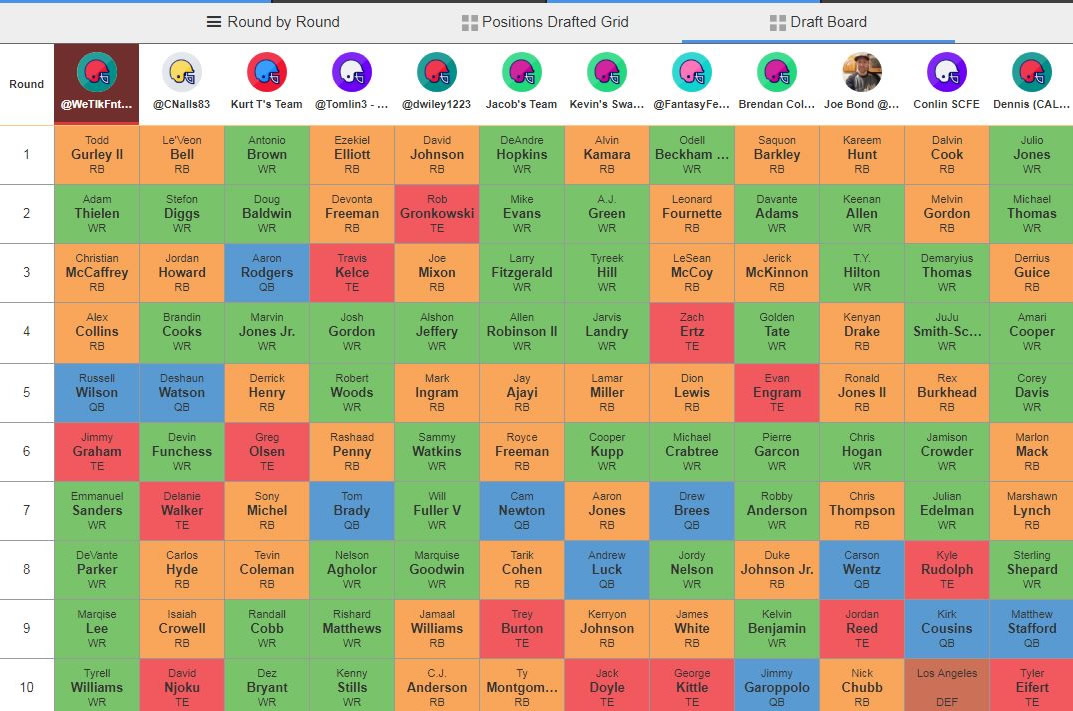 Why This Draft Was Unique
Outside of the 30 second timer this draft was unique in that the top tier quarterbacks didn't get drafted anywhere near their ADP. I haven't seen quarterbacks drop like this in a couple years. I'm assuming it's because last season was a down season for quarterbacks overall. But at the end of the day this is a passing league and I expect the fantasy points to be accumulated via the air more so this season than last. Look no further than 2015 and 2016 for examples. 2017 was just a down year.
What I learned: Don't fear position runs before they happen. If you draft a position like TE or QB because you're worried a run will take place before your next pick and the run doesn't happen, you can be stuck at a disadvantage because you don't want the 1st QB or TE off the board, unless they drop outside of ADP. The idea is to pass on QB and TE for as long as possible, not be the first to grab a top tier QB or TE.
Here's My Team From No. 3 Overall
Antonio Brown
Doug Baldwin - the best RB are gone and Baldwin was the best option - now I know I'll be looking for strong RBBC guys much later, like rounds 5 through 8.
Aaron Rodgers - Worried about a run on QB (which would have made it harder to stack RB in rounds 5 through 8) I drafted Rodgers a touch early. Was considering Kelce or Hilton.
Marvin Jones Jr. - Since the position run on QB didn't happen I got a Marvin Jones present dropped in my lap. He will have a breakout season in 2018.
Derrick Henry - Henry was a desperation/panic pick. I'm known to do this, where I see a guy like Henry fall (ADP is 3rd round) and jump just because "if he blows up" type story lines in my head. Dion Lewis and Henry will probably share the workload and Lewis is the man to own in PPR leagues. Now no one knows for sure how it's going to play out, but if Lewis splits the work darn near even I just made a bad pick.
Greg Olsen - Here's another guy that dropped way outside of ADP, I couldn't resist. But he's old and we're asking a lot out of him to give us a really strong season at his age, only time will tell.
Sony Michel - Okay so there is a lot to be said for avoiding the NE backfield. But NE spent a 1st round pick on Michel. I can't see him being the lesser hand in a RBBC. I expect Michel to rise to the top and take over 70% of the RB snaps by week 6. He is by far the most talented and athletic RB New England has drafted in a long time. Its a gamble but worth it in the 7th round.
Tevin Coleman - Coleman isn't an optimal pick but he has 2 paths to make my roster in week 1. First off Sony Michel will not be my RB2 week 1, it will be Coleman. Michel has to earn that spot. I also believe Freeman is hard to trust and is probably going to have another limited season after not repairing small tears in his MCL and PCL late last season. I know they can heal but his knees are suspect. This gives Coleman upside especially since he fell 1 full round outside of his ADP.
Randall Cobb - I reached, or did I? Couldn't resist him as a solid flex and possible breakout.
Dez Bryant - And since this is a mock and early in the season I'm showing faith ole Dez Bryant. He will land with a team before week 1. And no matter which team it is he will be worth way more than what I paid in the 10th round.
Philadelphia
Greg Zuerlein
My Favorite Pick
None: This isn't a typical Kurt Turner drafted team. I never go full out first 2 picks WR. You just can't get away with it and win without help from RB later in the draft. I may have pulled it off with Michel and Henry but I'm really not feeling it. Word to the wise, RB in the first round if you can get a 3 down back, no matter what.
Pick I'll Probably Regret
Aaron Rodgers: He won't disappoint or anything but I only drafted him out of fear of a position run. And since that position run didn't take place it screwed up my plots and forced my hand down a road less traveled.
Player Who Could Make or Break My Team
Sony Michel / Derrick Henry: I need one of these guys to finish as a top 12 running back. The other guy needs to finish top 20. If this happen I think this is a playoff team.
Caveat
Typically you'll draft 14 to 18 players, not 12. With my bench picks I could have taken a lot more chances at RB late to really make this team shine. I have over 100 late round sleepers for you to choose from in my draft guide. People that purchase usually come back the following season and please don't forget about my playoff guarantee. Hit me up @_Knuckleheads.