Super Bowl 51 is just under 10 days away, but the hype behind the big game is just beginning. This years Super Bowl is set to take place on February 5, 2017 at NRG Stadium in Houston, TX! The Atlanta offense versus the New England defense, that's the key match-up that will decide this game. I believe the Patriots can hang about 28 on Atlanta. But I'm not sure New England will be able to keep Atlanta under 30. But that's not what this post is about. Here are 5 things to know before game time.
Julio Jones Can Take Over A Game
And if Atlanta feels threatened make no mistake about it they will force him the ball. Then he will take it 73 yards to the house. Not only was this a great catch but he absolutely burned everyone in his path. We're talking scorched earth, shock and awe, get out my way I got to sh*t! Jones can win this game for Atlanta so long as his injured foot plays nice.
JULIO JONES IS A BEAST.

73 yards all the way to the house! 😱 #GBvsATL #NFLPlayoffs https://t.co/Iau1EnDgVJ

— NFL (@NFL) January 22, 2017
Pre Super Bowl Party
Did you know you can fly in early and catch Sam Hunt & The Chainsmokers play on February 2nd, Bruno Mars the 3rd, then the Playboy Party the 4th.  Ticket Liquadator has laid it out for you, including Super Bowl tickets. Man my wife would love to see Bruno Mars, ding!!!!!!!!
May the Odds Be With You
Atlanta began the season with 80/1 Super Bowl odds, which means some dirty bird out there is about to get paid... 80 times their crazy check. But hey, Atlanta has been to one Super Bowl previously, losing to the one and only John Elway and the Broncos.
You'll Hear About Deflategate One More Time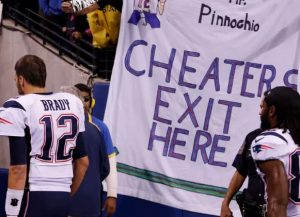 Not that you want to hear about it, again. But hopefully, with a win or a lose, this will be the last time we have to hear about deflategate. Brady started this season suspended for four games. Now here the Patriots stand. What a hot pile of crap! Easy schedules equal healthy teams and the NFL slides them another cheery. Anyway, in case you need to talk to your children about deflategate here's an excellent guide from SB Nation.