With the 7th pick in the 2015 NFL Draft the Chicago Bears selected Kevin White, WR. Here's our analysis and some video highlights of Kevin White. White was my #1 WR in this year draft class. The Bear's made good on their promise to build around Cutler. The bad news is A. Jeffery now takes a hit as the #1 WR for the Bears. White is going to be considered #1B and probably get just as many opportunities to make plays. Not really a bad thing though, as we've seen before the Bears can support two #1 WR's and produce solid fantasy football points game in and game out.
Highlights
Analysis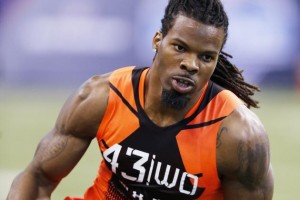 STRENGTHS Has desired NFL frame for the position. Goes and gets the ball with consistency. Had issues with drops in 2013 after transferring in from JUCO, but caught everything in sight in 2014. High points the ball. Asked to run more types of routes in 2014 and delivered with increased productivity. Terrific inside release to beat press coverage. Creates separation on crossers and can stop on a dime on hitch routes. Makes defenders work to get him down after the catch. Competes when the ball is in the air. Looks to turn upfield immediately after short catch, running with desire and some power.
WEAKNESSES Pigeon-toed and runs heel to toe. Allowed to play in space and must learn to get off line of scrimmage against press coverage. Must answer questions abound about his top-end speed. Wall-off blocker who could use more work in that area. Average wiggle after the catch and relies on effort over suddenness to pick up yards after catch.