Dallas Cowboys wideout Dez Bryant is set to miss the next 4-6 weeks as he prepares to undergo surgery on the broken foot he sustained during Sunday night's 27-26 win over the New York Giants.
Bryant, who caught 5 passes for 48 yards in his team's come-from-behind week 1 win, initially exited the game in the first half due to dehydration issues, but appeared to injure his foot in the second half, with Dallas trailing. The 26-year-old sat out the preseason due to a hamstring injury, but was declared healthy ahead of the season opener.
Jason Witten stepped up in Bryant's second half absence, hauling in the winning touchdown pass from longtime teammate Tony Romo with just seconds remaining in the fourth quarter. Dan Bailey's extra point proved to be the difference as Dallas was able to erase a double digit fourth quarter deficit.
Moving forward, the Cowboys will turn to the likes of Terrance Williams and Cole Beasley, along with Witten as they attempt to compensate for their best playmaker's productivity. Devin Street, who filled in for Bryant on Sunday, will also see an increased role in the offense. The team will hope Gavin Escobar, who caught a touchdown during Sunday night's win, can continue to develop and emerge into a consistent, viable receiving threat. Meanwhile, Lance Dunbar could also be used as a makeshift receiver as Dallas looks for additional options in the passing game.
The Cowboys have a difficult slate of games coming up, starting next week against the Philadelphia Eagles. Bryant could also miss games against the Falcons, Saints, and Patriots. The team's open date comes during week 6, ahead of a week 7 rematch with the Giants on the road, and a week 8 matchup with the Seawhawks to follow.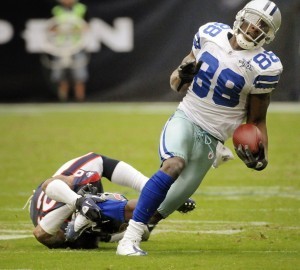 Bryant will likely undergo the procedure on Tuesday. His loss will be a difficult one for the Cowboys to overcome, and his teammates know it.
"That's a tough loss. You can't replace Dez Bryant," quarterback Tony Romo said. "I hurt for him, right now, because I know how much he loves to play this game."
Bryan't absence will impact the team's offense as a whole, not just the passing game. Without him, Dallas will likely see more opposing defenses crowd the box, making it more difficult to run the ball as they will not have to double team or roll coverages towards Bryant. Enaging the play action pass will also become more difficult without Bryant, who put together an 88/1,320/16 line last season.
"Dez Bryant's a great player," coach Jason Garrett said. "He's one of the best players we have and one of the best in the league and he makes a huge difference for us."
From a fantasy perspective, Bryant's injury will temporarily lift the values of Williams and Beasley, and will make Street an interesting name to keep tabs on. Williams is now on the WR2 radar, while Beasley is in the WR3 discussion, particularly in PPR leagues. Witten's value will also increase, and the Cowboys may look to their backs to help contribute in the passing game. Dunbar, Joseph Randle, and Darren McFadden are all capable in the passing game. Romo should continue to remain in the QB1 discussion, but will be near the back-end of the mix while his best receiver is sidelined.
Be sure to consult our weekly injury report ahead of week 2 coverage which kicks off on Thursday night as the Broncos and Chiefs face off at Arrowhead.