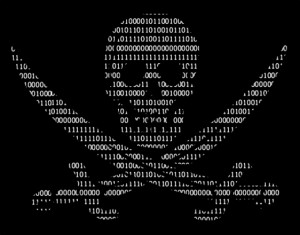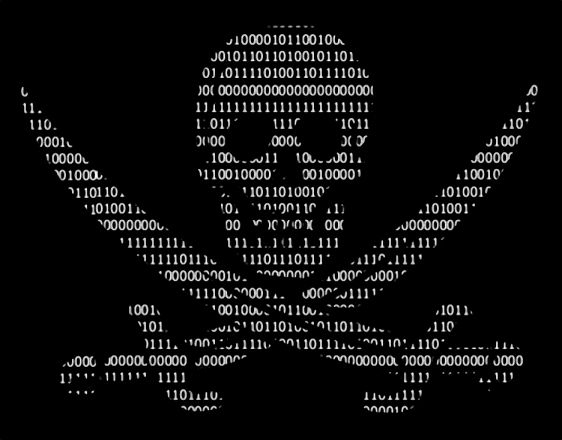 With so many people using our optimal lineup tool I've been bombarded with emails from people that really just want my top picks and value plays. Outside of the basics tips most beginners don't follow, you always need a list of value pick and top dogs headed into the week. You'll want to know the matchups to avoid and matchups to exploit. Matchup and game flow indicators are in our tool, labeled as RAdv and PAdv but the "yellow" games can be hard to gauge for the novice users so this article should help you. This type of knowledge can be pulled from so you can construct winning lineups. I'm sharing my highly recommended picks every week in this article and if you're a member you need to check back every Friday at the latest.
IMPORTANT INFORMATION - PLEASE READ
All current match-ups to exploit are now posted in our Daily Fantasy Sports section.
The Information below is being preserved for historical purposes and isn't current NFL match-up advice.
Wild Card Weekend Highly Recommended Picks and Matchups to Exploit



We only have 4 slates due to the wild card match-ups, so not a lot of players to choose from. As requested in the comment section here's my defense vs WR 1 / 2 chart. This chart will tell you if a team is more susceptible to giving up more points to a WR1 or the WR2.
Vegas Likes
At quarterback: Big Ben and Kirk Cousins
At running back: Lynch, Morris, Hill
At wide receiver: All Pittsburgh Wide Outs, Baldwin and Garcon
At TE: Reed and Miller
At defense: Steelers and Chiefs
How To Win Money This Week
With only four slates I'm avoiding cash games. That's right, this is a GPP tournament only weekend and I'll hold this stance throughout the NLF Playoffs. There just isn't enough players to choose from to allow my research and stats to keep me ahead of the pack. So how do you win those GPP's in smaller slates? Contrarian picks and positive correlations will be key. Read more about correlations here, hit ctrl +F and search for correlations.
Team Defense
"DEF to avoid" and "DEF to exploit" ranks team defenses in terms of strength of match-up; "Opp.": wild-card opponent; "Adj. FPA": The number of fantasy points that defense added or subtracted from its opponent. Washington is the #1 team to exploit and despite their win streak to end the regular season we have to remember who they faced.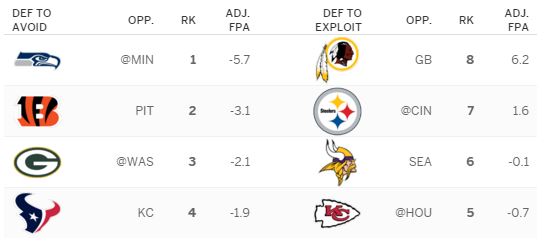 Quarterback
Aaron Rodgers has a favorable matchup but has be wildly unproductive recently, I actually like this as he could be slightly under owned and the Skins vs Packers game could become a shootout.
Ben Roethlisberger posted a paltry 17 fantasy points combined in two games against the Cincinnati Bengals. But the absence of Williams this week means Big Ben will have to win this game via the passing game and his first matchup against them was directly coming off of injury. He'll probably be one of the most owned quarterbacks along with Cousins and you can't afford not to have him in some of your DFS lineups. I think that holds true of all your lineups with such a small slate, own every quarterback and build various players around each.
Running Back
Since Willams is out for the Steelers, Fitzgerald Toussaint becomes an immediate punt play with a considerable amount of upside and risk. The Bengals graded as the only above-average RB matchup this weekend.
When only considering playoff teams, the Vikings allowed the second most fantasy points to opposing running backs the during the last five weeks (tied with the Bengals). But with Defensive tackle Linval Joseph on track to play this weekend I'm not in favor of Marshawn Lynch, especially coming off the bench after weeks off due to abdominal injury.
Wide Receiver
The Bengals have struggled more against opposing non-WR1s (see chart above), which is why Martavis Bryant comes to mind. He didn't do so well in his previous matchups against the Bengals but without a solid running game the Steelers game plan will be much different than the teams regular season matchups.
A.J. Green and Marvin Jones have the best matchup on paper, but their backup QB is hard to trust in his first ever playoff appearance.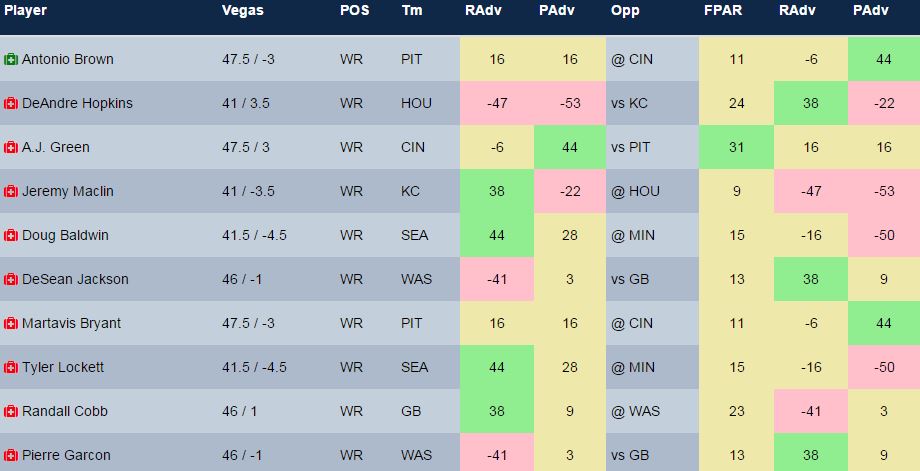 Tight End
Jordan Reed is going to be in a lot of lineups this week considering the Packers have yielded solid fantasy points to other high level tight ends this season: Travis Kelce (Week 3 - 16 points PPR), Antonio Gates (Week 6 - 18 points PPR) and Greg Olsen (Week 9 - 16 points PPR).
I recommend you fade Reed in favor of a less owned TE, Richard Rodgers, because the Redskins have given up their fair share of production to the TE position this season. Remember, being contrarian can really separate you from the pack and bring home the big GPP payout.
Good luck this week and thank you for leaning on Fantasy Knuckleheads to dominate!