If you read my Fanduel Optimal Lineup article you know I didn't pay attention to positive correlations. Well for my DraftKings GPP optimal lineup I'm not taking the obvious positive correlation of stacking a WR/QB. Instead I'm pairing wide receivers in matchups against each other. The thought process here is "if" it's a shootout then the wide receivers will both benefit. The obvious week 9 match-up to exploit is the New England Patriots versus the Washington Redskins. I'm thinking you'll see a lot of Brady/WR/TE stacks. But I'm fading the Brady stack and looking at pairing Jeffery and Johnson in the Chargers versus Bears game. For more on this subject I encourage you to read these 5 tips which can be applied to DraftKings. And if you're looking to improve your win percentages this article is right up your alley.  Last but not least be sure to checkout this week's DraftKings projections.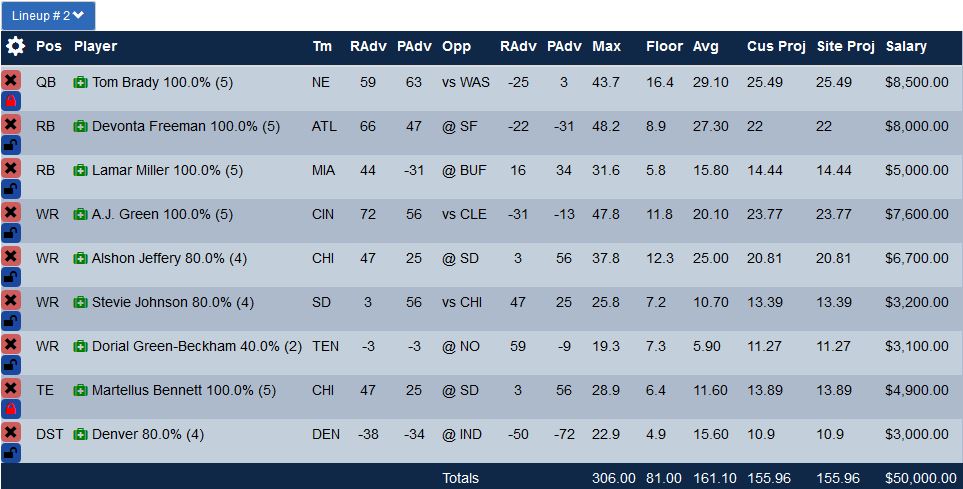 Who and Why
Tom Brady - highest scoring QB this week, or so we hope.
Freeman - Should have plenty of opportunities in the red zone.
Miller - with such a lopsided RAdv and PAdv Miller has a shot at solid fantasy production but it's going to take an expected game flow.
Green - After Daltons poor outing last week I'm hoping most will be fading Green.
Jeffery - betting on a high scoring game between the Bears and Chargers
Johnson - see above
DGB - With K. Wright on the mend I expect this to be DGB's breakout game of the season, just the type of thing that needs to happen for a GPP lineup to hit it big.
Bennett - cheap and a good matchup - not optimal with Jeffery as both need to score a TD to pay off.
Denver - the weekly no duh pick.
This Friday you'll want to check back and read the updates to my weekly column: DFS Highly Recommended Picks and Matchups to Exploit.