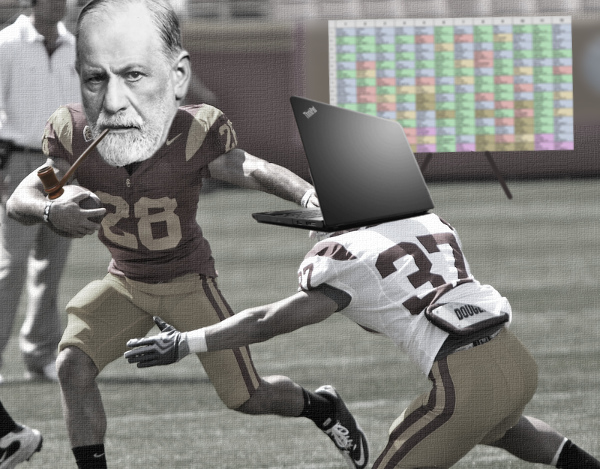 Fantasy football drafts are as much an art as they are a science. And unlike your high school art class, it's crucial you pay attention and put in maximum effort during the draft process if you want to walk away with a good grade.
The draft is also the first step on the long road to hoisting your league championship. Play it right and you'll be set up to succeed for the rest of the season. Play it wrong and you might as well secure a comfy spot on a psychiatrist's couch, because you're going to be complaining all season long.
Here are some tips to get your mind right on draft day and give you an edge over your league mates.
Note: This guide refers to standard league types. More specialized leagues (2QB, Superflex, Best Ball, etc.) require more specialized draft strategies.
Use Projections, Not Rankings
"Don't be a slave to the rankings." - Sun Tzu (probably)
Let's play some trivia. Unnamed Quarterback #1 has an Average Draft Position of QB8, while Unnamed Quarterback #2 is ranked QB14. Obviously, Quarterback #1 is the better target in your draft, right? Not necessarily.
As of this moment, the consensus QB8 is Kirk Cousins, who is projected to score 269 total points. The consensus QB14 is Phillip Rivers, who is projected to score 255 total points. That averages out to less than a 1 point difference per game, yet Rivers is going almost 3 rounds later in most drafts. Waiting to scoop him up gives you much more value for your pick.
Basically, remember this: It's okay to study the rankings, but they shouldn't dictate your each and every move. Make sure you're using ALL the information presented, or else you'll end up reaching for a carbon copy of a player that could have fallen into your lap later on.
Don't Be Afraid To Get Your Hands Dirty
If you know the guy drafting right behind you is targeting a specific player -- whether due to his current roster construction or just because he's a huge homer -- go ahead and snatch that player up right in front of him. Even if your interest in that player is low. Why? Two words: Trade bait.
Let's say a league mate who was born and raised in Minnesota is *this close* to having a shrine devoted to Stefon Diggs in his living room, and the draft is approaching Diggs' projected ADP. This owner is light on WRs, and you don't view any player as a "must have" at your spot. Take Diggs before your league mate can, even if you're loaded up at the position. Come Week 1, you can dangle him for twice as much as you paid. It's a little nefarious, but fantasy football isn't always polite.
Don't Get Sentimental With Your Draft Picks
The reason you can get one over on that Diggs devotee is because they're drafting with their heart instead of their heads. Don't be that person. Homer-ism is an all too real disease in fantasy football leagues, and it's the leading cause of instant regret on draft day. Because while you were busy making a mental collage of you and your favorite team's receiver holding hands and getting into best bud-level shenanigans, your twinkly eyes likely missed out on an obviously better fantasy player.
To borrow a quote from noted psychology expert Dwight Schrute, "Your heart is a wonderful thing. But it has made some terrible decisions."
Play It Safe In the First Rounds
Your overall goal in the first 2-3 rounds should be to minimize risk. This is where the more obviously elite players are found, but it's also home to a good number of potential land mines. Statistical anomalies from the previous season can bump an otherwise average player's ADP up into the first couple of rounds, and you don't want to get caught overpaying for a single season aberration.
Likewise, be weary of first-rate players who are coming off a serious injury, unless they fall into your lap. As to my previous point, if David Johnson is somehow available at the back of the 2nd round, that's a more of a calculated risk.
Basically, with your first 2-3 picks, you should be asking yourself, "Is there a fully healthy, consistently-producing player on the board?" If so, pick that player. Let your league mates take on the high risk/high reward players in these spots.
Study Up on the Middle Rounds
Some folks get bogged down on mapping out their first couple of moves, painstakingly analyzing the minute differences between the projected WR3 and WR4. Don't waste your time. Just follow the thought process previously outlined and use your brain power researching the lesser-known quantities in the middle rounds. That's where owners' draft boards start to diverge, and it's also where the range of outcomes for individual players is greatest.
In Rounds 6 or 7, your roster construction should start to present itself. If you know these guys well enough, you won't have to force anything or reach for players. You can remain fluid while still filling any holes in your lineup.
Draft For Opportunity In The Late Rounds
I think it was the great philosopher René Descartes who said, "You can't lose your draft in the first round, but you can win your draft in the last rounds. That's where the upside lives." [Editor's note: It was not.]
Use the final rounds to take a shot on players with opportunities to break out in their respective offenses. Aim for running back handcuffs with solid game tape who could inherit a high workload, or receivers and tight ends who are just an injury away from a whole lotta targets.
Has a team lost a target monster in free agency? Is their quarterback pecking order still up in the air? Those are the questions you should be asking yourself.
Stay Fluid With Your Draft Strategy
I know this sounds like I'm contradicting my previous points, but bear with me. Going into the draft, it's good to have a general idea of how you'd like to build your team. But those who stay glued to Zero RB (or any specific dictum) throughout the draft, regardless of how players fall, may be losing out on tremendous value.
The goal is to stay fluid and think on your feet. Maybe you didn't plan to draft 3 running backs right out of the gate, but Zeke Elliott was there waiting at the back half of the 1st round, Saquon Barkley fell to the 2nd, and now you're on the clock with Devanta Freeman staring you in the face a full round later than where he was projected. Obviously this is an incredibly unlikely scenario, but the point is you can miss out on amazing players if you let your preconceived strategy get in the way.
Or, to paraphrase famed psychoanalyst Bruce Lee, "Be water, my friends. Take what the draft gives you."
Be Cool During Position Runs
The most tense moments in any draft come about when a certain position starts flying off the board. The top tier tight ends start finding their homes for the year, the big name quarterbacks are getting scooped up in droves, and now you're on the clock.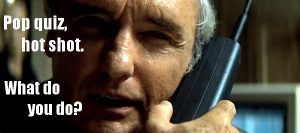 Don't worry. And don't follow the trend. A run on these types of positions just means you're in a prime spot to snag a big-time talent at one of the suddenly neglected positions. While everyone else is jumping aboard the TE Train -- bogging themselves down in groupthink-- you can walk away with an impact WR who's guaranteed to put up more points than whichever big body/part time blocker is getting added around you.
Remember, there's usually a steep drop-off in projections after the top tier guys go off the board at QB and TE, so you're better off waiting to take a flier in the later rounds while stocking your cupboard with more running backs and receivers.
Which reminds me...
Wait On Quarterbacks
I don't mean "wait" on quarterbacks. I mean "WAIT!!!" on quarterbacks. Like, until it gets to the point where all of your league mates think you're mentally imbalanced because 20 QBs have already flown off the board, and you're still stockpiling receivers like it's a very strange and specific type of apocalypse that uses receptions as currency.
Unless you're playing in a 2QB or Superflex league, you're only starting one QB each week. Meanwhile, you're starting 2-3 running backs and wide receivers. So why waste so much draft capital on a position that is all but certain to have quality streaming options on the waiver wire 99 percent of the time.
In 2017, there were 7 quarterbacks drafted in Round 9 or later that finished as a QB1. For wide receivers in PPR formats, that number drops to 2. Running backs...just 1. Guys like Blake Bortles and Case Keenum (who finished the season QB13 and QB14, respectively) were available for free on waivers. The point is, let your league mates pay up for those "gold standard" quarterbacks in the 3rd and 4th rounds while you walk away with an armful of free silver in the back half of the draft.
Don't You Dare Draft A Kicker Until The Last Round
You hear me? DO YOU?? If your league still forces you to draft a kicker, then fine. Draft one of these fickle foot specialists. If not, leave 'em alone. Here's why: Exactly one half of the kickers who finished in the Top 10 in 2016 finished outside the Top 25 in 2017. That's stupid. Kickers are stupid.
Kickers should be drafted based on their value in the first week and the first week alone. If a kicker's first week is 1) at home, and 2) indoors, then pick 'em up. (Or if they're playing in Denver, where even terrible kickers look like golden-legged gods.) Obviously, if they continue to perform well, feel free to hang onto them.
It's like Sigmund Freud said, "There are no mistakes. Except drafting kickers before you ABSOLUTELY have to."