I love the optimal lineup for week 7 on DraftKings. It all seemed to fall into place with minimal effort on my part. I must say I locked in Gates who I know will be highly owned, which is also the complete opposite of what you'd think we're supposed to do here. In most cases I'd fade Gates and you can easily do that with this lineup. Heck, after the ownership stats come through I could do just that. But here's the deal, as you already know Freeman, Gurley and Gates will have a very high ownership. But I also believe they will be the highest scoring players at those positions. Therefore, I can I afford to NOT to have them in my lineup? Won't the folks out there trying to be slick willy and fade these studs pay dearly?
That's what everyone is thinking, right? So let's flip the script and go strong WR and find value at RB. Take a look at the lineup below then head on to the next paragraph.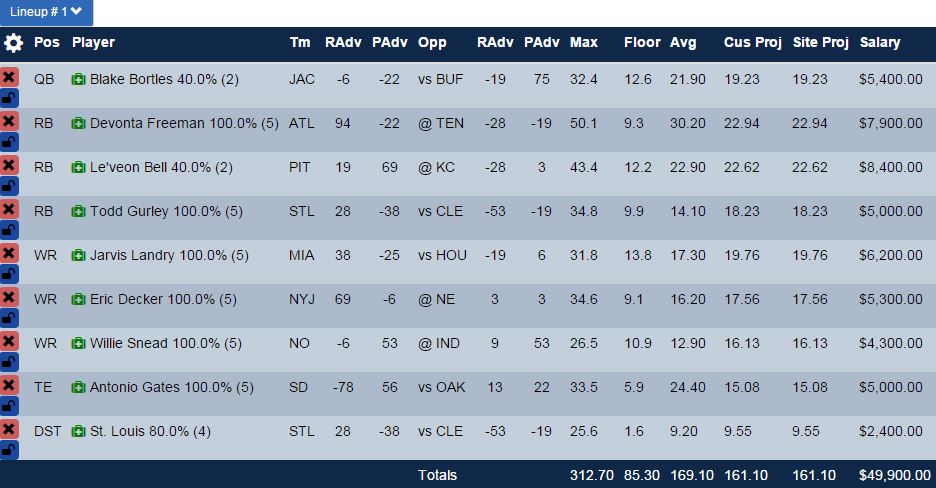 Being contrarian is easy with our optimal lineup tool. Lock in positions "opposite" from the top projected position (or just remove them) and let the tool go to work. It will find the best value at RB if we lock in some solid wide receivers thereby bypassing Freeman. Man it's hard not to lock him in! But the money saved will allow us to spend elsewhere and if we can hit with our substitution/contrarian pick then we're ahead of the guy that overspent, in theory.
While I didn't fade Gates, which again, you can easily do, I did fade Freeman who will probably be over 50 percent owned across DraftKings GPP tournaments. I'll soon post my week 7 "brain dump" which is a smorgasbord of all the players I like this week based on hours of research. Yes, despite using a tool like ours you still have to research some players! Stick around as that's being posted very soon.