There are plenty of reasons to avoid using a particular player on Draftkings in any given week: match-up, injury concerns, usage, but chief amongst all, price. As you look over my Draftkings players to avoid for week 3, please remember, this is all about value. No one is "unusable", for the most part, there are situations where one could make the case for almost any player. The decision to plug a player into a lineup ultimately comes down to synthesis: when you meld all the factors together surrounding a player for a given week, what picture is drawn? The following list examines players I won't be using in week 3 on Draftkings at the Quarterback (QB), Running Back (RB), Wide Receiver (WR) and Tight End (TE) positions. I provide my rationale for each, along with their current price.
Quarterbacks to Avoid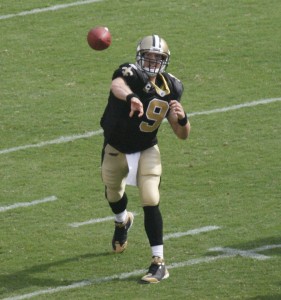 Drew Brees, Saints - $7500
Everyone's darling last week, Brees disappointed with a middling performance. Afterwards, news came out about an injury to his rotator cuff. Regardless of his injury status, Brees isn't worth the pricetag on the road against a very competent Carolina defense.
Peyton Manning, Broncos - $7400
I know, I know. He really turned it around in the second half last Thursday against Kansas City and finished with a respectable stat line. The point is this: for the price, you can absolutely find similar production, if not better. Manning looked bad for the first six quarters of the season, but even if we are to believe that his final two quarters indicate he's turned it around, two thoughts: 1) I'd like to see it more first and 2) there's cheaper, higher upside, cheaper, available to use.
Running Backs to Avoid
Matt Forte, Bears - $7300
I know, Forte literally IS the Bears offense right now. He's also been fantastic through two games. But with Jay Cutler out (as of this writing), Seattle doesn't have to worry about the Chicago passing attack at all. The return of Kam Chancellor gives the Seahawks D an added boost and, oh yeah, the game is in Seattle.
Justin Forsett, Ravens - $6000
This is mainly a matchup issue. The Bengals are not exactly a fantasy-friendly opponent, and if the Ravens look as bad as a whole as they did in week two, this game could get out of hand, which means Joe Flacco's going to sling it. Not a good week for Forsett.
Wide Receivers to Avoid
Calvin Johnson, Lions - $7900
Had a nice game in week two, but the Denver defense is a different animal entirely. the 10 catches from week 2 is nice in the ppr format, but I really don't see that repeating itself, especially with Matthew Stafford battling multiple injuries.
Brandin Cooks, Saints - $7100
As Brees goes, so do the Saints, and Cooks is no exception. A hot pre-season pick to explode, Cooks has done anything but. Again, the matchup is bad, the quarterback is working his way through an injury… it has all the markings of a situation to avoid. Cooks and the Saints may turn things around, but I'm not banking on it in week 3.
Andre Johnson and T.Y. Hilton, Colts - $5500 and $6700
Two words: Donte Moncrief. Does a name count as one word? Whatever. The Colts have looked extremely subpar, and that's putting it lightly. Of the receiving corps, Moncrief has looked the best thus far in the young season, and I haven't seen anything yet to suggest that either Johnson or Hilton are worth a play in daily leagues, so consider them on this list until further notice. Moncrief is the cheaper, better option.
Tight Ends to Avoid
Jason Witten, Cowboys - $4500
I'm avoiding all Cowboys this week. I don't know what the Brandon Weeden/Matt Cassel era will look like and frankly, I don't want to. Atlanta's defense is much improved from 2014's disaster and while Dallas may be behind (and throwing), this ugly Dez-less, Romo-less mess is definitely not to be trusted.
Zach Ertz, Eagles - $3500
After Sunday's Eagles loss, I checked out Twitter and searched, "Philadelphia Eagles." I'd guess one out of every ten to fifteen posts was either an image or a gif of a dumpster fire. I think that's all that needs said, here. Well maybe one more thing: Jets.
As always I wish you luck, unless you're up against me! Send all your tweets @pkaragianis and draft well!