There is room in my life for any type of fantasy football draft, but auction style has always been my favorite. What better gauge of skill could there be than giving every manager an equal shot at every player? The argument that budgeting has nothing to do with fantasy football is fine, but snake drafts can be discouraging if you have a low pick. Most players are not excited to head into draft night knowing that they have no chance at Antonio Brown or Todd Gurley. After completing numerous drafts both with friends and industry experts, I have a few comments both general and specific.
Player Values Are Just A Starting Point
If you head into an auction draft without a strategy, you may leave disappointed. Whether drafting with friends or playing in a league with industry experts, the elite players will often go for more than their projected value. This can lead to some bargains later on and by no means would I counsel players to spend irresponsibly. If drafting Antonio Brown would use up half of you budget, of course do not do it. Just be sure that you do not end up with a whole team of middle of the pack players. Winning a league may be a tall task if you pass on the top 10 wide receivers or running backs due to inflated values.
Have A Plan, But Be Flexible
Preparation is key for any fantasy football draft, but auction style drafts require extra care. Managers should be sure to have players ranked by value or in tiers in order to have an idea of what the market may look like. Keep in mind what players may be worth going the extra mile to acquire and which ones would be dead weight on the roster.
My general strategy this season has been to acquire two of the top ten or 12 wide receivers. I have been able to do this and still fill out a decent roster in most leagues, but the most recent expert draft that I took part in was a different story. I had to switch my strategy mid-stream and ended up grabbing a couple of high upside running backs to go with an elite receiver for my core. Here is a look at my full roster for this 12 team PPR league along with the price that I paid:
Starters:                                                                                        Bench:
Philip Rivers $10                                                                        Teddy Bridgewater $1
Ezekiel Elliott $32                                                                      Shane Vereen $1
Devonta Freeman $29                                                              Jordan Howard $1
LeSean McCoy $29                                                                    Phillip Dorsett $2
DeAndre Hopkins $44                                                             Pierre Garcon $1
Golden Tate $26                                                                        Terrance Williams $1
Devin Funchess $8                                                                   Nelson Agholor $1
Coby Fleener $11                                                                       Jordan Cameron $1
Blair Walsh $1
Rams D $1
I ended up flipping my strategy on it's head when this draft started. I saw that the flow was not going to favor my securing top end receivers and still filling out a satisfactory roster, so I changed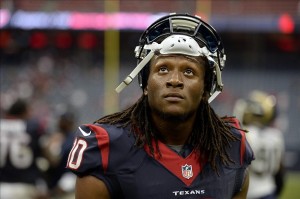 things up. They still have to play the games of course, but paper I think that this team has great potential.
Do Not Wait To Bid
There is a temptation to let the first few players go to decipher your opponents mindset. Odds are other managers are going to have this same idea and it will lead to big name players going at a bargain price. The beginning of an auction draft is often the perfect time to pounce on a top tier player at a reasonable price. After this everyone will be playing catch-up and the bids will creep higher.
Trust Your Research, Not Chatter
If you have done a solid job of setting up your draft sheet, do not be misled by your competition. In many of the leagues I have been a part of, other players will joke about bogus injuries or depth chart changes. If your league is a group of friends, you will probably spot these shenanigans but a public league can be more difficult. Remember that you have put in the time to devise a strategy and not everyone's opinion will fit in with your own. I think that Devonta Freeman will have another big season, but many industry experts disagree with me. Likewise I am driving the Ezekiel Elliott hype train while others bite their fingernails over Alfred Morris' preseason performance. In the end, you will have to live with your decisions so do not be influenced by others.
If you want or need help with your draft tactics, check out the various articles on rankings, sleepers and busts offered by FK.