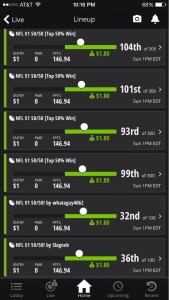 Right at the midway point of the NFL season, let's have a look not only at value picks but also at lineup creation. This week, I plan to first suggest my top value plays, then use them as examples to create a live lineup. For purposes of simplicity I will use Dratfkings to create the lineup. As mentioned last week, the key to a successful lineup is not stocking it full of value picks but instead trying to simply "hit" on the value picks you do use and supplement them with big-name, big-salary players. This week, I'll even do a "Man vs. Machine" challenge, where I'll stack up my value picks with the Lineup Optimizer tool available here on Fantasy Knuckleheads to compare lineups.
But first, the value picks…
Quarterback Value Picks
Jay Cutler - CHI DK: 5200 FD: 7300
Cutler has been consistent in 2015 and has limited his turnovers - a major problem in the past. Playing at home and coming off a bye, I like his low pricetag. The return of Alshon Jeffery in week 6 also continues to boost his value and with a Bears team now fully healthy and having an extra week to prepare, I think you can sail the Cutty in week 8.
Ryan Fitzpatrick - NYJ DK: 5200 FD: 7400
At almost an identical price, Ryan Fitzpatrick at home against Oakland is a quality play. I've liked Fitz a lot this year mainly due to his surrounding weapons: Brandon Marshall and Eric Decker have both been quality options at the WR position and Chris Ivory even caught a TD last week.
Running Back Value Picks
Jonathan Stewart - CAR DK: 4100 FD: 6600
The DFS knock on Stewart - and it's a valid one - is he doesn't catch passes. But in an important game (every game is critical when you're 1 game up in the division) against the Colts on Monday night, I think the Panthers will lean on their workhorse once again. Cam Newton's dual threat has opened up running lanes for J-Stew, and at 4100 it's hard to find a better play near the price range.
Darren McFadden - DAL DK: 3800 FD: 6400
I think McFadden remains the number one guy in Dallas with Joseph Randle out, which is great for his fantasy value. Even against the vaunted Seahawks, I think he's a good bet to put up decent running numbers and catch a dumpoff or two, or six, from Matt Cassel. The backfield is his until he gets hurt.
Wide Receiver Value Picks
Stefon Diggs - MIN DK; 4800 FD: 6700
Diggs is the de facto number one in Minnesota, a fact that many fantasy owners have overlooked. He has all the tools - hands, speed, and isn't undersized. Meanwhile, he also gets to go up against the Bears defense, which gave up over 500 yards the last time out.
Martavis Bryant - PIT DK: 5300 FD: 7200
With Ben Roethlisberger back in action, Bryant and Big Ben hook up for the first time in 2015. Even with Michael Vick and Landry Jones under center the past two weeks, Bryant has managed to put up quite good numbers. In a critical division game against the Bengals, the Steelers will need their offense humming. I like Bryant's upside and his baseline has also been more than respectable.
Nate Washington - HOU DK: 3600 FD: 5400
Sixteen. That's the key number here. As in, 16 targets. Even if Washington sees only half that in week 8, he's still well worth the price. With Cecil Shorts III out, Washington is a very nice low-tier salary option on a Houston offense that just lost its best weapon, Arian Foster, and will thus likely have to rely even more heavily on the passing game.
Tight End Value Picks
Ladarius Green - SD DK: 3000 FD: 5300
No Antonio Gates? No problem. Green has been incredibly productive with or without the presence of his veteran counterpart and the San Diego offense should be plenty effective against the Ravens near-league-worst pass defense. I wouldn't even hate a two-TE lineup with Green in the Flex, he's been that good.
Austin Sefarian-Jenkins - TB DK: 2800 FD: 5200
Just keep an eye on him, OK? With Vincent Jackson out and ASJ practicing, things seem ripe for a sneaky low-cost play to boost your lineup. The obvious caveat here is he has to be active, so watch for gameday actives/inactives and have a pivot prepared just in case.
And the Broncos D/ST are back off bye so consider this your weekly reminder to play them. Yeah, the matchup is slightly concerning but at home, I think this defense can keep Aaron Rodgers in check and come up with a turnover or two. At only 2900, I'm still using them.
Week 8 Roster Construction
An un-manipulated optimizer lineup for Draftkings looks as follows:
QB Philip Rivers
RB Todd Gurley
RB Chris Ivory
WR Larry Fitzgerald
WR Brandon Marshall
WR Stefon Diggs
TE Eric Ebron
FLEX Michael Crabtree
DST Rams
Woof! That's a lineup that's going to be hard to beat! Nonetheless, there is one obvious error- it doesn't really offer much upside to play both Jets - so one of Ivory or Marshall has to go. Like me, the optimizer really likes Diggs, and uses him in every single one of its top-5 lineups. So he's an obvious lock for my lineup which incorporates some of my value picks listed above. OK! Man vs. Machine! Ready…… Go!
Note from Kurt: The optimal lineup tool isn't built with the purpose of you accepting the default lineup it creates out of the box. Pete pointed out the obvious reverse correlation error and then uses his value picks to improve upon the optimal lineup. You can do the same by locking in the value picks in the tool then clicking calculate. I love this exercise Pete has brought to the table. You could easily call it "how to create an optimal lineup with value picks (here's mine)". One other thing not mentioned but sure to improve the default lineup created by our tool is you must adjust the sliders to remove the poor matchups and overpriced players. Also, here's some other tips and tricks to get you winning.
Pete vs. The Optimizer Lineup
QB Philip Rivers
RB Todd Gurley
RB Darren McFadden
WR Stefon Diggs
WR Keenan Allen
WR DeAndre Hopkins
TE Austin Sefarian-Jenkins
FLEX Alshon Jeffery
DST Broncos
For the sake of fairness, my pivot is to play Crockett Gillmore (also not a bad value play) and the Rams if ASJ is ruled out.
Some notable differences: instead of playing a WR/RB combo from the same team, I'm using a QB/WR combo (Rivers and Allen). I'm also willing to risk a play with ASJ that I know I can pivot from if health is an issue. The other main difference is McFadden against Ivory, where I think the computer has an advantage. However, I think I upgrade with Hopkins over Fitzgerald and don't lose much, if any, from Marshall to Jeffery.
I'll be interested to see who wins the battle of silicon vs. carbon, and we'll check back with results next week. Best of luck! As always you can tweet me @pkaragianis