Here's looking at you, single entry tournament players. As many of you know I usually avoid multi-entry tournaments because I simply don't like to throw away $1,000 on 100x $10 dollar entries just so I have a glimmer of hope at the #1 spot. With that said I do play multi-entry tournaments on Draftpot (use my promo code and beat me in the "hot route" and I'll pay you with 1 year free membership) because their overlay has been excessively favorable since the beginning of the NFL season.  And by excessive I mean you darn near have a 50% chance of breaking even. Anyways, here's my week 9 optimal lineup for FanDuel. I didn't apply the standard "positive correlation" to this lineup! I actually have a negative correlation with my RB and TE combo! But my thoughts are correlations don't always pan out. And more often that not are not required most weeks especially in smaller GPP tournaments. Nevertheless, correlations are a big part of winning GPP tournaments, read more about correlations here. Or better yet, read these 5 tips to improve your game!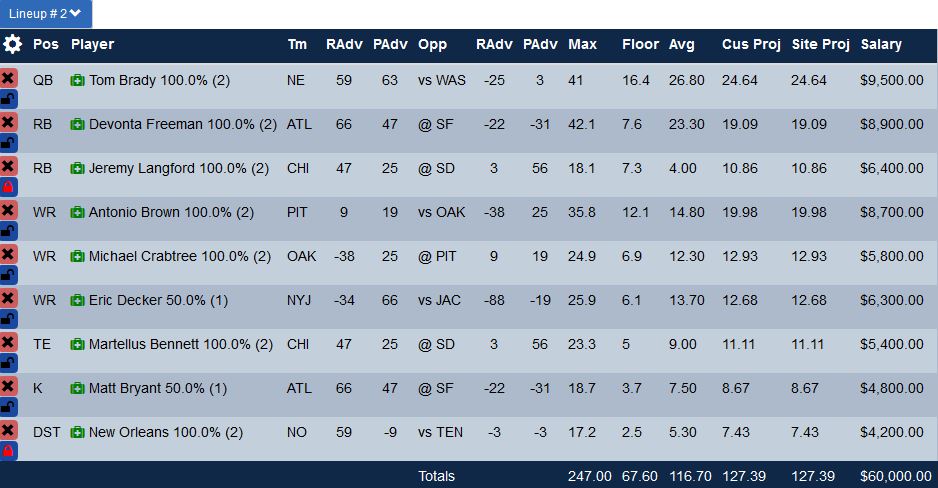 The Player Used and Why
Tom Brady - Should lead the field in scoring. Working LaFell into this lineup could work to your advantage to separate your from the Gronk and Edelman stacks.
Martellus Bennett - Great match and great price.
Matt Bryant - He should have more than enough opportunities in the red zone this week.
New Orleans - Contrarian pick at defense for sure but they've been doing well with turnovers and sack and should be motivated after last weeks poor outing.
Michael Crabtree - His red zone targets are undeniable and they should be playing from behind.
Eric Decker - Marshall's toe and ankle could limit him this week, Decker please!
Antonio Brown - Big Ben always plays good his second week after returning from injury.
Devonta Freeman - He's been better than average and I hope that lowers his ownership this week. PRIME matchup and they should just be killing clock in the second half.
Jeremy Langford - Projected 15% to 30% ownership. If he's closer to 15% we're doing great here.
Don't forget to read my highly recommend picks article which I update on Friday night each week. We've been doing well with the picks and I'm getting lots of positive feedback. On the flip side, non-members can make use of our FanDuel projections/rankings here.