Week 1 is finally here and many of you are rushing to Fanduel to get your lineups set. Good news for you is we have you covered with our optimal lineup generator. In this article I'm going to show you how I created an optimal lineup for Fanduel with our lineup tool. I'll go step by step to ensure you can use it properly if you decide to become a member. But regardless if you join or not I'll provide weekly Fanduel lineups you can use in tournaments or cash games like 50/50 and double ups. Let's start with the end in mind by showing you my week 1 optimal lineup.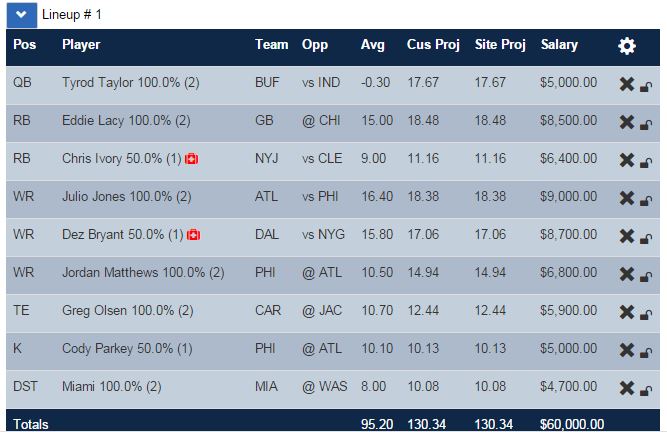 Out of the gate I love this line up for large pool Fanduel tournaments. Why use it in a tournament? As you'll see later, I didn't focus on consistency when building this lineup. I focused on easy defensive match-ups and players with certain Vegas odds that should theoretically produce high scoring games for WR and QB, while at RB focusing on teams that are favored. There's several other things I did to try and create an optimal lineup so let's jump straight into how I used the available statistics within our DFS optimal lineup tool to create the best possible team.
Creating models using our filters is easy and fun. By following the steps below you reduce the available player pool which you'll optimize against. When you're done just click calculate and then you can further optimize from within the results page or go back and further fine tune your player pool. The purpose of the tool is to allow you to easily fine tune the players based on metrics you find favorable. In the near future you'll be able to save the models you create and even use models myself and the other experts are using on Fanduel.
Step 1: Remove Less Than Optimal Matchups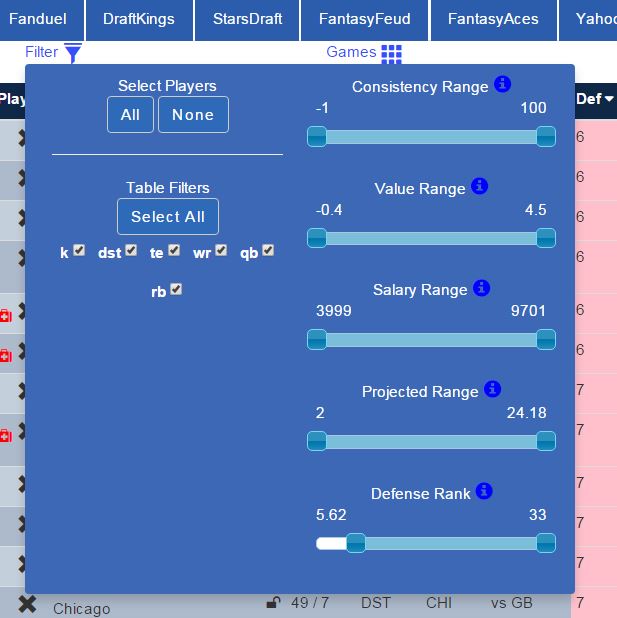 Click the filter button and then adjust the defensive rank slider (after you click it you can use the left and right arrow keys on your keyboard to fine tune) to remove players that are facing a top 5 defense. For week 1 (2015) this metric is based on last years defensive points allowed (2014). As we move further into the season the metric will be based on the previous games played with scoring adjusted based on Sagarin Ratings.
Step 2: Remove Players With Less Than Optimal Projections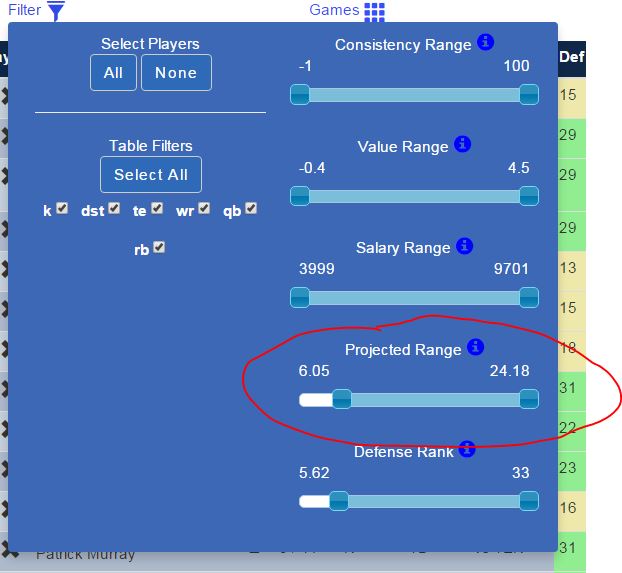 Click the filter button and then adjust the projected range slider (after you click it you can use the left and right arrow keys on your keyboard to fine tune) to remove players that are projected to score less than 6 points on Fanduel in week 1, 2015. Before you do this you could insert your own projections for players you like that are projected for less than 6 points by entering your custom projections into the custom projections cell for said player.
Step 3: Optimize Based On Value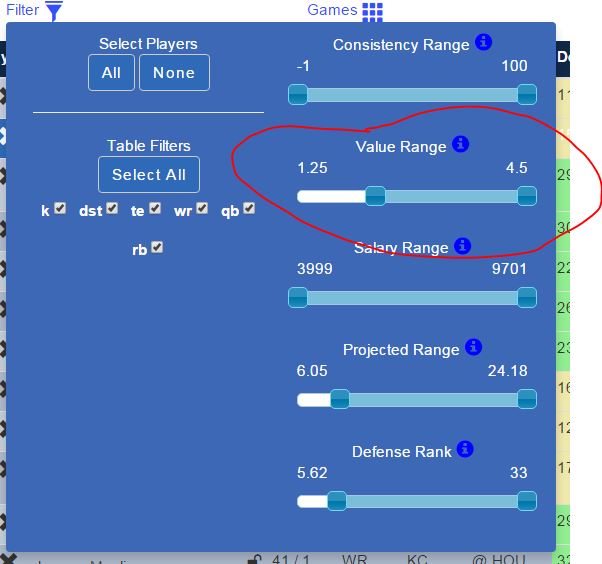 Creating optimal lineups can take a minute but we're talking about winning money, aren't we? Adjusting the value range to 1.25 ensure you get the most optimal bang for your buck!
Step 4: Remove Teams We Don't Trust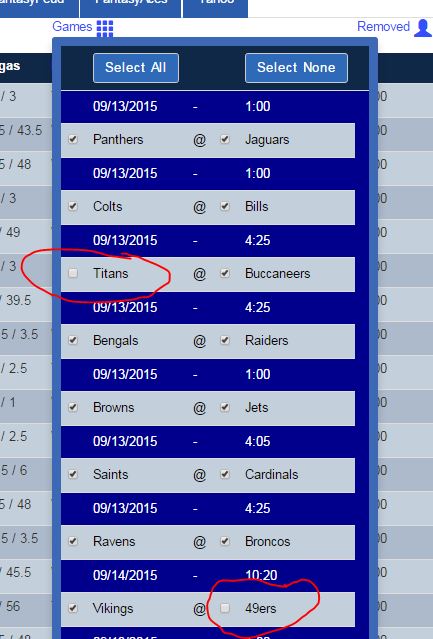 In this step you'll click the game filter and un-check any teams you don't want to be included in your player pool. I removed Tennessee and the 49'ers as I don't see either of these teams producing worthy fantasy points this week.
Step 5: Sort For Optimal Points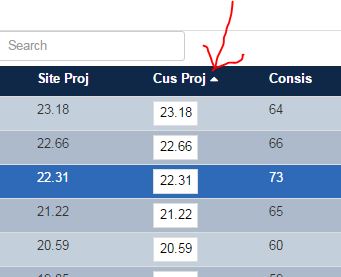 Optimal lineups score the most, so why not just sort on projected points before moving to the individual player reduction? Go ahead and click the column header title to sort the column.
Step 6: Sort by Running Back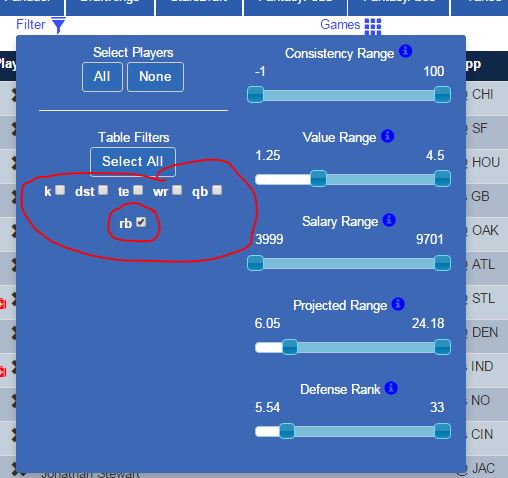 Now let's trim down the running back player pool. Remember, removing the guys you don't like based on the numbers we provide increase the probability of you producing a winning lineup. At running back you'll want go after teams that are going to be ahead (winning) and therefore running the ball more to hold their lead. Take a look at the Vegas column and any team with a "-" minus before the number means Vegas is taking points from them (they think they will win) therefore the running back could be used more. Obviously you'll want to pay attention to the defensive rating against the position too as well as consistency, ceiling and floor.
Step 7: Reduce the RB Player Pool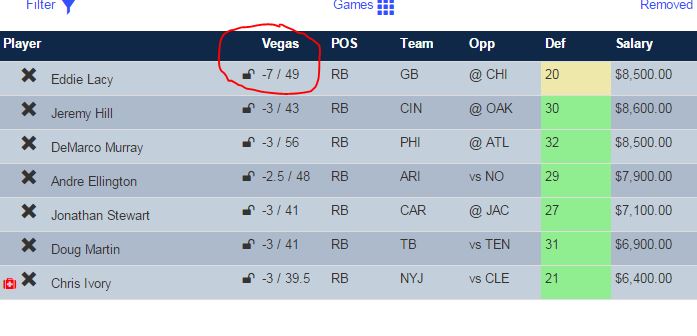 Step 8: Sort on Wide Receiver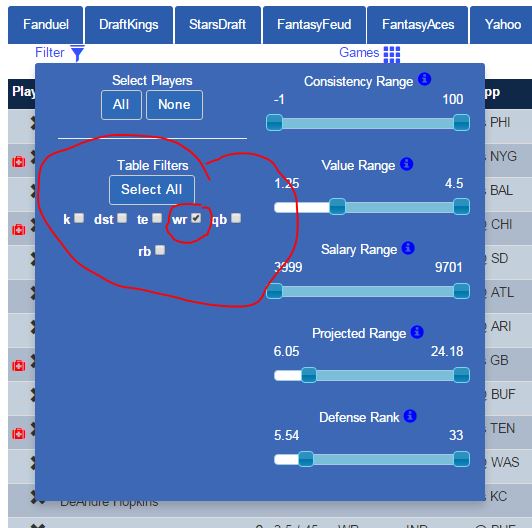 One you've filtered the grid to show only wide receiver I want you to target 1 wide receiver from each team that is not favored by the Vegas odds and have a high Vegas over/under. Not favored teams get points; meaning they will have a positive number next to their O/U. The over/under is the total points Vegas feels the teams will score combined. See step 9 below.
Step 9: Pair Down the WR Pool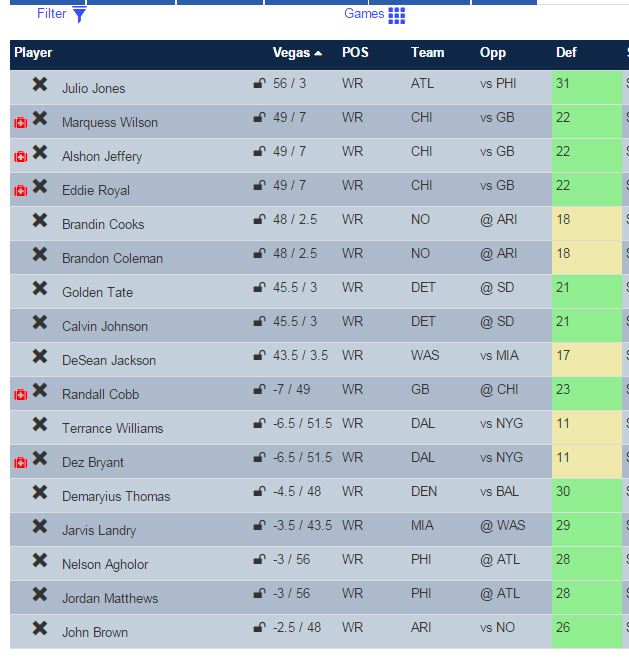 You'll notice above that I kept both Dallas wide outs in this one, this is because I think both will have a good game and that New York will keep it closer than most expect hence me ignoring the favored versus not favored rule. Hey, you've got to make some gut calls every now and then.
Step 10: Remove Less Than Optimal Defenses

Carolina and Miami have nice match-ups based on Vegas and the defensive rating. Relatively low scoring games and both defenses are favored to win.
You can continue to filtering by position then pairing down (removing) the players that are less than optimal. After you're done you must select all players before calculating the optimal lineups.
Step 11: Select all Players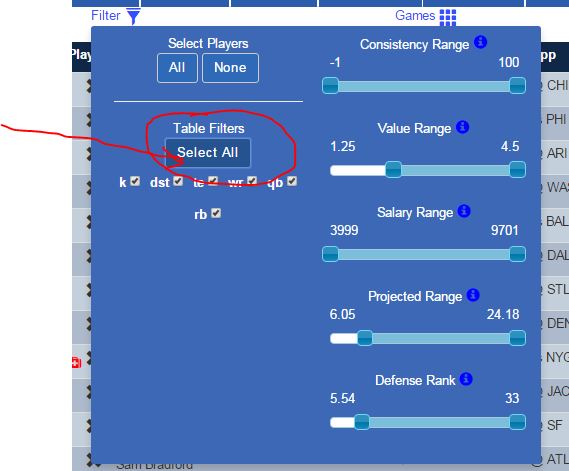 Step 12: Increase The Desired Number of Lineups
On my computer, using Google Chrome, I can crank out up to 30 optimal lineups at a time. If I increase the result set much higher than this I run the risk of crashing my browser. Depending on the number of add-ons you're using different browsers will be able to handle larger/smaller loads of calculation. After creating the optimal lineups you can go back to the calculator and create more lineups. You can remove players you don't like. Lock in player you do like. Limit the number of times a player will be used in the resulting lineups and also calculate based on projected points, ceiling, floor and average.
A note about average, ceiling and floor. These numbers shouldn't be used until about week 4 or 5 of the NFL season. By that time we'll have good metrics to use but until then it's all based on last season and for the rookie's it's just junk.
Limiting the number of times a player will be used in the result sets is easy. Simply enter the number of time you want the player to be used and it will limit him. Or if you want to force a player into your optimal lineup you'll need to lock them in. You can also lock and limit which will lock them in for "X" number of lineups.
You may also be interested in our week 1 value picks, read more here. Good luck!