For those of you that emailed me about the optimal lineup last week, or the lack thereof, I'm bringing it back for week 11. FanDuel presents us with some salary changes to exploit this week and our FanDuel projections represent those changes. Exploiting salary inefficiencies is a must for creating optimal lineups and this week it's all about injuries (especially in New England / Amendola) and the value those injuries create. Headed into week 11 our highest projected scoring games are Buffalo at New England, Oakland at Detroit and Cincinnati at Arizona. We will build an optimal lineup around those matchups for our passing game. In the below screenshot you'll see why I'm all over West and McFadden at running back. West and McFadden have been getting plenty of volume and this week represents the best matchups, statistically speaking, out of all the available running backs with L. Miller a close third. If Romo is back that's even better news for McFadden and only improves his projections. The salary we save at RB helps us stack up at wide receiver as you'll see below.

Obviously the Vegas odds combined with a statistical advantage (RAdv/PAdv) isn't enough alone to make a solid pick, you need to think about the game flow and which player you think will benefit most from the outcome you're projecting. The Chargers are down a couple weapons on offense and really haven't been able to run the ball this year. Being down a couple weapon should help keep this game close and allow the Chiefs to lean on the run, hence West. I expect a similar game flow in Miami as Dallas shouldn't have to do a lot to pull this one out, as long as Romo suits up.
Here's The Week 11 Optimal Lineup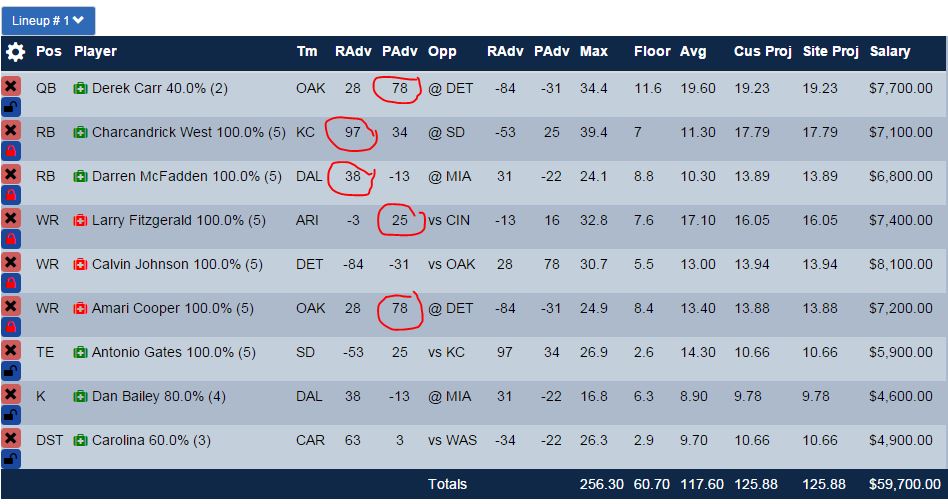 Derrick Carr has been reliable and faces the Lions this week, who forced Rodgers to make 61 pass attempts last week. Oakland will be without Aldon Smith which should help the Lions move the ball and possibility make this game a high scoring affair. Another decent play would be Stafford stacked with Calvin.
Charcandrick West is on fire and we saw his salary increase a good bit on Fanduel this week but I still think he's under priced in this sweet matchup. West boast the highest rush advantage (RAdv) by our metrics and should have a very productive week 11 outing.
Darren McFadden is getting a ton of touches and has a decent matchup against the Dolphins.
Larry Fitzgerald was in vintage form last week, let's hope for more of the same in this one.
Calvin Johnson has been Mr. Consistent yet unspectacular, this trend breaks this week as he goes for over 100 yards and a score.
Amari Cooper is getting a ton of red zone snaps but just hasn't been getting the ball. I'm hoping this changes this week and nets us two touchdowns.
Antonio Gates is going to be the main man for Rivers this week. While the Chiefs have been good at stopping opposing tight ends, I think the numbers are misleading based on previous matchups and game flow.
Dan Bailey - he's a cheap kicker that projected in the top five.
Carolina's defense is good for two picks and 4 sacks this week. Everyone will be on Seattle and you know what that means.
Beat me in "The Hot Route" and win 6 months free membership. Yes I get paid if you play me, how else am I supposed to keep the site running? But I'm very strict about who and what I promote on Fantasy Knuckleheads. Draftpot has an exceptional website and the under-subscribed GPP tournaments make it very easy to win your cash back, at the very least. For week 11 they're even giving us "no rake" on head to head matchups, which means they don't take any of the entry fees so you will win even more money. Good luck this week!