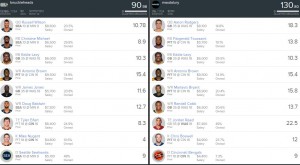 Breaking down DFS lineups can help you fine tune your strategy by gleaning gold nuggets of information from the successful processes used by known winners. During the NFL wildcard games (week 18) I entered two GPP tournaments and Maxdalury placed ahead of me in both. For those of you not paying attention to professional DFS player Saahil Sud, aka Maxdalury, he's one of the top players in daily fantasy sports. He ranked in the top 5 of 5 different sports in 2015 and I consistently see him placing in the top 40 of most GPP slates I enter. I decided to extract all of his lineups for one of the slates and break it down in an effort to learn from one of the most respected players in the DFS industry. Since I don't usually play DFS slates with a low number of teams represented my hopes are I'll be able to use what I glean from Max and generate some profit this weekend during the Divisional Round of the NFL Playoffs. For comparisons sake I'll also analyze jrs8771 who entered the second most lineups.
The Specifics
Slate: $15K Sat NFL Kickoff ($15K Guaranteed, Late Sat-Sun)
Fee: $10
Participants: 1724
Number Paid: Top 316
NFL Teams Represented: 6 teams
Maxdalury Number of Entries: 37
Maxdalury Number of Players Used: 20
Maxdalury Number of QB Represented: 1
Maxdalury Number of RB Represented: 4
Maxdalury Number of WR Represented: 4
Maxdalury Number of TE Represented: 3
Maxdalury Number of Kickers Represented: 4
Maxdalury Number of Team Defenses Represented: 4
Maxdalury Wagered: $370
Maxdalury Won: $665

Maxdalury Net Profit: $295
Number Of Entries
If you're wondering if entering multiple lineups helps you hit pay dirt then the answer is obviously yes! The below chart identifies all participants in this slate that entered 6 or more lineups. Everyone that entered 6 or more lineups won money. I don't expect your results to be similar but perhaps breaking down the player selections for jrs7881 and maxdalury will make you aware of some key winning factors, more on that later.
| | | |
| --- | --- | --- |
| Participant | #of Lineups | Highest Pos Paid |
| maxdalury | 37 | 7 |
| jrs7881 | 18 | 8 |
| benisback | 16 | 102 |
| fsimone24 | 13 | 9 |
| tnsoccer5 | 7 | 255 |
| hizenbrg | 6 | 97 |
| carameljockey | 6 | 135 |
Breaking Down Player Selection
Maxdalury obviously used a small player pool to optimize against, something I have recommend numerous times for several years now. 20 players are used in 37 entries with only minor changes between each of his lineups. He liked Rodgers a lot at quarterback, selecting him for every single lineup he entered. He showed less confidence in RB, choosing 4 different running backs with Eddie Lacy in all but 2 of his 37 entries. The other backs had a fairly even distribution which I believe is representative of his confidence in their ability to out produce their value. Of the four wide receivers he played here's the breakdown: Brown 37, Green 27, Cobb 24 and Bryant 23. At TE he used a whopping 3 players and 4 at kicker and defense. Clearly this is due to how up and down these positions produce and is very much a part of his winning recipe.
The tables below breaks down the player pools used by Maxdalury and jrs7881. Maxdalury used a player pool of 20 players and jrs7881 used a total of 30, that's a whopping 33% more players. Max seemed to have a core 4 players he liked a lot and he used them a lot more than any of the other players in the pool. JRS7881 spread it out a lot more giving him more exposure and expressing less confidence than Max with his picks. Maxdalury went with a core group and built around them, that's the way to take down GPP tournaments. Because if your core players are successful then you're in line for a sizable rake.
Maxdalury
PLAYER
POS
TEAM
1
Aaron Rodgers
QB
GB
2
Christine Michael
RB
SEA
3
Fitzgerald Toussaint
RB
PIT
4
Eddie Lacy
RB
GB
5
Jeremy Hill
RB
CIN
6
A.J. Green
WR
CIN
7
Martavis Bryant
WR
PIT
8
Antonio Brown
WR
PIT
9
Randall Cobb
WR
GB
10
Jordan Reed
TE
WAS
11
Richard Rodgers
TE
GB
12
Tyler Eifert
TE
CIN
13
Mike Nugent
K
CIN
14
Steven Hauschka
K
SEA
15
Chris Boswell
K
PIT
16
Dustin Hopkins
K
WAS
17
Cincinnati Bengals
DEF
CIN
18
Minnesota Vikings
DEF
MIN
19
Pittsburgh Steelers
DEF
PIT
20
Seattle Seahawks
DEF
SEA
TEAM
USED
POS
GB
4
QB, WR, TE, RB
SEA
3
RB, K, DEF *Positive correlation
PIT
4
RB, WR, K, DEF
CIN
5
RB, WR, TE, K, DEF
WAS
2
TE, K
MIN
1
DEF
JRS8771
PLAYER
POS
TEAM
1
AJ McCarron
QB
CIN
2
Ben Roethlisberger
QB
PIT
3
Kirk Cousins
QB
WAS
4
Russell Wilson
QB
SEA
5
Eddie Lacy
RB
GB
6
Fitzgerald Toussaint
RB
PIT
7
James Starks
RB
GB
8
Jeremy Hill
RB
CIN
9
Jordan Todman
RB
PIT
10
Christine Michael
RB
MIN
11
Giovani Bernard
RB
CIN
12
Doug Baldwin
WR
SEA
13
Martavis Bryant
WR
PIT
14
Antonio Brown
WR
PIT
15
DeSean Jackson
WR
WAS
16
A.J. Green
WR
CIN
17
Pierre Garcon
WR
WAS
18
Markus Wheaton
WR
PIT
19
James Jones
WR
GB
20
Jermaine Kearse
WR
SEA
21
Jamison Crowder
WR
SEA
22
Jordan Reed
TE
WAS
23
Richard Rodgers
TE
GB
24
Blair Walsh
K
MIN
25
Dustin Hopkins
K
WAS
26
Mason Crosby
K
GB
27
Mike Nugent
K
CIN
28
Steven Hauschka
K
SEA
29
Pittsburgh Steelers
DEF
PIT
30
Seattle Seahawks
DEF
SEA
TEAM
USED
POS
GB
5
K, WR, TE, RB
SEA
6
QB, WR, K, DEF
PIT
7
RB, WR, QB, DEF
CIN
5
RB, WR, TE, K
WAS
5
QB, TE, WR, K
MIN
2
K, RB
Breaking Down the Lineups
The table below list the lineups for jrs8771 and Maxdulary. It's painfully obvious that Maxdulary isn't worried about putting all his eggs in a just a couple baskets. Every single lineup he generated had a lock on Rodgers and Brown. If either of those players failed miserably it would have really hurt his chances of bring home the bacon. While JRS8771 obviously liked Baldwin and Brown, he varied his lineups much differently than Max. Both players obviously use an optimal lineup tool like ours to create multiple lineups at once.
JRS8771
Maxdalury
In the past I've created lineups like Jrs8771 consisting of a player pool of 30 to 40 players and multiple players at each position spread out across multiple lineups. This week I'll be giving Maxdulary's approach a shot. Obviously it's the riskier of the two strategies but doing your homework for the playoffs is so much easier considering we only have 8 teams to choose from. No excuses this week Knuckleheads! Multiple lineups (2% of entries) with a small pool of players (around 20) that you heavily curated is going to be this weeks strategy to hitting pay dirt.