Here's to last week, when we scored 9th out of 72 other experts in the daily fantasy expert challenge. 9th isn't to shabby considering some of the "experts" have multiple lineups due to multiple staff members, which to me isn't fair at all. Nevertheless, our optimal lineup tool is off to a good start and I couldn't be happier with last weeks results. Looking ahead we've got some tasty match-ups to exploit in week 2. Fanduel in particular has some value picks you can miss. Here's the way I write this article. I'll give you the optimal lineup first, then show you my filter settings and then give you my top plays at several positions. I give you the top 10 players for various positions so people without access to our tool can still make use of this article outside of the 1 single lineup I'm passing out.
Here's The Optimized Lineup
QB Tyrod Taylor BUF vs NE $6,300.00
RB Justin Forsett BAL @ OAK $7,800.00
RB Lamar Miller MIA @ JAC $7,300.00
WR Antonio Brown PIT vs SF $9,200.00
WR Julio Jones ATL @ NYG $8,800.00
WR Jordan Matthews PHI vs DAL $7,000.00
TE Austin Seferian-Jenkins TB @ NO $4,500.00
K Chandler Catanzaro ARI @ CHI $4,700.00
DST Denver
I really like Austin Seferian-Jenkins this week. The Saints have now lost three safeties since training camp, two of which were starters and our rookie LB corp could have issues covering Austin. Forsett should be the focal point this week against the leaky Oakland run defense. All of the wide outs listed are studs, it's gonna rain baby! I swear it's easy when you have the right tools. Speaking of tools, let's look at the settings I used to make this gem pop.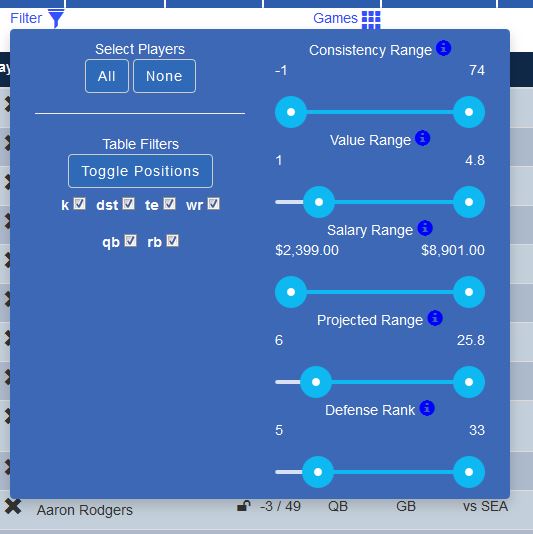 This is almost like cheating, seriously though creating optimal lineups is easy. It's all about filtering out the junk from the available player pool on Fanduel. Knock out the people with less than plush matchups by looking at the Vegas odds. Your high over/unders are great for quarterbacks and wide outs and the lower over/unders are great for running backs. Pay attention to points too, if a team is losing point they may run it more. If the team is getting points they may pass it more. Make sense? If not then sign up for our forum and ask me anything you want.
How About Those Optimal Wide Receivers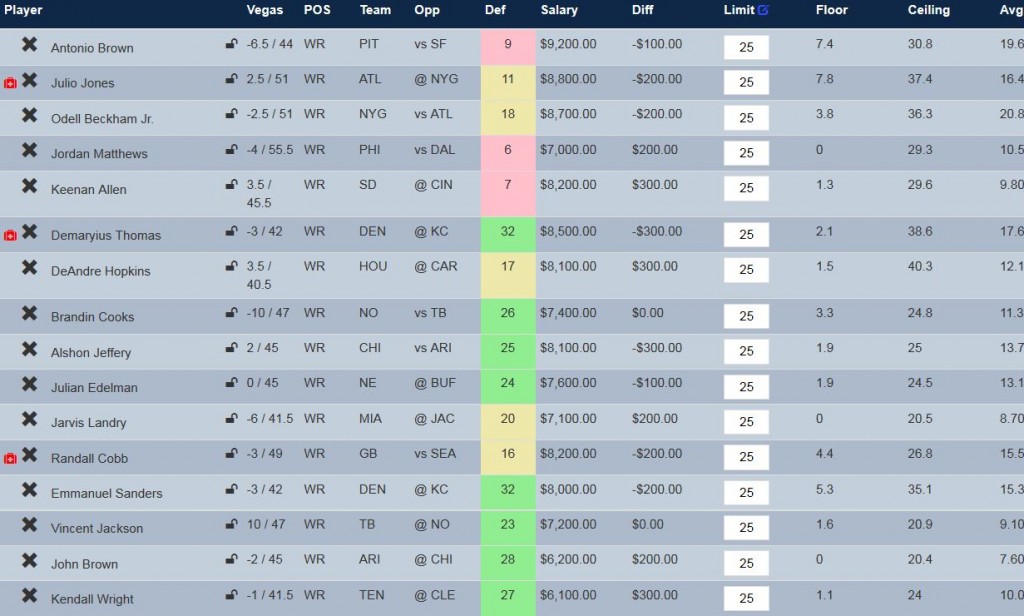 How About The Optimal Running Backs