You guys asked for it so here it is, an optimal lineup made for 50/50 (cash games) on Fanduel. The who's out and who's in reports are starting to come down the wire so use that injury info the help you spot some stud that could see even more action. K. Allen has a tasty match-up this week as his fellow wide receivers are all on the mend. Gates comes back but that should only help take pressure off Allen. Top that off with the historical stats to prove that Monday Night Football tends to be high scoring affairs and we're in for what should be a solid DFS lineup. I almost exclusively built this lineup with the intention of picking players with high averages. Certain match-ups warranted me forgoing high averages such as Baltimore vs Cleveland where Baltimore is lacking WR depth and therefore should lean even more on Forsett's shoulders.
In order to create an optimal player pool for 50/50 - cash games I first removed all players facing a top 5 defense. Then, one at a time, I removed any players with a negative RAdv / Padv unless they faced a defense with a "green" FPAR (fantasy points allowed rank) as RAdv and PAdv speak more to game flow than fantasy points scored. I'm very excited about week 5 because our RAdv and PAdv is now based on previous weeks strength of schedule and therefore much more accurate. The RAdv/PAdv will improve with each passing week. Remember, if a team has a red RAdv and green PAdv this usually means the team will try to exploit the pass defense of their opponent.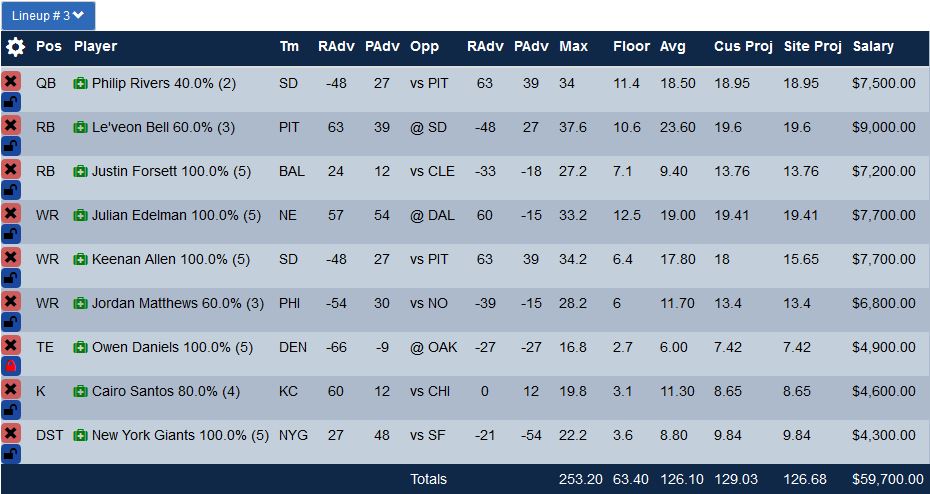 Here's The Optimal Lineup
Philip Rivers
Le'veon Bell
Justin Forsett
Keenan Allen -
Julian Edelman
Jordan Matthews (Saints anyone? His average is sub par but this is the Saints so he should have a good day.)
Owen Daniels
New York Giants - low priced and a decent average versus a horrible 49ers spells WIN.
You should also read a couple of our value picks and stacks for Fanduel.
Worthwhile considerations:
P. Garcon - Jackson and Reed are out so what do you do? Slide in Garcon in your GPP's.
Leonard Hankerson - The new #2 in Atlanta will continue to draw favorable coverage with Jones drawing all the attention. I also like that Jones is banged up and could be a decoy in this game more than anything else.