Finally, after months of speculation and mock drafts, the NFL Draft is in the rearview. We can now start to sort out draft values for the league's new additions based on where they landed. The 2018 draft class is full of potential playmakers, and over the next few weeks and months we'll assess just how impactful these rookies could be.
But for now, let's look at the other side of the coin. Which veterans slid down the depth chart because of the names announced in Texas? And which rookies landed in a less than ideal spot? Here are the players trending down after the NFL Draft.
Tyrod Taylor
No one really believed Hue Jackson when he said that Tyrod Taylor would be the Browns starting quarterback this season even if they drafted a quarterback No 1 overall. That's exactly what happened, taking perhaps the most fiery QB in the draft class to boot. I don't expect Baker Mayfield to be okay with riding the bench all season, especially if the Browns get off to a rocky start. This has all the makings of the 2016 Rams.
Not only does Taylor have to contend with all new offensive pieces -- as fantastic as those individual pieces may be -- but he'll have to get this offense humming quickly to fend off the feisty gaze of the outspoken Mayfield. It's only a matter of time until the Cleveland faithful start screaming to crack open their shiny new toy.
Dak Prescott
For Dak, it's not about what the Cowboys did in the draft. It's about what they didn't do, which is add any meaningful pieces to the 3rd-year QB's arsenal. It's also about what they lost: Dez Bryant and Jason Witten, arguably Dak's biggest security blankets. Those are big holes to fill, and Dallas did little to fill them in the draft.
Taken in the 3rd round, Colorado St. wide receiver Michael Gallup projects as a WR2 for the team, while tight end Dalton Schultz is a run-blocker who will make little impact in his first year. The Cowboys' receiving corp looks frightful, and with no help available on the free agency market, I don't see how Prescott comes out of this season any higher than QB15.
Josh Allen
In order for Josh Allen to serve a purpose on your fantasy team this year, he had to find the perfect landing spot that could utilize his, ahem, "unique" "talents". And Buffalo is not that place, at least not in 2018. Unlike the situation in Cleveland, I actually don't think it's unreasonable to think Allen sits for a substantial chunk of the season while the Bills trot out free agent acquisition AJ McCarron under center.
Even if he does earn the starting gig, Allen's relative inexperience (he attempted just 649 passes in his college career compared to Baker Mayfield's 1497) and inaccuracy (56.2 percent compared to Mayfield's 68.5 percent) is really going to show in Buffalo, as there aren't many weapons to cover up those massive blemishes.
Carlos Hyde
Things went from bad to so much worse for Carlos Hyde. Going to Cleveland was bound to result in some regression from Hyde's two previous seasons in San Fran, what with Duke Johnson already cemented in as the designated pass catching back. But the addition of Nick Chubb just sent him teetering to the edge of fantasy relevance in 2018. Cleveland may have passed on Saquon Barkley, but adding Chubb at the top of the 2nd round does not bode well for Hyde's volume.
Chubb proved to be a truly special thumper at Georgia, racking up 1,345 yards and 15 TDs in his senior year. While it's doubtful Chubb completely overtakes the backfield out of the gate -- given that Cleveland invested $6 million into Hyde's first year -- the former 49er is now firmly outside the RB1 discussion, and is barely clinging to an RB2 designation. His best case scenario may see him as the Derrick Henry to Chubb's DeMarco Murray.
Rex Burkhead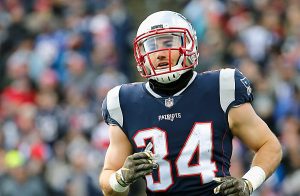 Oh Rexy, you were looking so sexy. Now you're looking so sketchy. With Dion Lewis out the door, 2018 was shaping up to be The Year of Burkhead. But then the Patriots did something they haven't done since 2006: draft a running back in the first round. That's not insignificant. New England drafts impact players better than almost anyone, and just about every 1st rounder they've had since 2004 has become a Pro Bowl player.
Sony Michel is an elusive back with big play potential in the mold of Alvin Kamara. It's a lazy comparison to make, perhaps, but not an inaccurate one. The endless rotations in New England are always frustrating for fantasy owners, and this year's potential round robin features Burkhead, Gillislee, and Jeremy Hill all fighting for early down snaps. Although if the Pats felt confident enough to scoop Michel up in the 1st round, this could prove to be the end of the infamous Beli-tricks in the backfield. Burkhead might end up on the outside looking in.
Devontae Booker
So long, Devontae Booker's fantasy relevance. We hardly knew ye. The window for Booker's opportunity as the lead back in Denver -- which came to fruition after the release of C.J. Anderson -- appeared to close the moment Royce Freeman's name was announced in Round 3. Freeman amassed an incredible 5,600 rushing yards in his four years at Oregon, and also showed he could catch a ball or two. He's a swift, muscular, bruising back with great vision.
Booker, on the other hand, is...a running back. He was fine in his limited role last year, showing excellent hands if nothing else. You were never going to be super excited to have him on your fantasy squad, but as long as Denver promised to keep feeding him the ball as their lead back -- which they promised as recently as February -- he had RB2 upside. Now, with Freeman all but guaranteed the starting job, Booker is only worth rostering in the deepest of leagues.
Rashaad Penny
Seattle's O-line is still terrible, and the team hasn't produced a top-tier running back since Marshawn Lynch left town. Honestly, there weren't many landing spots worse for Penny than the Seattle wasteland, and any fantasy experts relishing this move based on Penny's lack of competition in the backfield needs only to remember one number: 3.2. That was the average yards per carry for all Seattle running backs in 2017.
The Seahawks added only one piece to their abysmal O-line (on Day 3!), which ranked 27th in 2017 according to Pro Football Focus, and until they prove they're capable of creating any space for their backs, Penny will sit just outside the RB3 discussion in redraft leagues.
Every Giants Running Back On the Roster In 2017
Coming out of last season, there was a gigantic question mark hanging over the Giants' backfield. That question mark has been replaced with an exclamation point now that Barkley is on board. There were glimmers of hope that Orleans Darkwa or Wayne Gallman could definitively take the reigns in 2018, even while the offseason signing of Jonathan Stewart threw some shade on those
but the addition of Jonathan Stewart during the offseason showed the coaching staff lacked confidence in what they had. And now that they took Barkley, there's little doubt that Darkwa, Gallman, and Paul Perkins will be afterthoughts in the offense.
Geronimo Allison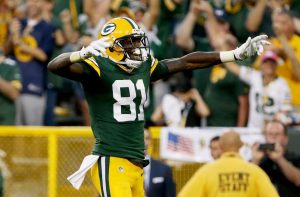 Looks like the G-Mo hype train is letting off at the first stop, folks. Those of us who momentarily salivated at the idea of getting Aaron Rodgers' possible No 2 receiver on the cheap will have to wait and see how training camp shakes out after Green Bay added 3 receivers in the middle rounds of the draft. To make matters worse, J'Mon Moore, Marquez Valdes-Scantling, and Equanimeous St. Brown all fit the same mold as Allison --  tall, fast, big-bodied, with gigantic catch radiuses.
Allison had his moments over the last two years, averaging 7 catches for 78 yards in the 4 games he's started with Rodgers as the quarterback, but the former undrafted free agent now has an abundance of competition for a role behind Davante Adams and Randall Cobb.
Every Jaguars Receiver
A hazy receiving corp just got even hazier with 2nd round pick DJ Chark added into the mix. Jacksonville already housed 8 receivers heading into the draft -- including former WR1 Marqise Lee, free agent pickup Donte Moncrief, and 2017 breakouts Dede Westbrook and Keelan Cole -- and just spent a good deal of draft capital on someone who has the makings of a star receiver.
It's a good problem to have if you're head coach Doug Marrone, but it's not a great situation for fantasy owners trying to make heads or tails of these assets. Who will be fantasy relevant come September? That question didn't get any easier to answer after this weekend.