Wide receiver is a deep position and every year there are several key producers that most of us did not see coming. Finding players in the later rounds of the draft is a good way to make up for injuries or busts in the earlier rounds. My last article went over a couple of receivers to target in the middle rounds, but what about those true diamonds in the rough. Today we delve deeper and examine some receivers that should be available toward the end of your fantasy draft.
Cole Beasley DAL
Unless you follow the Cowboys closely, you will probably be surprised to learn that Beasley was targeted in the red zone 18 times last season. He caught 11 of those, 5 of them for touchdowns. Granted the Cowboys were without Dez Bryant for much of the year, but this still shows that the coaches trust Beasley inside the 20. With another year of development, it is possible that Beasley shows fantasy players that he is the secondary option to own in Dallas rather than Williams or Witten. He is certainly worth a shot in the late going of a 12 team+ fantasy draft.
High Upside Middle Round Draft Targets: Non-PPR Wide Receivers
Mike Wallace BAL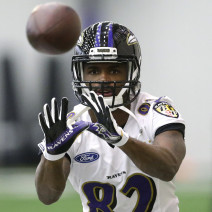 Indulge me on this one, Wallace is unpopular, but he has a real opportunity this season. Steve Smith has been an amazing player and is coming back through sheer force of will…but he is 37. Breshad Perriman has never played a down of NFL football and nobody knows when or if he will. Kamar Aiken had a nice year in 2015, but is he a legit number 1 receiver? These are the questions that lead me to Mike Wallace. He was a bust in Minnesota, but how much of that was on Teddy Bridgewater is anyone's guess. So far the rapport between Wallace and Flacco seems like the real thing and the available targets could mean a useful fantasy season. Take away last year and Wallace has never had less than 756 yards or 5 touchdowns. I see no reason that he cannot put up around 800 yards and 6-8 touchdowns this year. That makes him worthy of a roster spot and possibly flex-worthy.
James Jones SD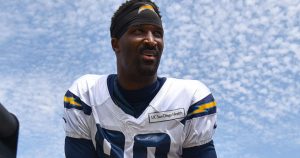 Jones is brand new to San Diego and it may take him some time to get acclimated to the offense. In spite of that fact, what he has done consistently over the past few seasons is score touchdowns. I see no reason that the Bolts will not utilize him in the red zone and spare some of the beating taken by Antonio Gates in his farewell season. Last year in Green Bay, Jones saw 16 red zone targets. He only converted 3 of those for touchdowns despite scoring 8 overall on the season. In the last 7 seasons, Jones has only failed to score at least 5 receiving touchdowns one time. This is a player who is likely going to reach pay dirt a few times and how much more can you ask for from a guy who will likely not even cost a draft pick?
Top Fantasy Football Draft Targets By Round
Seth Roberts OAK
A bit of a forgotten player in the emerging Raiders offense, Roberts is a viable red zone weapon. Nobody can argue that Amari Cooper and Michael Crabtree will be the starters in Oakland; they have earned the right. Roberts is a very competent third receiver, however. If there were an injury to a starter he could really see his numbers pop. Despite only seeing 10 red zone targets last season, Roberts scored 5 red zone touchdowns. Obviously a touchdown on 50% of red zone targets is not sustainable, but it shows that he was creating separation in an area where players generally have a hard time doing so. I don't know that I would recommend drafting Roberts outside of very deep leagues, but keep him on the radar for sure.
What we have here may not be an all world team, but these are players who may get you some value for nothing. Decide which of them you believe in the most and take the plunge, you have nothing to lose.