When you get right down to it, fantasy football is a game for truffle pigs. Let me finish! It's about sniffing out potential that's sometimes buried way underneath the surface. It's our jobs to locate that hidden upside, and then nurture it into becoming the greatest delicacy of all: a fantasy football championship. That's what we're looking at here: high upside running backs that you should be targeting in dynasty leagues.
Spencer Ware, KC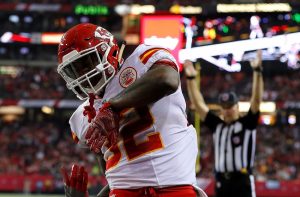 With Hunt-a-Mania sweeping fantasy leagues last year, it's easy to forget that Spencer Ware is just one season removed from racking up 1,368 total yards as the featured back for the Kansas City Chiefs. In fact, if Ware hadn't gone down with a torn PCL, it's possible Hunt would have been stuck behind him on the depth chart last year.
Obviously, Hunt has proven more than capable of sparking the Kansas City offense, but there's no way a healthy Spencer Ware simply gets tossed on the trash heap. With Patrick Mahomes first NFL season as a starter looming, it's likely Andy Reid leans heavily on the running game to open things up down the field for the sophomore QB. That could turn Hunt and Ware into the peanut butter and jelly of the Chiefs backfield.
Add the possibility of Hunt being suspended for a few games -- there are two different offseason altercations casting a shadow at the moment -- and Spencer Ware could turn out to be a huge benefit to your squad for an extremely low price.
Tevin Coleman, ATL
Tevin Coleman is about as consistent as they come in PPR formats, even in Steve Sarkisian's much-maligned offense. We know Coleman has good hands, but you may be surprised to find that Coleman handled 33% of Atlanta's rushing attempts inside the 10-yard-line under Sarkisian, compared to just 22% in 2016 and 20% in 2015. He's becoming more of a red zone threat, which gives him high-end RB2 upside.
But it's his future appeal that's key here, as Coleman becomes a free agent after this season. That means he has an outside shot at becoming the lead back somewhere, which automatically spikes his dynasty value...even if there aren't many landing spots that will actually give him a better opportunity. Regardless, Coleman's perceived value will be off the charts in a year, so you could buy low(er) now, get a solid running back on a one-year loaner, and then sell him next offseason for a bigger haul.
Tarik Cohen, CHI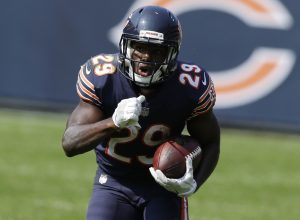 New head coach Matt Nagy is an immediate upgrade over John Fox for everyone on the offense, but the one who should benefit the most from a more creative play-caller is Tarik Cohen. If you recall, Cohen blew folks away with his burst early in the season, only to be virtually erased from the game plan for no good reason down the stretch.
At a May press conference, Nagy made comments about the need for a workhorse running back being "game specific," and it's been implied that Jordan Howard may not fit his scheme very well. It's feasible Howard sees fewer touches and targets than last season, making room for Cohen to play the more traditional role of third-down pass catcher.
The only slight worry I have with Cohen is the addition of gadget man Taylor Gabriel, but considering how often Chicago projects to be playing from behind, there should be plenty of room for both to make hay.
Marshawn Lynch, OAK
A bruising running back on a Jon Gruden offense is a no brainer, regardless of that back's age. Marshawn Lynch may be 32-years-old, but Beast Mode put up 7 TDs and more than 1,000 yards of total production last year, averaging 4.3 yards per carry (good for 15th best in the league). And that was without a solid passing attack to help him out. Even if Lynch is a little diminished -- a Decreased Mode, if you will -- he's capable of putting up those healthy Frank Gore-esque numbers, making him a possible steal.
Doug Martin was brought in over the offseason as possible competition for the job, but he's never been the model of consistency that a guy like Gruden needs to have in the backfield. Lynch, on the other hand, proved he still has what it takes to be a 200+ touch guy.
The best part about Lynch is that he should come cheap because of his age. If you're a win-now team hurting for depth at running back, and don't want to give up the farm for a top flight guy, you can almost certainly acquire Lynch for a low draft pick.
Kenneth Dixon, BAL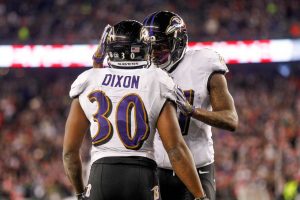 Alex Collins looked remarkable last season, but I'm not sure the coaching staff has bought in the way fantasy owners have. Baltimore's coaches are a stubborn bunch, especially when it comes to their running backs. (Remember the plight of Buck Allen!) The Ravens' backfield was a constant rotation last year, mostly because Kenneth Dixon was sidelined with a suspension/torn meniscus for the majority of the season.
Dixon was a nifty, elusive runner with a nose for the end zone at Louisiana Tech. He's more powerful than he looks, and is solid between the tackles. If it weren't for his injury, there would be a lot of "Alex Collins who?" sentiment amongst fantasy experts this year. I expect both Collins and Dixon to see the field plenty in 2018 as a one-two punch, though the timeshare currently leans in Collins' favor.
All it takes is an injury, however -- something the Ravens' backfield knows plenty about -- for Dixon to once again become the big bird in Baltimore's run game.
Other High Upside RBs: Isaiah Crowell (NYJ), Matt Breida (SF), Boston Scott (NO), LeGarrette Blount (DET), Latavius Murray (MIN)