Winning your PPR fantasy football league is all about preparation, execution and vigilance. This article is the last in my series of introductory articles for beginners to fantasy football. All of you old pros out there be sure to check in next week as I will be writing a series on sleepers at each position. Pre-draft planning is where the preparation comes in; put in the time so that you feel confident at the draft. Speaking of the draft, this is the execution. All the planning in the world cannot help you if you go off script and grab guys on a whim. Finally, vigilance will describe the rest of the season. Be sure that you have the optimal lineup every week and pay attention to the waiver wire and seek favorable trades.
Winning With PPR Running Backs
The first phase is getting yourself ready to draft a team. Everyone knows who the top players in the league are and they will be drafted early. What separates the teams is the ability to discern which players will perform above or below expectations. This includes those elite players that were just mentioned; every year there are several first round busts that most people did not see coming. I will not go incredibly in depth with the preparation phase as the previous article, "How To Draft Your Fantasy Football Team" covered this. Go back and read through that one as there are loads of good tips and links to resources. Just be sure that during your preparation you are taking into account the PPR aspect as there are some unexpected players whose value will be much higher than in a standard scoring league.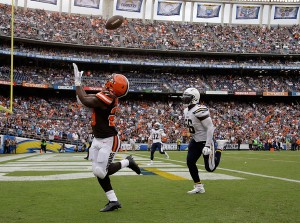 When preparing for the draft it's wise go through some pre-draft analysis of the player available in the middle rounds. I like to compare ADP to projected points to find the most value. This gives you an idea where the most value is, which is pre-calculated in our premium cheat sheets. In the example below (of very early draft projections) you can see the value in Duke Johnson. He's projected for nearly the same amount of fantasy points and receptions as Christian McCaffrey, but based on ADP is projected to be on the board 100 picks later than Christian McCaffery. So outside of speculated upside, where's the value in drafting Christian McCaffrey over Duke Johnson? If you're at the 100th pick in the draft and know you need a solid PPR running back you can look at the projected points and ADP to get an idea of where you need to select the best value running back.
Winning With PPR Wide Receivers
Consistency is key to winning your PPR fantasy football league. High volume PPR wide receivers can ensure you win your league, but you'll need one in each of your WR slots. You can't draft WR with your first three picks, and nor should you. Just know where the value is by looking at the players current ADP. Here are some wide receivers I really like in PPR leagues that are going after the third round.
| | | | | | | | | |
| --- | --- | --- | --- | --- | --- | --- | --- | --- |
| Player | Age | Tm | Bye | Pos | SOS | FP | ADP | REC |
| Jarvis Landry | 25 | MIA | 11 | WR | 14 | 256 | 49 | 101 |
| Larry Fitzgerald | 34 | ARI | 8 | WR | 8 | 231 | 67 | 93 |
| Demaryius Thomas | 30 | DEN | 5 | WR | 31 | 242 | 43 | 91 |
| Keenan Allen | 25 | LAC | 9 | WR | 28 | 236 | 36 | 90 |
| Golden Tate | 29 | DET | 7 | WR | 10 | 238 | 79 | 88 |
| Stefon Diggs | 23 | MIN | 9 | WR | 3 | 224 | 94 | 85 |
| Michael Crabtree | 30 | OAK | 10 | WR | 27 | 225 | 46 | 80 |
| Julian Edelman | 31 | NE | 9 | WR | 24 | 214 | 58 | 80 |
Draft Execution Is Key to Winning Your PPR Fantasy Football
This phase of the game is very important as it will determine the raw materials that you will use to build your team. A lot of work can and should be done later on through waivers and trades, but a bad draft will ruin you. Drafting is a bit contradictory; you need to stick to the plan but be flexible. Even with advanced preparation every league will have its little nuances. This leads to the value of some players being exaggerated while others will be drastically undervalued. A lot of this will play out predictably if your preparation was done correctly. Do not let yourself be distracted by other players in your league. At most drafts there will be some wise guys who try to get in your head and belittle your picks. If you are following your plan, just trust in the process.
Stay abreast of the current ADP trends and at least some of the players that you target as bargains should fall to you right when you want them. For a round by round breakdown of how you should build your PPR team, look back at "The Perfect PPR Draft Strategy: Round By Round".
Winning With The Waiver Wire
This is my favorite phase of the game and it is also where you can make up a lot of ground if your draft did not pan out or the injury bug bites. Fantasy football is all about putting out the best lineup on a weekly basis. Sometimes this may mean leaving one of your better players on the bench or picking up a waiver wire scrub based on a juicy matchup.
Waivers are an integral part of the game and the players on waivers should be scrutinized each week. Choosing when to use your waiver priority or spend your FAAB cash (depending on your league setup) is going to depend a lot on the target. Some players are solid matchup plays for a week or two, while others are suddenly thrust into starting jobs and may boost your team for the remainder of the season. When a starting running back goes down, check out their replacement. If a "bell-cow" type running back becomes available it may be a make or break moment for your season. Keep an eye on the waiver wire column on Fantasy Knuckleheads for weekly advice on what lightly owned players could put your team over the top.
Winning Your Trades
Trades are another in-season way to repair a flawed team. Most of the time even the best team will have a glaring weakness or be thin at a certain position. If there is not a player on waivers that can rectify this, it may be time to consider a trade. Trading is a complicated art, but in general you should consider your own need and the need of a potential trade partner. If you are trying to trade Andrew Luck to a team that owns Cam Newton, they will probably not be very interested in making a deal. On the other hand, if you have wide receivers to spare and a team in your league is struggling to string together pass catchers in their lineup you may have some leverage. Trading tends to boil down to supply and demand at its core.
In a nutshell, that is the way to win your fantasy football league. It starts in the preseason and goes on all the way to the end of the regular season. There is no magic formula, but if you prepare, execute your strategy and remain vigilant for opportunities then you should be in the mix come playoff time.
Once again, come on back next week as I will list my 2016 sleepers at each position!