Who is ready for some Football! I know I am. With that said and with the season approaching fast I am publishing my top 40 IDP players for 2015. Please remember that I use tackle friendly settings. If you are in big play leagues you can join the membership and post on the forums.
Here are thee top 40 IDP rankings 2015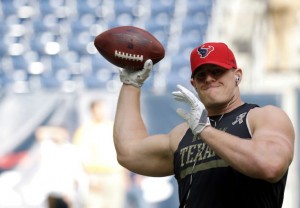 J.J.Watt, HOU, DE: Did you expect anyone else to occupy the number 1 spot! Be very careful going into your draft, do not over reach for him. He is GREAT and I don't question that, but someone in my league grabbed him in the 4th round, that for me is WAY too high. I would be comfortable grabbing him from 8th round onwards.
Luke Kuechly, CAR, LB: Luke vs. Lavonte. I don't know who is number 1. but they are both the top LB's
Lavonte David, TB: Its very hard to chose. So if you are a Tampa fan, pick Lavonte and if your a Carolina fan pick Luke
Bobby Wagner, SEA, LB: On to Tier 2, I think Bobby Wagner is the safest of the bunch and I love that he is on the best defense which boosts his big play capabilities
Navorro Bowman, SF, LB: If you forgot how good Navorro Bowman was last year, I remind you of Chris Borland's short NFL career
DeAndre Levy, DET, LB: Levy had a great 2014 and I expect the same in 2015
Chandler Jones, NE, DE: When healthy, he is better than Quinn
Robert Quinn, STL, DE: He started putting the pressure in the 2nd half of the season, hopefully the pressure starts early this year
Jamie Collins, NE, LB: It doesn't look like Mayo will eat too much into Jamie's snaps so he is ranked in the top 10
Keenan Robinson, WAS, LB: No this is not too high, I think Keenan Robinson will have a breakout year.
Everson Griffen, MIN, DE: Watch out for Everson Griffen in year 2 of coach Zimmer
C.J.Mosley, BAL, LB: Baltimore's defense is his team now
Telvin Smith, JAC, LB: I own him in all my IDP leagues be prepared for a big year
Harrison Smith, MIN, S: My top rated DB and you get it all with Harrison, tackles and big plays
Calais Campbell, ARI, DE: Probably the safest pick you could make at DL! Stable numbers on a weekly basis. If you draft Calais be prepared to hold on to him all year
Jelanie Jenkins, MIA, LB
Reshad Jones, MIA, DB
Morgan Burnett, GB, DB
Paul Posluszny, JAX, LB
Ezekiel Ansah, DET, DL
Sean Lee, DAL, LB
Jason Pierre-Paul, NYG, DE: Draft only after he practices. I am somewhat worried
Mario Williams, BUF, DE:
Olivier Vernon, MIA, DE:
Cameron Wake, MIA, DE:
Eric Weddle, SD, DB: This might be a tad too low for Eric Weddle
Kiko Alonzo, PHI, LB:
Mychal Kendricks, PHI, LB:
Curtis Lofton, OAK, LB
T.J. McDonald, STL, DB
Justin Houston, KC, LB:
Jerry Hughes, BUF, DE:
Stephone Anthony, NO, LB:
Ryan Shazier, PIT, LB
Jonathan Cyprien, JAX, DB: I am not as high on him as other guys
Danny Trevathan, DEN, LB
D'Qwell Jackson, IND, LB
Derrick Johnson, KC, LB
Paul Worrilow, ATL, LB
Carlos Dunlap, CIN, DE
Good Luck to all.