Here's my draft ranking at defensive lineman. The right DL can get you a lot of fantasy points so pay attention pre draft to the rankings and tiers. A big pre-note, I dropped Jason Pierre Paul way down after his firework incident. That doesn't mean he stays down there but I want to see what he does minus his fingers!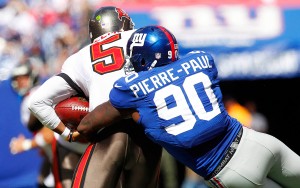 Tier 1
1. J.J. Watt - HOU Hard to argue with J.J.Watt's ranking
Tier 2
2. Chandler Jones - NE When healthy he is better than Quinn
3. Robert Quinn - STL He started putting the pressure in the 2nd half of the season hopefully the pressure starts early this year.
4. Everson Griffen - MIN I owned him last year in all my leagues and it paid off.I love Everson Griffen even more this year.
5. Calais Campbell - ARI Probably the safest pick you could make at DL! Stable numbers on a weekly basis. If you draft Calais be prepared to hold on to him all year
Tier 3
6. Ezekiel Ansah - DET I am very high on Ansah this year it is his Defensive Line in Detroit and he needs to own it.
7. Cameron Wake - MIA I'm ranking Wake at 7th and Vernon at 8th I think offenses are going to have to pay more attention to Suh so Wake and Vernon might have bigger years.THIS IS a very HIGH Ranking on my part but for now I am willing to take this risk!
8. Olivier Vernon - MIA Same as Wake.
9. Mario Williams - BUF YES I like Mario Williams this year I think Rex will find more ways to use his special talent to get to ANY QB. Keep an eye out for Mario Williams this year
10. Carlos Dunlap - CIN Safe pick but I doubt you will see double digit sacks from Dunlap.
Tier 4
11. Jason Pierre Paul - NYG As I mentioned in my intro I want to see what he does minus his fingers
12. Rob Ninkovich - NE
13. Muhammad Wilkerson - NYJ
14. Fletcher Cox - PHI
15. Jurrell Casey - TEN
16. Jerry Hughes - BUF
Tier 5
17. Marcell Dareus - BUF Can you tell I am in love with Buffalo this year :)
18. Gerald McCoy - TB
19. Cameron Jordon - NO
20. Kyle Williams - BUF, He another Buffalo DL guy :)
The rest
21. Jared Allen - CHI I might drop him a bit further we will see how he does in a 3-4
22. Geno Atkins - CIN
23. Demarcus Lawrence - DAL Another guy I might drop further
24. Corey Liuget - SD
25. Chris Long - STL
26. Haloti Ngata - DET
27. Clinton McDonald - TB
28. Greg Hardy - DAL
29. Aaron Donald, STL - right now not in love with him
30. Johnathan Hankins - NYG