Here is the IDP Waiver Wire Week 10. Best of luck
AT LB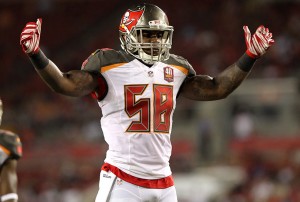 Danny Trevathan (DEN): 19 total tackles and many of them assists! enough said. Will he repeat? that is the question? Honestly I think this was a one off!
Kwon Alexander (TB): I wrote about Kwon last week and this week he had another decent game I feel he is a LB2 with LB1 upside at this stage. He had 10 tackles yesterday vs the Giants. Next week he has Dallas a great game vs. LB
Jake Ryan (GB): Jake could be replacing an terrible Nate Palmer so for now have him on your radars and watch carefully as to what GB does there at MLB
at DL
Jason-Pierre Paul (NYG): READ ON! I am not exactly recommending him for week 10 but I am saying if you can pick him up and stash him for a few weeks. JPP needs to learn how to tackle and sack with a missing finger, harder than we can imagine I guess! But I think by week 14 (playoffs) he will be okay.
at DB
David Amerson (OAK): I can't ignore him much longer, he has now posted 5 weeks with 5 or more tackles! That is all he will get you, tackles! Don't expect much more but if you want a safe play go ahead and pick him up