Here is the IDP Waiver Wire Week 10. Best of luck
AT LB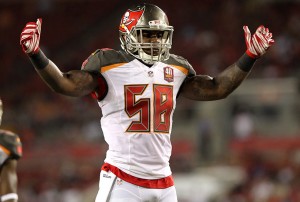 Danny Trevathan (DEN): 19 total tackles and many of them assists! enough said. Will he repeat? that is the question? Honestly I think this was a one off!
Kwon Alexander (TB): I wrote about Kwon last week and this week he had another decent game I feel he is a LB2 with LB1 upside at this stage. He had 10 tackles yesterday vs the Giants. Next week he has Dallas a great game vs. LB
Jake Ryan (GB): Jake could be replacing an terrible Nate Palmer so for now have him on your radars and watch carefully as to what GB does there at MLB
Philip Wheeler (ATL): Atlanta is on bye, but they also recently signed Philip Wheeler might get that start at MLB for Atlanta because of injuries. Last week he had 10 total tackles! Low end LB2 if he starts
at DL
Chris Baker (WAS): As a Redskins fan, recommending Chris Baker is TOUGH! But he has 26 tackles, 3.5 sacks and 3 other big plays on the year! So I will go ahead and say if you need a bye week filler go ahead and pick him up
Jason-Pierre Paul (NYG): READ ON! I am not exactly recommending him for week 10 but I am saying if you can pick him up and stash him for a few weeks. JPP needs to learn how to tackle and sack with a missing finger, harder than we can imagine I guess! But I think by week 14 (playoffs) he will be okay.
Jerry Hughes (BUF): I love what he did last week to Miami, but I also know he is one of the most inconsistent options out there. Start him if you must!
at DB
David Amerson (OAK): I can't ignore him much longer, he has now posted 5 weeks with 5 or more tackles! That is all he will get you, tackles! Don't expect much more but if you want a safe play go ahead and pick him up
Damarious Randall (GB): He is my hot pick up of the week! Right now he is my 4th ranked DB for week 10
Mark Barron (STL) Again one last week of recommending him! PICK HIM UP NOW if you don't own Reshad Jones or Corey Graham, Tyrann Mathieu he is the number 3/4 guy for the rest of the year