Hey guys welcome back to my waiver wire IDP edition.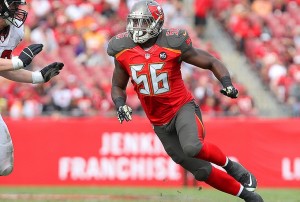 At Linebacker:
Dont'a Hightower (NE): Jerod Mayo is now behind Dont'a on the depth chart, meaning Dont'a should be owned in all leagues! He has 20 tackles and 1.5 sacks through week 2
Justin Durant (ATL): I like what I saw from Justin in week 2, remember he did takeover for an injured Worrilow so beware of the future. I do like him for leagues that have 2 or more LB's.
Malcom Smith (OAK): One of the readers predicted this one! FootballDave Thanks for that! I do have him in two of my IDP leagues. He has 19 tackles through week 2 and is a solid LB2
Preston Brown (BUF): This kid is 22 years old and he is humble. He said after the game "It showed we're not the best. I mean, we act like we are, but we aren't right now. We've got a lot to work on.". 18 tackles in 2 weeks.
Jordan Hicks (Phi): Chip lost some LB's in week 2 and the game, and is 0-2 and now Hicks comes in. could be a good thing for some of us IDP'ers.
at DL
Jacquies Smith (TB): He needs to be picked up in leagues starting 2 DL, he is a great undrafted talent.
Shea McClellin (CHI): First check he is listed as DL in your league, 2nd Make sure your in a tackle league! No big plays here this kid will get you tackles
Robert Ayers (NYG): Could be a good replacement for JPP owners
At DB
Marcus Peters (KC): Check the stats, you don't need an explanation from me! if he is available and you start at least 1 DB pick him up!
William Moore (ATL): I know he is owned in quite a few leagues but should be owned in more!
Will Allen (PIT): A solid starter here for DB2 or 3