Hey Guys hope you had a productive week 6. Week 6 was one of my best weeks ever for all my leagues, I destroyed opponents and went 6-0 through my 6 leagues.
So here is to a productive week 7 and the IDP Waiver Wire Week 7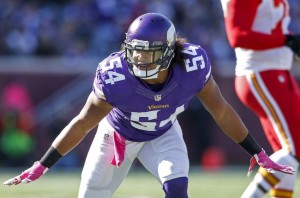 At Linebacker:
Maclom Smith (OAK): He must be owned, he is coming off a bye and available on many waiver wires. He is currently (With my settings) 4th in LB scoring and he is under owned in many leagues
Eric Kendricks (MIN): Pick him up NOW. He is a top 10 LB from here on out! In his first game as the full starter he had 10 tackles and a sack! LB1 going forward.
Michael Wilhoite (SF): Last week I wrote how I wasn't convinced with his huge game in week 5, well he came out in week 6 and shut me up. He had 13 tackles and an interception. Honestly, I'm still not 100% convinced, there is a reason the 49ers traded for Gerald Hodges.
Dannell Ellerbe(NOS):  He left the game with an injury so be on the look out, but before he left the game he had 14 tackles and since coming back from an injury in 2 weeks he has 21 total tackles!
At DL
Cameron Wake (MIA): Thank God someone woke up in Miami. Cameron Wake had 4 sacks last week and finally produced like many expected when they signed Suh. DL1 if he continues this.
Kawann Short (CAR): He is defensive tackle so don't expect 2 sacks every week but he will get you the tackles. Last week he took advantage of the atrocity that is the oline in Seattle
Lawrence Guy (BAL): Heating up over the past two weeks 3 sacks and 11 tackles. if you own a top DE who is on a bye in week 7, this "Guy" may be your "Guy"
At DB
Bashaud Breeland (WAS): I am a fool for not suggesting this guy last week. Right now he is playing the best football of his career and is taking full advantage of DeAngelo Hall and Chris Culliver's injuries. Check to see if they are still out before using him in week 7 but if they are both out he is DB2 or CB1
Dashon Goldson (WAS): Having this many guys on the waiver wire from one team is usually bad news for the team especially at DB. It means they are letting guys get passed and recording a tackle! Well that is exactly what is happening in Washington
Antwon Blake  (PIT): The past three weeks he has racked 23 tackles, a pick six! A good DB2 to have or replacement for your bye weeks
Marcus Peters (KCC): I recommended him last week and  in week 3. He is a rookie and will struggle with consistency.