The IDP Waiver Wire Week 4 is here. Here are some option I suggest you look at for this week.
I was pretty accurate with my linebackers last week and will go for it again this week. Dont'a Hightower was the only exception who only registered 1 tackle!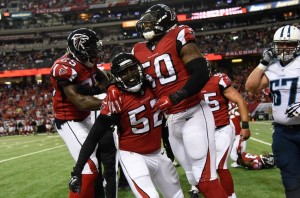 AT Linebacker:
Justin Durant (ATL): I wrote about Justin Durant last week and if you are a Paul Worrilow owner the time to switch is now! Worrilow is not a great Linebacker he never was, but he put up stats. Last week Justin Durant had 9 tackles and has been pretty consistent this year with 8, 10 and 9 tackles through 3 weeks.
Malcom Smith (OAK): Again another linebacker I wrote about last week, seems to be the finding tackles for Oakland and this past week he had a sack! so he is a good LB2 to have
Preston Brown (BUF): AGAIN another Linebacker I wrote about last week! A good guy to have and has a good matchup vs the Giants this week. He wont score a TD again this week but he did have 7 tackles and 2 INT's
Hau'oli Kikaha (NOS): Keep an eye on this guy, he might be a good LB3 for future weeks
AT DL
Jacquies Smith (TB): Another guy I wrote about last week, he needs to be picked up in leagues starting 2 DL, he is a great undrafted talent. He didn't have the best of games last week but in leagues with my settings he is second to J.J Watt in points!
Stephon Tuitt (PIT): Remember this name in a couple of weeks and add him as a DL2. He's got big potential and could soon be a DL1. if you start 2 DL's pick him up and don't look back
Clinton McDonald (TBB): If you are in a tackle friendly league pick this guy up, he won't get you many big plays but will consistently get you the tackles
Jaye Howard (KC): Again another tackle friendly DT for you! I own both Clinton and Jaye in my DT starting league and I have a tough time figuring which to start every week!
At DB
Corey Graham (BUF): Past two weeks he has been a beast with 22 tackles a FR. A good DB2 with DB1 upside
Adam Jones (CIN): For two weeks I've looked at his stats and I still have a hard time believing he will keep the tackles up but he is getting the tackles. He has 25 tackles (10,9 and 6) and 1 FF and an INT to go along
Will Allen (PIT): I was one of very few IDP guys to recommend him last week, if you start 2 DB's do yourself a favor and pick him up.
Best of luck to you guys in week 4. Remember the Bye weeks.