Hope you had a win in week 4. I saw a lot of good football yesterday and that always makes me happy. Beating the Eagles on a winning drive is always good for morale on a Monday morning! Here are my IDP waiver wire picks for week 5.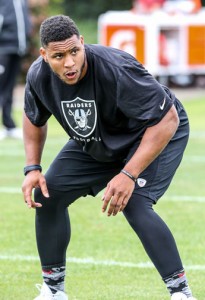 AT Linebacker:
I did fairly well last week giving you 3 out of 4 guys that did well in week 4. The one guy that failed was Justin Durant who left the game early. As with week 4, the 3 guys are still widely available in many leagues and you guys need to pick them up, especially if you have lost your guys to injuries (Alec Ogletree, Sean Lee etc.)
Here are the 3 guys from last week.
Malcolm Smith (OAK): He had 10 tackles and FF, good as low end LB1 now.
Preston Brown (BUF): Had 11 tackles yesterday (many of them where assists) but still a good LB1/2
Hau'oli Kikaha (NOS): This guy is starting to impress me, he has 3 sacks through 4 weeks to go along with 2 FF and 26 tackles!
Jordan Hicks (PHI): I wrote about this kid in week 3. The rookie is making an impact early on. He didn't have the best of games from an IDP standpoint yesterday but was very effective in the actual defense, he is a must add in dynasty leagues (if he is still available) and a solid LB2 in other leagues.
Telvin Smith (JAX): All preseason I have been telling you about this guy, and he has been good through 4 games with Posluszny in the game. Now Posluszny has an injury (not sure how serious yet) so expect even more tackles from Telvin. A absolute must add if Posluszny was to miss any time
Vincent Rey (CIN): Vincent Rey had a monster game yesterday vs. Charles, Smith and the Chiefs with 15 tackles! He has also been fairly decent all year round.

Anthony Hitchens (DAL): Hitchens had 11 tackles and 0.5 sack yesterday. I like his potential if Lee is to miss any time.


At DL
For the Linemen I wasn't as good last week. Only hitting on 1/4 guys. However I still LOVE Jacquies Smith despite his pedestrian efforts.
Stephon Tuitt (PIT):He was recommended last week before his big outing vs the Ravens. So you got, I am recommending him again this week. He had 10 tackles and a sack last week. A solid DL2 with DL1 potential.

Pernell McPhee (CHI): Quick note If he is counted as a DL in your league pick him UP NOW!!!! DL1 if so. Most leagues will have him listed as a LB (3/4 defense)

Jarvis Jenkins (CHI): he is the real defensive end for Chicago and he is starting to play ball. (unlike his days for Washington) He has 3 sacks and 17 tackles through 4 weeks. He is a DL3 who has the potential to move up to DL2


At DB:

At DB, guess who came back to haunt me! Adam Jones, and I know he was hurting and he left the game. but the 1 week I decided to add him to the Waiver Wire he haunts me! but otherwise I went 2/3 last week. With Corey Graham (a must add right now) and Will Allen for Pittsburgh a solid DB2.

This week:

Corey Graham (BUF): He becomes a DB1 and a must own in most leagues! Love the upside here
Ronald Darby (BUF): On a last minute decision I decided to drop Antoine Bethea for Darby. I got extra points! not overjoyed but it will do. Offenses are testing him and he is coming through. a CB2 and DB3

Janoris Jenkins (STL): he is starting to heat up a solid DB2 with DB1 upside

T.J. McDonald (STL) The injury to Ogletree will actually mean more tackles for McDonald.
Bradley Robey (DEN): The rookie had 5 tackles and a FF and has 3 big plays in the last 3 games. Keep an eye out here.

Best of luck to you guys in Week 5. Remember your bye week fillers and hit me up for more 1-1 advice in the forum.