Jameis Winston should not be the top pick in the 2015 NFL Draft.  Jameis Winston is not even the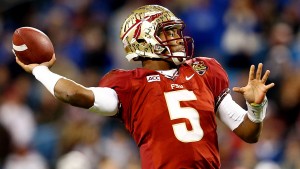 best QB, much less the best player in this year's draft.  As a matter of fact I would not draft him at all.
I keep thinking the Tampa Bay Buccaneers, the owner of the top pick in the 2015 NFL Draft are putting up a smoke screen by saying they are going to draft Jameis Winston.  They finished the year at 2-14 and have so many holes to fill.
Here is how the Buccaneers ranked versus the other teams in the NFL:
25th in passing yards
29th in rushing yards
28th in opponents passing yards
19th in opponents rushing yards
As you can see the Buccaneers have so many holes to fill and why would you do it with a player that is not even the best at his position and he has so many character issues.
Jameis Winston Personal History
Here is a quick run down of Jameis Winston's issues while at Florida State:
11/25/12:  handcuffed for having a long barreled pistol which turned out to be pellet gun and he was released without being charged.
11/25/12:  a few hours later Jameis Winston along with a few teammates have the police called on them for having a pellet gun battle in their apartment, causing over $4,000 in damage.  They barely missed being arrested because a Florida State booster vows the players will pay for damage.
12/7/12:  accused of raping a woman at his off campus apartment, but the case ends in there not enough evidence to file criminal charges.
7/21/13:  accused of entering a Burger King, getting a cup of water, poured it out and starting drinking soda without paying despite objections by workers there.  No charges were filed.
4/29/14:  steals over $32 of crab legs from a Tallahassee supermarket.  He was suspended from the FSU baseball team until he completed his community service.
5/20/14:  he was expected at a code of conduct hearing at Florida State, but does not show up.
9/16/14:  seen by several students jumping up on a table on campus and screaming a sexually charged expletive-laced phrase that was made popular on the internet.
10/13/14:  investigated by FSU for accepting money for autographs, which ended up compromising his athletic eligibility.
So, do you want to invest millions of your dollars into this guy that has been in trouble that much over the last several years?  Can you trust him to put the work in needed to be the best quarterback in the NFL?
Prototype size and speed for a quarterback in the NFL is 6.3 223 with a 4.81 40 yard dash.  Jameis Winston is 6.4 231 with a 4.91 40 yard dash.  So, as you can see he has the size and speed to be a good quarterback.
Some of Bill Parcells' criteria for drafting a quarterback are that they
complete 60% of their passes; Jameis Winston completed 65.3% of his passes last season
have a TD/INT ratio of 2/1; Jameis Winston only has a 1.4 TD/INT ratio
must win 23 games in their career; Jameis Winston won 26 games during his career
earn their degree; Jameis Winston does not have his degree, would have if he would have stayed another year
There was a study done in 2010 on Bill Parcells' criteria for drafting a quarterback that have become so famous.  The study showed covered from 1999 to 2010 and the one criteria that proved to be the most successful at predicting future success was earning a degree.
Quarterbacks that earned their degree win on average 1.5 games more per year than quarterbacks who did not.
Jameis Winston has not earned his degree yet, plus his TD/INT ratio is not where it needs to be.  As Jimmy Johnson says it is not how many big plays a team makes on Sunday that determines whether they win or lose, but the number of bad plays they make.
Jameis Winston makes too many bad plays and has too many character issues.
 My Top 5 Quarterbacks
Marcus Mariota, Oregon

6.4 228 4.43 40
68.3%
10.5 TD/INT ratio
36 career wins

Brett Hundley, UCLA

6.3 226 4.6 40
69.1%
4.4 TD/INT ratio
28 career wins

Bryce Petty, Baylor

6.3 230 4.81 40
63.1%
4.1 TD/INT ratio
21 career wins

Garrett Grayson, Colorado State

6.2 213 4.75 40
64.3%
4.6 TD/INT ratio
19 career wins

Shane Carden, East Carolina

6.2 219 4.9 40
63.5%
3 TD/INT ratio
25 career wins
My Top 5 Sleepers
1.  Hutson Mason, Georgia
6.2 207 4.79 40
67.9%
5.25 TD/INT ratio
13 career wins
2.  Matt Behrendt, Wisconsin Whitewater
6.1 190 4.9 40
68%
5.25 TD/INT ratio
37 career wins
3.  Connor Halliday, Washington State
6.3 196 4.87 40
67.3%
3 TD/INT ratio
14 career wins
4.  Terrance Broadway, Louisiana-Lafayette
6.1 223 4.62 40
63.2%
1.8 TD/INT ratio
18 career wins
5.  Conner Hempel, Harvard
6.1 214 4.64 40
69%
3.5 TD/INT ratio
13 career wins
What do you think?