With the 6th pick in the 2015 NFL Draft the New York Jets selected Leonard Williams, DL. Here's our analysis and some video highlights of Leonard Williams. Willams is an enormously and powerful defensive lineman. People are comparing this guy to Kevin Williams with more upside, wow! The Jet's have always been about "that Defense" and this pick continues to build upon their defensive stature. Remember, the Jets had the 6th best overall defense in the NFL last year.
Highlights
https://www.youtube.com/watch?v=sg17pcORq6w
Analysis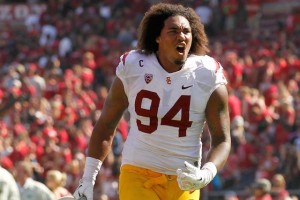 STRENGTHS Supremely gifted interior lineman with length, athleticism and elite power. Lined up just about everywhere along the line at one point or another. Able to jolt offensive linemen with powerful hands and is extremely hard to redirect for offensive linemen once he gets going downhill. Explosive hip snap to leverage blockers and is rarely moved from his gap. Often a read-and-react two-gapper and plays peek-a-boo with running backs while discarding blockers at will when he's ready to tackle. Too much play strength for zone blockers to cross-face him. Fires out with low pad level when playing the run and is difficult to submarine on short yardage. Has feet and brute force to recover and get back into a play after being beaten early. Dangerous pass rusher from twist game, showing big closing burst. Effort rusher who will eventually get home if single-blocked. Beginning to develop spin move as pass-rush counter. Showed intriguing potential as a pass-rushing end in space. Frame able to hold more weight and muscle.
WEAKNESSES Is a little late out of his stance off the snap. Must learn to consistently fire hands out as weapons. Slow to transition from run stopper to pass rusher when teams throw on first down. Pad level rises and legs straighten out as pass rusher. Base will narrow, slowing momentum and limiting full potential of his bull rush. Hasn't learned to set up offensive linemen or string together pass-rush moves yet. Doesn't always play to capacity and pursuit is lacking when play heads away from him. Still very raw. Wins with physical tools over skill.