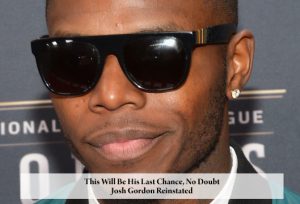 Now that Josh Gordon has been reinstated, I'd like to remind you of his immense fantasy football value, if you're drafting in the next couple weeks. I say "in the next couple weeks" because soon every fantasy football expert on the Internet will hype him to hell and back and his stock will rise above a reasonable level. As of right now I'd be fine with a mid-late-round pick because he's currently around the 60th WR off the board. That's between the likes of Terrance Williams and Sammie Coates but that won't last more than a couple days. If you're drafting against some savvy guys that pay attention to news like you (articles like this one) you'll be forced to snag him around the 8th round (maybe 9th) in a 12 team league which isn't a bad spot at all, here's why.
His Quarterback
Robert Griffin III finally gets his chance to lead an NFL team again. There has been a lot of knocks against Griffin in the past but his deep ball was never in question, he has one of the better deep balls in the league. There was a similar effect when Griffin and Gordon played together in college. In 2010 at Baylor the duo caught everyone's attention. That year Gordon averaged 17 yards per catch and finished 13 games with 42 catches for 714 yards and 7 touchdowns.
Gordon The Player
Speaking of deep balls, that is Gordon's specialty. In 2014 Gordon played only 14 games; during that 14 game span he averaged 18.9 yards per catch and posted seven 100 yard games. All together he amassed 1646 receiving yards with 87 receptions and nine touchdowns, wow! This was his second year in the league, a year in which most wide receivers struggle. Not to mention he was forced to catch balls from Brandon Weeden and Jason Campbell, barf. Now he comes with a ton of baggage dating back to his college days. Dude obviously likes to get high as a kite but now that he is older and more mature I'd like to think he has that all worked out. If he does, and that's a big if, he should be a every week starter (minus the first four weeks) for your fantasy football team and in the 8th round that's an immense value.