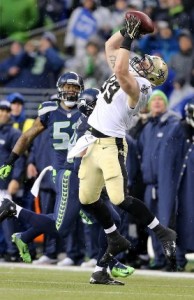 With Jimmy leaving the Saints you might be wondering who will fill the rather large void at TE. Look no further than Josh Hill who's now entering his third year in the NFL. Is he a fantasy football sleeper? We can look no further than last years stats to know he has what it takes. But don't take my word for it, below I've posted from excerpts from articles and videos around the web including Sean Peyton (New Orleans Saints Head Coach) shoveling much deserved praise toward the young TE.
He's exactly what we're looking for," said Payton with a wide grin, several months before the Graham trade. "Each week you know exactly what you're gonna get. He's talented, he can run, he's young. He's consistent. Those are things that allow you to win." Payton also discussed Hill's eye-opening Pro Day measurables.
Last season (his sophomore year) Josh Hill did a lot of damage in a short amount of on-field offensive snaps. Thanks to RotoWire, we can see that he totaled 631 snaps, 288 of which were on offense and 343 on special teams. For the season he finished with 14 receptions, 156 yards and 5 touchdowns. He was an outstanding member of the special teams unit and head coach Sean Peyton raved about Josh at his end of year presser. Jimmy finished 2014 with 775 offensive snaps. At an extremely conservative estimate, if we extrapolate the numbers and give Hill those snaps at his production value, he would finish with 38 receptions, 421 yards and 15 TDs. I know some of you are scoffing at those but I believe the receptions and yardage totals are his floor. His ceiling is likely in the 75 for 800 range. Coming out of college, Josh was deemed a prototypical move tight end that needed to work on his strength and blocking skills. Now in his third year, he should be ready to take the next step. At his Pro Day, Hill ran a 4.66 forty yard dash but shined in his twenty yard dash where he ran a 2.65. To put that into a little perspective, Graham ran a 2.66 twenty. He can get to top speed quickly and should become a regular contributor. Source FFLOCKERROOM
As a Saints fan and Jimmy owner in multiple leagues I watched Hill vulture 5 touchdowns last season. There were multiple catches Hill made and I found myself cheering "Go Jimmy" only to discover that it was Hill that made the outstanding catch and run. But don't take my word for it, check out a short highlight videos below and then ask yourself if Josh Hill is a fantasy football sleeper.