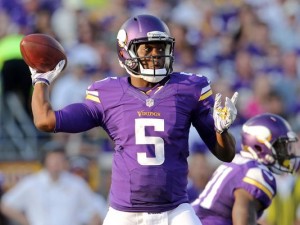 This article is designed to coordinate with my recent article on targeting mid-round quarterbacks. Both in terms of who you should target, and at what point of the draft you should eschew your options at running back and wide receiver in order to secure him. Late round quarterbacks are usually your backup, but you'll want a sizable amount of upside as with any draft pick made after you fill your starting roster. Let's look at the top five late round quarterbacks for the 2015 fantasy football draft. As you'll see, the top five options look like they could be a starter even though they carry backup level average draft position.
Any temptation to seize a top tier quarterback, which in my rankings consists of four options - Andrew Luck, Aaron Rodgers, Peyton Manning and Russell Wilson - is understandable. That allows you to lock in one of the few signal callers who are most likely to provide consistent, high quality production for your team.  But that forces you to invest an early round selection on a member of that select group. Because Luck and Rodgers will be gone well before Round 5, and there is great likelihood that Manning and Wilson will join them. That in turn will compromise your ability to build a stable of wide receivers and running backs, while your most prolific options are still available at those positions.
If you don't choose your quarterback in the early rounds, you must determine whether to grab one of the viable options that will be available to you in the middle rounds, or to continue exercising patience by waiting until the later rounds. There are varying opinions regarding what constitutes the middle rounds, and when the late rounds begin. For the sake of this discussion, we will consider Rounds 6-9 to be the middle, and all rounds that contain double digits will comprise the late rounds.
You can find analysts who at best, consider drafting a quarterback during the initial rounds to be an archaic draft strategy, and at worst view it as borderline criminal. But the allure that exists with these elite options is understandable. And if you experience a certain comfort level by having Luck or Rodgers as your starter, it is still your team, and you should build it however you prefer.
However, I do not endorse this as the best approach. Your chances for success improve by waiting until at least Round 5 before drafting a QB, which will allow you to secure two running backs two wide receivers  - unless you decide o seize Rob Gronkowski - while you still have a reasonable number of appealing options at those positions. And if you can avoid taking a signal caller until even later, that will enable you to assemble even more firepower at wide receiver, and especially at running back. That remains the position most fraught with pitfalls during both the draft process, and the regular season.  You will absolutely find a greater degree of depth at quarterback, which is a primary reason to avoid investing one of your critical early round selections on a signal caller.
An immense collection of statistical data currently exists that validates the assertion that you will find more viable options at quarterback than you will at the other critical positions once your draft has progressed into the middle rounds and beyond. You should be very familiar with that premise at this point. However, here are more numbers to underscore that point even further.
# of QB's Throwing For More Than 25+ TD's Is On The Rise 
| Year | 5,000 Yards | 4,000 Yards | 40+ TDs | 30+ TDs | 25+ TDs |
| --- | --- | --- | --- | --- | --- |
| 2005 | 0 | 2 | 0 | 1 | 3 |
| 2006 | 0 | 5 | 0 | 1 | 3 |
| 2007 | 0 | 7 | 1 | 4 | 10 |
| 2008 | 1 | 6 | 0 | 3 | 7 |
| 2009 | 0 | 10 | 0 | 4 | 12 |
| 2010 | 0 | 5 | 0 | 5 | 11 |
| 2011 | 3 | 10 | 3 | 5 | 9 |
| 2012 | 1 | 11 | 1 | 5 | 12 |
| 2013 | 2 | 9 | 1 | 5 | 11 |
| 2014 | 0 | 11 | 1 | 9 | 13 |
10 years ago, Carson Palmer was the only quarterback to generate 30 touchdowns. In 2010, that number rose to five, then remained stationary for four seasons. But look at the big jump in that category last season. The number nearly doubled, and provides an excellent illustration of the increased depth that now exists at the quarterback position. Even if that number is not duplicated this season, the trend toward having more quarterbacks producing at least 30 touchdowns should continue both this season and beyond. Which demonstrates further that is not necessary to reach for your signal caller in the early rounds.
Once Luck, Rodgers, Manning and Wilson have been selected, you still have an assortment of viable options. Drew Brees is likely to disappear from your draft board in Round 5, while Ben Roethlisberger, Matt Ryan, Tony Romo, Tom Brady, Cam Newton, Eli Manning, Ryan Tannehill, and Matthew Stafford could easily be gone before Round 10 begins. That does not mean that those of you who prefer to wait until the late rounds need to forego your plan. In fact, this article is specifically designed for you. The signal caller that you select can go a long way toward making or breaking your fantasy season, and as mentioned previously, the differences between a handful of quarterbacks that will remain available in the late rounds and those who were taken earlier are not immense. You are already familiar with the quarterbacks who are about to be discussed, but that familiarity often does not equate to knowing exactly how you should prioritize your rankings beyond those limited elite options. Keep reading, and you should have more confidence in who you target once the late rounds begin.
Philip Rivers - Current ADP 109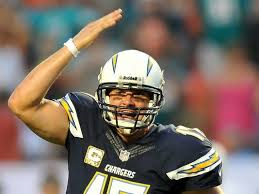 As mentioned previously, the line of demarcation that constitutes where the late rounds of your draft will begin is Round 10. Rivers has been teetering on the threshold of mid-round status, but still is being selected at the onset of Round 10. That is sufficient for Rivers to be included with other late round options in this piece, and to be the premier choice from among the signal callers that will be available to you at that point of your draft. He will begin his third season at the helm of Mike McCoy's offense, in a continuation of an alliance between the 11-year veteran and the offensive oriented head coach that has been mutually beneficial. The Chargers have ranked among the top 10 in passing offense during both seasons since McCoy's 2013 arrival, after finishing just 24th in 2012. That correlates to the statistical upsurge that Rivers has experienced under McCoy. Rivers finished eighth among all signal callers with 4,286 yards in 2014, which was the second consecutive season that he achieved that level of production under McCoy. It was also the sixth time that he has generated 4,000+ in his career. That vaulted Rivers inside the top 10 among his peers for the second straight season, after he finished just 17th with 3,606 yards in 2012. He has also generated 30+ for two consecutive years after manufactured only 26 touchdowns during that underwhelming 2012 season. That includes the 31 that he amassed in 2014, which was the eighth highest total among his peers. Rivers could easily deliver 4,000 yards and 30 touchdowns again this season, particularly if Keenan Allen delivers a bounce back season. Allen scored eight times as a rookie in 2013, while generating 1,046 yards and accumulating 16 receptions of 20+ yards. But his touchdown total plunged to four in 201, as he managed just 783 yards, and six catches of 20+ yards. The four game suspension of Antonio Gates was an unwanted surprise, and will force Rivers to endure a temporary obstacle. But the 35-year old remains one of the few consistent producers at tight end, and should fortify the passing game upon his return. Meanwhile Steve Johnson and Ladarius Green will be utilized more frequently until he does. And even though first round pick Melvin Gordon will function as the primary back, do not underestimate the impact that Danny Woodhead should have on Rivers' numbers. Woodhead collected a whopping 76 receptions during his debut season as a Charger in 2013, then missed 13 games last season with an ankle injury. Now, he should return to a sizable role on passing downs to further enhance Rivers' output. Rivers does not have a track record of allowing injuries to force him from the lineup. And at age 33, his output should resemble the previous results since McCoy's arrival. Which makes him an enticing option once your draft has entered Round 10.
Carson Palmer - Current ADP 124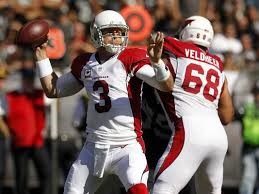 Palmer will be among the most desirable options at quarterback once your draft has progressed into the later rounds. Not only is he operating within a pass oriented offense, but it is a Bruce Arians pass oriented office. Palmer will be invited to test opposing secondaries downfield, and still has the weaponry to be effective when doing it. He had fashioned an 11 TD/3 INT ratio in six games last year before an ankle injury prematurely concluded his season. Palmer had also been attempting 37 passes per game while under center, and will launch throws at that pace once again. That makes him a candidate to generate over 4,000 yards, just as he did in both 2012 and 2013. He also possesses the weapons to accrue that number, as his trio of wide receivers will be unleashed within Arian's system. As a rookie, John Brown garnered three of his five touchdowns during the span that Palmer was in the lineup, and Brown will remain Palmer's primary resource toward stretching the field. Brown added 10 pounds of upper body muscle during the offseason, which will only boost his ability to gain separation on his routes. Larry Fitzgerald has failed to reach 1,000 yards in three straight season after surpassing that mark six times in his first seven years, and eclipsing 1,400 four times during that span, However, he was on pace to exceed 1,200 yards before Palmer's absence, and could attain 1,000+ this season. He should also exceed the career low two touchdowns that he registered in 2014. Michael Floyd was drafted before T.Y. Hilton, Emmanuel Sanders and Julian Edelman among others in 2014, then proceeded to be a massive disappointment. Floyd finished 41st among all receivers with 841 yards, and just 85th with a mere 45 receptions. But he still has the size and athleticism to be an effective weapon for Palmer. Andre Ellington and David Johnson will comprise Arizona's rushing attack, which ranked a lowly 31st in 2014. Arians will utilize the tandem primarily to set up a frequent aerial assault. If you choose to load up on running backs and receivers through the first 10 rounds, then make the selection of your quarterback, Palmer can be employed as your starter. Keep in mind that he is now 35 years old, and has performed in all 16 regular season games just once since 2010. Given his age, and recent history of health issues, protect yourself by also drafting a capable signal caller to be your QB2. Or, plan on the possibility of streaming an alternative at some point during the year. But if Palmer can remain upright and in the lineup, he will deliver respectable numbers for you with a late round draft price.
Joe Flacco - Current ADP 144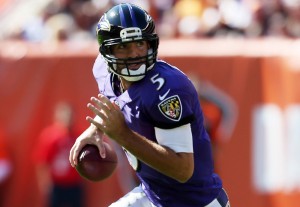 The thought of depending upon this seven-year veteran could easily be unsettling for some of you who are pondering your late round options. But this season is arguably Flacco's best opportunity to provide owners with favorable results, after being more effective as a real life quarterback than he has ever been for fantasy purposes. Even though he is a former Super Bowl MVP, after spearheading the Ravens' World Championship in 2013, Flacco has never thrown for 4,000 yards. Nor has he managed to generate 30 touchdowns in a season. Yet, he is a legitimate candidate to accomplish both this year. He barely missed that elusive 4,000-yard plateau by a mere 14 yards last season, and also exceeded 3,900 in 2013. Plus, his 27 touchdowns in 2014 established a new career high. Given the pedigree of new OC Marc Trestman, the concept of Flacco finally attaining high quality numbers after approaching that level of output last season becomes more credible. Trestman arrives in Baltimore with a resume containing a quarterback-friendly offensive approach. He has stated that the run oriented attack that predecessor Gary Kubiak deployed in 2014 will be unchanged, but it is easy to envision Trestman augmenting the Ravens passing game, and supplying Flacco with more chances to accumulate fantasy points in the process. Justin Forsett caught 44 passes from Flacco last season on his way to 263 receiving yards. He should become far more involved in the passing game given Trestman's track record of utilizing running backs, and his big play ability will enhance Flacco's output even further. Steve Smith amassed more receptions (79), yardage (1,065) and touchdowns (6) last season than he did in 2013. Even at age 36, he should deliver acceptable numbers again this year as a frequent target for Flacco. As should rookie Breshad Perriman, who will supply Baltimore's vertical threat, and possesses the explosiveness to collect Flacco's offerings for sizable yardage. Second round draft pick Maxx Williams has the potential to make contributions if he can overcome the challenges that many rookies encounter when attempting to be productive from the tight end position. Does all of this mean that Flacco will put up top 5 numbers this season? Absolutely not. However, he is capable of delivering output that is similar to a number of quarterbacks who will be selected much earlier in your draft.
Teddy Bridgewater -  Current ADP 121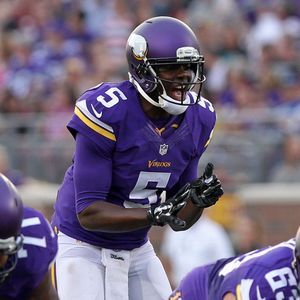 Bridgewater's ratio of 14 TDs/12 INTs will not compel you to race out and draft the signal caller who generated those moderate numbers. But even though Bridgewater's overall production is not initially impressive, he did demonstrate sufficient composure and excellent decision making during his initial campaign. That should instill confidence with potential owners that he could be a worthy late round option after their drafts have entered the later rounds. Not only was his improvement measurable as the season progressed, but you could also see him emerging into a potentially viable starter. While he tossed just four touchdowns during his first seven games, he amassed 10 in the final six contests. Now, Bridgewater's growth as a signal caller should rise in tandem with his production, due to the fortuitous convergence of his development, Norv Turner's aptitude in orchestrating an offense, and a collection of weapons that should help make this year's Viking attack very potent. Bridgewater did not have the luxury of a highly proficient ground game last season, although the Vikings ranked a respectable 14 in rushing offense. But the return of Adrian Peterson will certainly upgrade that aspect of the attack, which will keep opposing defenses from focusing as significantly on Bridgewater and the passing game. Former Brown Charles Johnson collected 25 of his 31 receptions in the final seven games of last season, and is primed to be Bridgewater's top option this year. WR1s in Turner's offense have traditionally produced extremely well, which bodes well for Johnson. Despite controversy off the field, and questionable deployment on the field in 2014, Mike Wallace still tied his career best with 10 touchdowns in 2014. His big play ability should be utilized more extensively by the Vikings, which will boost Bridgewater's output. And if you just google searched Kyle Rudolph and were sent to this portion of the article, the term breakout candidate being associated with Rudolph might send you scrambling to the top of this piece to make sure you weren't reading an article from 2013 or 2014. But no need to worry, this is a July 2015 article. And yes, once again, Rudolph is a legitimate candidate to become a reliable TE1 for owners this season. Even if he does not achieve the level of success that has been forecast, he should be a serviceable target for Bridgewater. Which will combine with the other receiving weapons to give the second-year signal caller a reasonable collection of options. Bridgewater is capable of taking advantage of this, and can be considered a viable late round selection.
Colin Kaepernick - Current ADP 139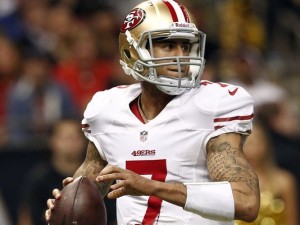 When Kaepernick ascended into San Francisco's starting lineup in 2012, he proceeded to produce a TD to INT ratio of 10/3 despite having just seven starts. He also generated 1,814 yards through the air, ran for five touchdowns, and averaged 6.6 YPC on the ground. Understandably, that was enough to convince many potential owners that he could be confidently employed as a locked in starter. However, he repaid the faith that was placed in him by regressing noticeably from that point forward. Not only has Kaepernick failed to improve as a quarterback after that promising start, but his performances and his numbers have undergone an unsightly decline. In 2013, he barely exceeded 3,000 yards passing, managed just 21 touchdowns, and needed to generate seven during December just to reach that uninspiring total. His touchdowns as a rusher declined, as did his YPC, despite carrying the ball with greater frequency. Still, I was among those who believed that he could revitalize his career in 2014, and responded by ranking him sixth among his peers last summer. Unfortunately, his regression accelerated, as Kaepernick finished just 17th in both yardage and touchdowns, while failing to even manage 20 scores through the air. Based upon his waning success, the obvious question is... why should you trust Kaepernick now? First, this needs to be clarified. In no way is this a prediction that Kaepernick is going to fully resurrect his career. Enough evidence exists to believe that the natural playmaking ability he possesses will never be thoroughly channeled so that he can become an elite signal caller. However, due to deficiencies that could be rampant within the 49er roster this season Kaepernick and the offense will be forced to play from behind throughout much of the regular season contest. That will provide him with numerous opportunities to deliver fantasy points against defenses that are performing with games well in hand. Plus, San Francisco will be operating at a faster tempo then they have in previous seasons, which will supply Kaepernick with more plays from which to generate yardage. Also, the belief from here is that Kaepernick will accumulate rushing yards on designed plays with greater frequency than any point of his career. Finally, even though this year's 49er offense will not be confused with some of the great units of the past, the group is capable of helping Kaepernick deliver fantasy points. Yes, Anquan Boldin will turn 35 in October. However, he has collected over 80 receptions for the past two seasons, and generated nearly 1,100 yards last year. He remains a dependable weapon that Kaepernick can connect with repeatedly. Reggie Bush still possesses enough explosiveness to do damage as a receiver. And even though Torrey Smith is hardly a consistent presence, he did tie for 10th among all receivers with 11 touchdowns as a Raven last season. That will be difficult to replicate, but he will supply the deep threat that Kaepernick desperately needs. If you remain patient during your draft process, and decide to secure your quarterback after Round 12 begins, there are legitimate reasons to believe that Kaepernick will provide you with enough fantasy points to supplement the success that you are attaining with the backs and receivers that you have assembled for your starting lineup.