As I stated in my earlier article, Dallas Cowboys 2015 Free Agency: Dez or DeMarco Murray, I feel the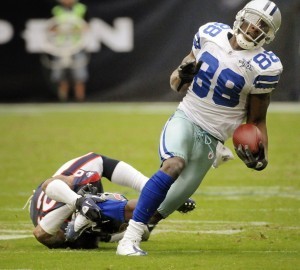 Cowboys have some moves they must make before the draft. First, they must get Dez Bryant signed to a multi year contract up to 5 years in length.
Then, the Cowboys need to get DeMarco Murray signed, but they must be very smart and not break the bank and mortgage their future for him.  He had one of the best years for a running back in the history
of the NFL, but he is 27 years old which is old for a running back.
They also have got to sign either Doug Free or Jeremy Parnell at right tackle.  They should be able to sign one of the two to a cheap contract.
Cornerback Brandon Carr needs to be a post June 1 cut which will open up about $8 million, they need to let defensive end Anthony Spencer go, and they will have to turn down the $9 million option on defensive tackle Henry Melton.
It would definitely be in the Cowboys best interest to sign linebacker Rolando McClain if at all possible.  Before injuries started getting to him he was leading the team in tackles, sacks, and interceptions.
Defensive tackle Nick Hayden is an unrestricted free agent and he led the interior defensive linemen in tackles.  So, the Cowboys are looking at losing two of their top defensive tackles from last year.
After the free agency period is over the Cowboys biggest needs will be at:
defensive tackle
corner back
line backer
Mel Kiper's first mock had the Cowboys drafting Oklahoma defensive tackle Jordan Phillips with the 27th pick in the first round.
Kiper's pick for Dallas at 27 in his second mock draft is Iowa defensive tackle Carl Davis.
Mel Kiper's analysis of Davis:
"I'm not sure there was a player who did more to gain appeal as a potential first-round pick at the Senior Bowl. Davis brings a coveted ability to be disruptive as a pass-rusher from the inside, as he won't just push the pocket with strength, but also can win with quickness and get into the backfield. The Cowboys have done a great job in building their offensive line and have made it possible to be one of the few truly balanced offenses, but any setback on offense could expose a defense that was better on paper than it was in terms of personnel in 2014. They could add talent at all three levels, but Davis would make a lot of sense if the board breaks this way."
I think Kiper really hits the nail on the head in that the Cowboys could add talent at all three levels on defense with this first pick.  As I said earlier I think the biggest weakness is in the defensive line, specifically at the defensive tackle spot.
Kiper has USC's Leonard Williams, Washington's Danny Shelton, and Texas' Malcolm Brown being picked before Dallas' 27th pick and I do think that Davis is the next best defensive tackle.
Size and Speed:
Davis has better than prototype size at 6'5 321 pounds, which should be correct because that is what he was measured at the Senior Bowl.
He has pretty good speed as well.  He has been clocked at 5.12 in the 40 yard dash and I am really curious to see what he runs at the combine this month.  It would really benefit him to get down in the 5.0-4.9 range.
I was able to watch Davis in one regular season game versus Northwestern and in the Senior Bowl game and one Senior Bowl practice.  The thing that stood out to me when I saw him play was his quickness and ability to get penetration in the backfield and disrupt running plays.  He finished this season with 9 tackles for loss.
Senior Bowl:
In the Senior Bowl 1 on 1 portion of practice he showed good strength and quickness.  One time he showed a great swim move at the snap and beat the center for a sack.  The next time he lined up on a guard, rushed upfield through the right shoulder of the guard, then hit him with a good right hook and got another sack.  Then he went up against another center and Davis showed his strength by throwing him to the side and getting a sack.
So I saw him in three 1 on 1 battles and he won 2 of them.
In the games I have seen him in he flashes his quickness by getting in the backfield often.
Strengths:
size
quickness
a great fit for Dallas defensive coordinator Rod Marinelli's scheme
can play all 3 downs, you don't have to pull him out during passing situations
Weaknesses:
Only had 36 tackles on the season
appeared to play in a rotation at Iowa, he would sit out a series at a time
What do you think?