The 2015-16 NFL season is just a few weeks away and once the pre-season waltz comes to an end, you need to know who has what it takes. Fortunately, a lot of teams will get the chance to show their true colors early on in the new season. There are some tremendous matchups and rivalries waiting to be renewed and a few of them kick off as early as Week One.
Pittsburgh Steelers at New England Patriots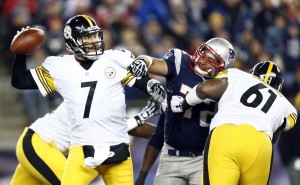 The biggest headline leading up to this game is the question mark of Tom Brady. With that said, all signs are pointing to Jimmy Garappolo as Brady's replacement on opening night because the four-game suspension to the Pats legendary QB was upheld. If Brady goes after the NFL I'm pretty sure he will get to play until the lawsuit pans out. Watch out for this one folks!
Indianapolis Colts and Buffalo Bills
Another AFC matchup with loads of intrigue features the Colts and Bills. Undoubtedly Andrew Luck still has a chip on his shoulder from their AFC Championship loss last year. While in Buffalo, the new Rex Ryan led regime will get their first chance to shine. The early Week 1 NFL betting line (topbet.us) shows the Colts as the favorite. However, given the offseason additions of LeSean McCoy, Percy Harvin and Charles Clay though, you know the Bills will be one powerful beast.
It's not like Ryan will have it all figured out from the sidelines though. There's still a gaping hole at quarterback with Matt Cassel, EJ Manuel, Matt Simms and Tyrod Taylor pushing for the starting job. Early indications surprisingly had Taylor showing bright signs; however you'd have to think Rex would go with veteran experience in Week One and turn to Matt Cassel.
Cassel or no Cassel though, Andrew Luck is angry. Watch out for the Colts in Week One and this season.
Green Bay Packers at Chicago
Let's switch gears and go to the NFC. Juggernauts will collide in Chicago as the (now healthy) Aaron Rodgers led Packers take on the consistently inconsistent Bears. The Cutler crew will be missing a quality set of hands in 2015 after dealing Brandon Marshall to the Jets for a 5th rounder. We know Alshon Jeffrey will get the majority of the looks. If he gets double teamed though, the other options are fairly unproven.
The team tried to fill Marshall's shoes this past offseason with rookie Kevin White and former San Diego Charger Eddie Royal. Two fantasy options which will likely go mid-late in your draft. They're also two guys that may surprise if Jeffrey gets the majority of the coverage.
As for the Packers, the usual suspects will still be leading their fantasy picture. Rodgers, Cobb, Nelson and Lacy will all be returning for another year in the green and gold. Needless to say, if you can get your hands on even one of the Wisconsin foursome, you shouldn't hesitate.
When it comes to this game as well, again you shouldn't hesitate. There's a reason Green Bay is favored by -5.5 points.
Seattle Seahawks and St. Louis Rams
It's an NFC West rivalry that has brewed for years will be back at the forefront in Missouri. The new look St. Louis Rams and the consecutive Super Bowl finalist (and one-time champ) Seattle Seahawks will once again go toe-to-toe.
The difference in the 2015 version of this rivalry is that the Rams have reloaded their offense. Former No. 1 overall pick Sam Bradford was shipped off to Philadelphia this past off-season for Nick Foles. The team also a guard and three tackles in this year's draft, along with Clemson tackle Isaiah Battle in the supplemental draft.
Their other massive addition is 2015 first round selection out of Georgia - running back Todd Gurley. He's a speed back, who's also built like a house. The only snag is, following a knee injury, he may now be in the press box to start the year.
This is actually great news for keeper leagues. Odds are he may slide through the first few rounds given his uncertain status. If this is the case, a white whale could be waiting for you.