With the 4th pick in the 2015 NFL Draft the Oakland Raiders selected Amari Cooper, WR. Here's our analysis and some video highlights of Amari Cooper. Amari is going to be Derek Carr's saving grace, but Carr who's entering his second year is probably going to slam into the ground as most QB struggle in their softmore season. I still love Cooper as a WR2 in fantasy football leagues, especially PPR leagues.
Highlights
https://www.youtube.com/watch?v=gjHOM1TW1xA
Analysis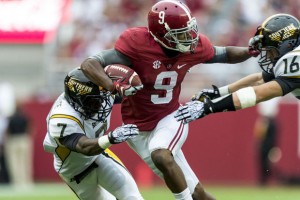 STRENGTHS Asked to become a dominant offensive threat and did so. Accelerates to top speed and stays there at the top of his routes. Consistently able to get defenders leaning before breaking them off in the other direction. Owned the post route. Play speed includes a second gear. Good feel for traffic on crossers and is able to adjust and avoid the big hit. Unafraid to work the middle and secures the tough catch in traffic. Sticks it and gets it out of breaks, creating instant separation. Not content to sit in zone as covered target. Works to make himself presentable to quarterback. Competes hard and makes big plays in big games. Worked outside and from slot and varies his route speed. Tracks the ball well and has burst to run under and finish for six. Caught absolutely everything during NFL Scouting combine workout.
WEAKNESSES Needs to finish routes. Will stop or occasionally adjust route, putting quarterback in danger of an interception. Can improve use of body to shield defenders from the ball. Run blocking can improve. Could use a little more fire in that department. Focus drops have been an issue at times, dropping 13 passes over the last two seasons.