As week two comes to a close, some preseason trends are becoming clearer. Roles are being defined and rookies are attempting to grab starting jobs. All of these factors change things for the purposes of fantasy football. Here are a few players that are drastically changing their value with preseason play and roster moves.
Passing The Eye Test
Dalvin Cook RB MIN
Cook is one of the most exciting players of the rookie class, but his situation is not ideal. The Vikings have a below average offensive line and there are other solid backs on the roster. There is a chance that Latavius Murray grabs the goal line job when he finally gets healthy. Still, Cook has a scintillating skill set and runs with authority. Many analysts are head over heels for Cook, but I worry about the Vikes as a whole when real games start.
Christian McCaffrey RB CAR
It would be hard for the hype to get much bigger surrounding this rookie but he is managing. In both preseason games McCaffrey has made jaw dropping plays. It does not mean everything to dominate the preseason, but his speed and moves are undeniable. McCaffrey has shown off his hands and an ability to run between the tackles. The only real caveat here is that the Panthers will probably let Jonathan Stewart siphon away value.
2017 Fantasy Football Draft Strategy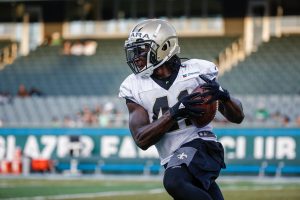 Alvin Kamara RB NO
The running back situation in New Orleans makes it difficult to get too excited over Kamara. Having Mark Ingram and Adrian Peterson on the team is sure to eat up the bulk of carries. Still, Kamara flashed major big play ability against the Chargers in week two of the preseason. He had a 22 yard reception and a huge 50 yard touchdown run. Kamara appears to be moving at a different speed than the other players on the field when he gets the ball. I have to believe that the Saints will find a way to make this guy a weapon this season.
Dynasty League Dynamos
Mitchell Trubisky QB CHI
The performances thus far have been against backup defenders, but Trubisky looks great. For a small school quarterback, he does not look overwhelmed in any way. Mike Glennon is set as the starting quarterback, but it may be hard for John Fox to hang on to that decision. Glennon has looked awful thus far and he does not have much track record to fall back on. The Bears front office loved Trubisky and drafted him very highly. He is playing incredibly well in the preseason, but is probably a wasted pick in redraft leagues.
O.J. Howard TE TB
Howard is big, fast and athletic; a terrible matchup for a safety or a linebacker. He has the look of a future star at tight end, but the key word is future. At the moment, the Bucs have Cameron Brate and he has a great rapport with Jameis Winston. Not many teams can support two high scoring tight ends at a time. This would be especially difficult with Mike Evans and DeSean Jackson looking for the ball as well. For now Brate is definitely the tight end to own in Tampa, but Howard is dynasty league gold.
Patrick Mahomes QB KC
The Chiefs have been held back by quarterback play for quite some time. Alex Smith is an adequate NFL quarterback, but he cannot win a game for his team. Mahomes, on the other hand, has a diverse skill set that could develop into something special. The timing and pocket presence were impressive for the young quarterback in his last preseason game. He threw for 88 yards and 2 touchdowns on 10-14 passing. He also has the ability to pull it down and run if the play opens up. There is still some development to be done here, but Andy Reid knows quarterbacks. In a year or two Mahomes looks like he will be a force to be reckoned with.
D/ST Preseason Power Rankings