Last year was an interesting one for quarterbacks when it came to fantasy. Many who drafted Cam Newton high based on his 2015 performance were sorely disappointed by the Carolina quarterback. Matt Ryan had easily the best year of his career. He led the Falcons to their second Super Bowl appearance in franchise history. While some quarterbacks can be counted on for consistent production, others tend to be more mercurial prospects. Here's a look at the QBs you should draft for you fantasy team in 2017.
Aaron Rodgers
As usual, if there's one QB you're going to draft early, make sure it's Aaron Rodgers. Despite a somewhat rocky start to the year, Rodgers proved why he's an elite quarterback with an amazing performance throughout the second half of the season. Rodgers threw an astounding 40 touchdowns and a mere seven interceptions to finish the season as the number-one ranked fantasy QB once again. With Jordy Nelson healthy and playing his best, we fully expect another Pro Bowl season for Rodgers.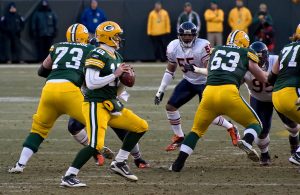 Matt Ryan
The Falcons QB exploded as an offensive powerhouse and finished second overall in fantasy scoring on his way to his first league MVP. However, it's hard to recommend taking Ryan too early in your fantasy draft. It's not uncommon for QBs to regress following an MVP season—just look at Newton—and it's highly unlikely Ryan will put up the same huge numbers in 2017. Still, with reliable receivers like Julio Jones on the roster, Ryan can be counted on as a starting QB and should be a part of your draft strategy.
Andrew Luck
Compared to expectations, Luck had a fairly lackluster 2016 season, but he was still good enough to land in the top five for QBs. Luck was the favorite to have the most passing yards in 2015 and since then has consistently proven himself to be one of the best talents in the league. If the Colts put together an offensive line that can actually protect him and add a few extra offensive weapons to the line-up, you can count on Luck to once again be a top performing QB.
Tom Brady
It's a no brainer to grab the greatest quarterback of all time. That makes even more sense considering that he won't be serving a suspension this year. While he might not put up the kind of insane numbers you see from Rodgers (or even Matt Ryan), he's nothing if not consistent. When the QBs start flying off the board, you'd be wise to go ahead and snag the five-time Super Bowl champion. He finished the season as a top-five fantasy QB despite only playing in 12 games. Imagine what he could have done with 16.
Dak Prescott
Dak Prescott might be your best option for a late round QB1. He's fortunate enough to play behind one of the best offensive lines in the league and has already proven himself as a talent to watch. He put up 11 games with 18 points or more in 2016 and will likely only get better as he matures as a player. We'd hesitate to take him too high, but he'll be a steal if you can manage to draft him in a later round.