Washington Redskins' LB Junior Galette will miss the 2015 NFL season after suffering a torn left achilles tendon during practice on Wednesday.
Galette, 27, is facing a 6-8 month recovery timetable and will undergo surgery to repair the injury in the coming days.
Washington signed Galette to a one-year contract on July 31 following his release from the New Orleans Saints, where he spent the first five seasons of his career after going undrafted out of Stillman in 2010. Galette had only agreed to a four-year $41.5 million extension with the Saints last September, but a series of off-field issues ultimately led to his departure. He had agreed to restructure that deal in March, but video evidence of a recent alleged domestic incident appeared to be the tipping point in his fractured relationship with the Saints and coach Sean Payton, who had reportedly privately expressed his displeasure with Galette.
Galette became a key player for New Orleans, transitioning from a role player into a major contributor on the Saints' defense over the last five years. He flourished in 2013 - his and the team's first season under the stewardship of defensive coordinator Rob Ryan- recording 12 sacks and a pair of fumble recoveries. Following that season, Galette was rewarded with his multi-year extension.
Despite the Saints' defensive regression in 2014, Galette still managed to put together a productive season, tallying 10 sacks and 3 forced fumbles. Per Pro Football Focus, he finished the 2014 season as the league's second-highest graded 4-3 pass-rusher.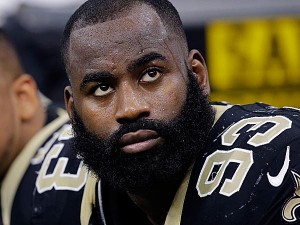 Additionally, New Orleans is said to be looking to recoup about $1.25 million from Galette's contract, representing what would have been his base salary for the 2015 season. The Saints were obligated to pay Galette that money as it was part of the guaranteed money in his deal. New Orleans, which has been no stranger to grievances and arbitration hearings over the course of the last four offseasons, will likely argue that Galette's off-field behavior deemed his contract invalid. Galette, in turn, would likely file a grievance through the NFLPA.
The Redskins were hoping that Galette would provide a surge to their pass-rush in 2015. They envisioned a fearsome pass-rush duo consisting of Galette and Ryan Kerrigan spearheading their front seven's attempts to get to the opposing quarterback. Having only recently recovered from a pectoral injury which had kept him limited throughout the Saints' offseason program, Galette was set to make his preseason debut for the 'Skins in their regular season dress rehearsal against the Baltimore Ravens on Saturday. His injury now means the team must now turn to in-house replacements such as Trent Murphy and Preston Smith. The team is high on both Murphy and Smith, but neither are as explosive as Galette, who has made a name for himself as a legitimate pass rush specialist.
Originally from Haiti, Galette started his collegiate career at Temple before transferring to Stillman after he was suspended by the Owls. He had expressed his desire to remain with the Saints earlier in the summer, but the team was understood to have been fed up with his off-field actions and there had been rumblings about a possible split between the two parties dating back to before May's NFL Draft.
Galette was facing the possibility of a league suspension to start the season as a result of his off-field issues, with the Redskins bracing for a verdict as soon as this week. Washington was said to be hopeful that any suspension would be a short-term punishment in the two-game range. Instead, Galette will miss all of the 2015 season with a serious injury that will leave his future up in the air as his contract with the team is just for one season.