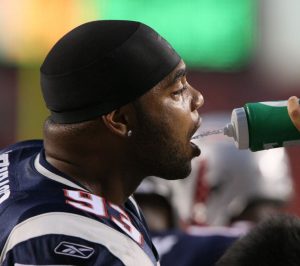 There is no shortage of choices about life that former athletes can make after their glory days, which, understandably, can sometimes be a little unfamiliar territory for them. I don't have to remind you that some NFL players tend to get lost along the way (not pointing any fingers, of course). However, despite gaining fame on the field, there are some ex-footballers who seem to gain more media recognition after their career like mister Richard Seymour.
Born in 1979, he began playing at Richland High School in Hopkins, South Carolina, where achieved many honors and became the team's captain by his senior year. He then continued the dream at the University of Georgia where he was an important part of the defensive line. He also won several titles for and was made a first-team selection for All-Southeastern Conference in 1999 and 2000. Then he was drafted in the first round by New England Patriots a year later, initiating the most fruitful, and surely most enjoyable period of his time on the field. With many awards to his name and three Super Bowl championship rings, he clearly made a mark in the history of football and contributed largely to the Patriots' accomplishments in the NFL. Having Tom Brady as a teammate and being an active part of his and the club's legend definitely didn't hurt, and we can only imagine that the experience must have been a great one.
When his active days finally came to a natural end, Seymour apparently decided he still needed some sort of thrill. He felt like the game of poker was a promise of good times and, to some extent, could be a regular source of this adrenaline rush; the kind high-performing athletes are accustomed to. Sports people and all kinds of celebrities aren't anything new to this world as some just play recreationally and some take it more seriously.
But for Seymour, it isn't just a hobby as he is often a frequent guest at prestigious tournaments including unofficial championships like the World Series of Poker. And he isn't doing too bad, either, securing so far something well over $100,000 in prize money to date. One could only wonder if those years as a pro baller taught him anything he could use to his advantage with poker.
And apparently, he does as Seymour often does make strong connections between playing cards and his active days as a professional athlete. Poker, while different on many levels and clearly less physical, still can offer a lot of recognizable moves and important lessons, which can be applicable to football and vice versa. The ex-footballer often emphasizes the importance of research in both areas, studying the intricacies and details, gathering information and knowing who you are sitting with at the table or facing on the field. He also seems to be keeping his head cool, building upon his knowledge from the times he was beaten by more experienced players.
You can say that trading one physically demanding sport to a more intellectually absorbing activity seems like an interesting choice for a former NFL star. While Richard Seymour's football accomplishments are well known, who knows where his poker adventures will lead him. I'm sure long-time fans wouldn't mind witnessing the ex-footballer make some history, or at least continue to succeed at the poker table.