Heading into the second day of the 2015 NFL Draft, the New Orleans Saints were armed with a trio of picks and an aim to further boost the talent on their roster at positions of need.
While the selections of Washington linebacker Hau'oli Kikaha and Florida State cornerback P.J. Williams made sense from talent and need standpoints, the Saints managed to deliver another changeup just one day after surprisingly plucking Stanford tackle Andrus Peat with the thirteenth overall selection.
Friday's twist came in the form of Colorado State quarterback Garrett Grayson, whom the team picked with the 75th overall selection in the third round. With the pick, Grayson became the highest quarterback taken in the draft by New Orleans since a man named Archie Manning in 1971.
A favorite amongst draftnicks and pro personnel men alike, 23-year-old Grayson possesses the traits and makeup of a future NFL signal-caller. At 6-2 213 with terrific deep ball skills and solid upper-body mechanics, Grayson enters a system that is tailor-made for his skill set and intangibles. Grayson can make all the throws, and has fantastic pocket presence. Able to stand and deliver with fearlessness to place the ball in tight windows with anticipated throws, the former Mountain West Offensive Player of the Year should flourish under the leadership of Saints' coach Sean Payton with some proper development and seasoning. Grayson wrapped up his collegiate career at CSU with school records in passing yards (9,190), passing touchdowns (64), completions (688), and completion percentage at .618 .
In the meantime, the rookie has the luxury of biding his time behind one of the game's best and a future Hall-of-Famer in Drew Brees. While it is not surprising that the Saints have effectively begun planning for life after Brees, the fact they used such a high pick comes as a bit of a shock. Nevertheless, it's clear that Saints brass was enamored with Grayson, as Payton referred to his new pupil as "the one quarterback we liked" in this draft.
"If he wasn't available, we probably would have gone without drafting a quarterback," said the Saints' coach.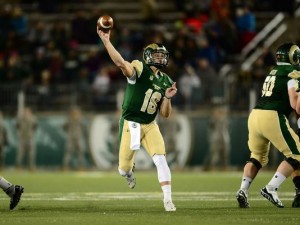 Brees just turned 36, and while the Super Bowl winner feels he can play into his 40's, it is prudent of New Orleans to take a player who they feel may one day be able to grasp hold of the torch which Brees has carried so successfully over the last nine years. Since arriving in New Orleans post-Katrina in early 2006, Brees has shattered the Saints' passing records (as well as several league records), delivered the club to it's first ever Super Bowl triumph, two NFC championship game appearances and multiple division titles and playoff berths. A steady, game manager who oversaw a run-heavy attack in his early years with the San Diego Chargers, Brees has blossomed into one of the league's best players, and of the game's greatest passers of all time.
Brees' production and numbers took a dip in 2014 for a myriad of reasons, some beyond his and the offense's control. Despite this, he remains a surefire top-5 quarterback in the league, and figures to have at least three more good seasons ahead of him. With New Orleans expected to place more of an emphasis on running the ball with a physical approach, coupled with the hope of an improved defensive unit, Brees may not be asked to do as much as he was last season when the Saints were often playing from behind. Still, the NFL and its difficult personnel decisions are not for the faint of heart, and even the likes of Payton and Brees realize that at some point, a page will have to be turned.
Going forward, Brees won't be asked to babysit or nurture Grayson, but his leadership characteristics, tremendous work ethic and people skills will undoubtedly rub off on his rookie understudy. Grayson drew comparisons to Brees throughout the draft process, and played in a pro-style scheme at Colorado State, with plenty of shotgun and some spread passing concepts similar to the style of system Brees developed in under Joe Tiller at Purdue. Grayson also wowed scouts and coaches with his mental understanding of the game, another trait reminiscent of Brees, and the type of characteristic that a coach like Payton craves in his system.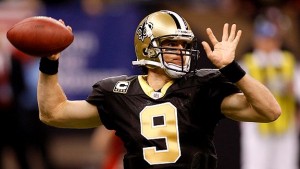 Like his soon-to-be mentor, Grayson does not possess the new age prototypical Joe Flacco or Tom Brady size, but that has not stopped Brees from developing into one of the game's best quarterbacks. Grayson knows where to put the ball, and can anticipate routes after diagnosing the coverage pre-snap. The combination of intelligence, leadership, work ethic and natural passing skills do, indeed, paint the portrait of a similar player to a Drew Brees.
Grayson also excels in the short and intermediate passing game, with nice deep ball accuracy to boot. Brees has made a name for himself delivering the ball in this type of attack, able to move the chains with well-placed throws over the middle and to the sideline, accompanied by pinpoint accuracy to take the lid off of a defense. Those are the types of skills that endeared Sean Payton to Brees over nine years ago, and the same traits are visible in Grayson's impressive college tape.
For Payton and the Saints, it was not necessarily about preparing for life after Brees and planning for the future, but more about the team's staunch loyalty to their philosophy of selecting the best available player on their draft board.
"I understand the story, certainly, with where Drew is in his career. But you truly try to pay attention to how these grades fit," said Payton. "I think it'd be different if all of a sudden we're taking a quarterback in the first round and we had a different vision," he added. "But in our case, it's pretty clear. We love our starter. And it gives the young players behind him a chance to mature and develop."
Brees has been down this road before. When San Diego selected Philip Rivers in the first round of the 2004 NFL Draft, all signs pointed to a quick change out west. However, Brees, who had struggled to find consistency in his early years as a pro, went on to post his two best seasons as a Charger with Rivers marinating behind him. A shoulder injury in week 17 of the 2005 season effectively turned the page in San Diego, but with age and time on his side, Brees just needed a new home, good health and a fresh start to further his progress into an elite quarterback.
This time around, it clearly is about the long-term future. However, in the short-term, Brees is still one of the best quarterbacks and players in today's NFL. With a more dependable running game, physical play in the trenches and a defense hoping to get back to its 2013 form, Brees should be poised to trend back towards his Pro Bowl, playoff game-winning self. In the meantime, Grayson will join veterans Luke McCown and Ryan Griffin in the battle for backup duties.
Nine years ago, a new era began in New Orleans when Sean Payton and Drew Brees arrived in the rebuilding city. Fast forward to today, and the newest face in the quarterback room does not necessarily bring the sense of a rebuild or the dawn of a new era, but more of a Robin to Brees' Batman. While Brees will be tasked with picking apart the Jokers, Riddlers and Penguins on the Saints' schedule, Grayson can learn and develop at his own pace behind one of the best to ever do it with an Alfred-esque figure in Payton at the top.
The truly intangible piece of the Brees/Payton relationship is the bond and understanding between coach and quarterback. Seemingly always on the same page, player and coach hit it off from the get go, and that is an area in which Grayson can thrive as he soaks up all that the duo put into game planning, preparation and film study behind the scenes.
Down the road, Garrett Grayson may well be the one to take over from Drew Brees. He has the requisite skills and traits that Sean Payton wants from his quarterbacks. With a couple of developmental years behind Brees, the ball will be in his court to show he can flourish as a productive NFL starter. Time will tell, but when a team like the Saints uses a high pick on a player of Grayson's ilk with a future Hall-of-Famer in tow at his position, odds are he'll have the necessary platform and a chance to become a success.
Just like Drew Brees showed when the Saints took a gamble on him and his shoulder nine years ago, all that's needed sometimes is a chance. In time, Grayson will get his, but not until Brees has finished his business in black and gold. That being said, it's clear the Saints envision Garrett Grayson as their future.
The cherry on the sundae, or the 'lagniappe,' as they say in Louisiana, is that the potentially bright future has time to soak up the sun behind an already shimmering present.