Saddled with tight salary cap constraints on the brink of the NFL's free agency period, the New Orleans Saints took the next steps towards maximizing their financial wiggle room by informing veteran running back Pierre Thomas that he will be released. The former undrafted free agent was notified by the team of its decision on Wednesday, bringing an end to his eight-year stay with the Saints.
Thomas, 30, rushed for a career-low 222 yards across 45 carries last season, while missing 5 games due to a myriad of ailments. He ended the year on injured reserve, and now joins a crowded crop of running backs on the open market.
Thomas accepted a pay cut in the form of a contract extension just last spring, but due to their dodgy-at-best cap situation, New Orleans has elected to move on from the Illinois alum despite the fact that fellow RB Mark Ingram is headed to free agency after seeing out his rookie contract. Ingram, who had his fifth-year option declined by the team last offseason, is expected to draw plenty of interest on the open market, and has already been linked with the Philadelphia Eagles. His potential departure alongside Thomas' release leaves New Orleans with just Khiry Robinson and Travaris Cadet as experienced backs on the roster.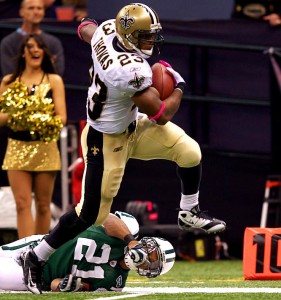 The move frees up only about $1.25 million , leaving the Saints around $20 million over the cap. More moves are surely on the way, with the team reportedly shopping LB Curtis Lofton and working on a restructured deal with veteran wideout Marques Colston. Other veterans such as DT Brodrick Bunkley, OL Ben Grubbs and LB David Hawthorne could find themselves on the chopping block, while more players may be asked to restructure their deals similar to Colston.
With free agency set to begin on March 10, New Orleans is not expected to be as aggressive as they were a year ago, when they splashed the cash to bring in safety Jairus Byrd from Buffalo. This season's cap dilemma makes it even more likely that the Saints will focus squarely on reshaping the current roster with an emphasis on value with regards to any potential signings. Armed with several picks in this year's draft, New Orleans will hope its recently restructured personnel department will be able to identify potential bargains in the middle and later rounds.
The Saints do have a history of unearthing diamond in the rough types in the undrafted free agent market, and Thomas is a prime example. He ends his Saints tenure as the club's fourth all-time leading rusher with 3,745 yards and 28 rushing touchdowns. Thomas was a key piece of the puzzle as New Orleans won Super Bowl XLIV in February 2010, a game in which he scored a vital touchdown as the Saints defeated the Indianapolis Colts. He was a key part of the franchise's most successful run in history under head coach Sean Payton, helping the Saints achieve multiple winning seasons and playoff appearances, in addition to their Super Bowl triumph.
Still an effective receiver out of the backfield and an able pass protector, Thomas should draw some interest on the market as a veteran with winning experience who is willing to play a role. Nagging injuries have always been an issue, but Thomas was never a workhorse type in New Orleans, with 147 carries his career-high for a season as the Saints employed a committee approach to the ground game. With some juice left in the tank, Thomas can still provide an all-purpose threat to a team in need of a veteran presence in the backfield and locker room.
The Saints can turn to Travaris Cadet to help fill Thomas' shoes, but will need to address what was once viewed as a crowded position if they can not re-sign Mark Ingram. Even if they do manage to retain Ingram, New Orleans would be prudent to consider bringing in another back with similar all-purpose traits to Thomas. Cadet, like Thomas, excels mostly in the passing game, but has yet to make a notable impression in his limited action over the last three years. Robinson is more of a big back type, who would have the first chance to step into the lead role were Ingram to depart.
The winds of change always whirl through multiple NFL cities this time of year, and 2015 is no different in New Orleans. Change can, sometimes, be good, but it is always difficult to put a price tag on the intangible traits that a player like a Pierre Thomas brings to the table. Unfortunately, due to another bout of salary cap purgatory, the Saints must pay those prices, and lose a key player in the process.
With more moves to come, this is just the beginning of another interesting March down in the Big Easy.